Abstract
The extent of denitrification in a small agricultural area near a river in Yangpyeong, South Korea, was determined using multiple isotopes, groundwater age, and physicochemical data for groundwater. The shallow groundwater at one monitoring site had high concentrations of NO3-N (74–83 mg L−1). The δ15N-NO3 values for groundwater in the study area ranged between +9.1 and +24.6‰ in June 2014 and +12.2 to +21.6‰ in October 2014. High δ15N-NO3 values (+10.7 to +12.5‰) in both sampling periods indicated that the high concentrations of nitrate in the groundwater originated from application of organic fertilizers and manure. In the northern part of the study area, some groundwater samples showed elevated δ15N-NO3 and δ18O-NO3 values, which suggest that nitrate was removed from the groundwater via denitrification, with N isotope enrichment factors ranging between −4.8 and −7.9‰ and O isotope enrichment factors varying between −3.8 and −4.9‰. Similar δD and δ18O values of the surface water and groundwater in the south appear to indicate that groundwater in that area was affected by surface-water infiltration. The mean residence times (MRTs) of groundwater showed younger ages in the south (10–20 years) than in the north (20–30 years). Hence, it was concluded that denitrification processes under anaerobic conditions with longer groundwater MRT in the northern part of the study area removed considerable amounts of nitrate. This study demonstrates that multi-isotope data combined with physicochemical data and age-dating information can be effectively applied to characterize nitrate contaminant sources and attenuation processes.
Résumé
L'extension de la dénitrification sur une petite surface agricole près d'une rivière dans le Yangpyeong, Corée du Sud, a été déterminée à partir d'un traçage multi-isotopique, de la datation des eaux souterraines et de données physico-chimiques. Les eaux souterraines superficielles de l'un des sites étudiés ont des concentrations élevées en NO3-N (74–83 mg L−1). Les teneurs δ15N-NO3 des eaux souterraines dans la zone d'étude s'échelonnent entre +9.1 et +24.6‰ en juin 2014 et entre +12.2 et +21.6‰ en octobre 2014. Les fortes valeurs δ15N-NO3 (+10.7 à +12.5‰) des deux périodes d'échantillonnage indiquent que les concentrations en nitrates les plus élevées des eaux souterraines proviennent de l'application de fertilisants organiques et d'engrais. Dans la partie septentrionale de la zone d'étude, quelques échantillons d'eaux souterraines montrent des valeurs élevées en δ15N-NO3 et δ18O-NO3, ce qui suggère que les nitrates sont enlevés des eaux souterraines via un processus de dénitrification, avec des facteurs d'enrichissement en isotope de l'azote s'échelonnant de −4.8 à −7.9‰ et des facteurs d'enrichissement en isotope de l'oxygène variant de −3.8 à −4.9‰. Les valeurs δD et δ18O similaires pour les eaux de surface et les eaux souterraines dans le sud semblent indiquer que les eaux souterraines de la zone sont affectées par une infiltration des eaux de surface. Les temps de résidences moyens (MRTs) des eaux souterraines présentent des âges plus jeunes dans le sud (10−20 ans) que dans le nord (20−30 ans). Ainsi, il a été conclu que le processus de dénitrification en conditions anaérobies dans les eaux souterraines avec un temps de résidence plus long dans la partie nord de la zone d'étude a réduit des quantités considérables de nitrates. Cette étude démontre que le traçage multi-isotopiques combiné aux données physico-chimiques et aux informations de datation des eaux souterraines peut effectivement être appliqué pour caractériser les sources de contamination en nitrates et les processus d'atténuation.
Resumen
Se determinó el grado de desnitrificación en una pequeña área agrícola cerca de un río en Yangpyeong, Corea del Sur, a partir de isótopos múltiples, edad del agua subterránea y datos fisicoquímicos del agua subterránea. El agua subterránea poco profunda en un sitio de monitoreo tenía altas concentraciones de NO3-N (74–83 mg L−1). Los valores de δ15N-NO3 para el agua subterránea en el área de estudio oscilaron entre +9.1 y +24.6 ‰ en junio de 2014 y +12.2 a + 21.6 ‰ en octubre de 2014. Altos valores de δ15N-NO3 (+10.7 a +12.5 ‰) en ambos períodos de muestreo indicó que las altas concentraciones de nitrato en el agua subterránea se originaron por la aplicación de abonos orgánicos y estiércol. En la parte norte del área de estudio, algunas muestras de agua subterránea mostraron valores elevados de δ15N-NO3 y δ18O-NO3, lo que sugiere que el nitrato se eliminó del agua subterránea por desnitrificación, con factores de enriquecimiento de isótopos de N que oscilan entre −4.8 y −7.9 ‰ y factores de enriquecimiento de isótopos del O que varían entre −3.8 y −4.9 ‰. Valores similares de δD y δ18O en las aguas superficiales y subterráneas en el sur parecen indicar que el agua subterránea en esa área se vieron afectadas por la infiltración de aguas superficiales. Los tiempos de residencia promedio (MRTs) del agua subterránea mostraron edades más jóvenes en el sur (10−20 años) que en el norte (20−30 años). Por lo tanto, se concluyó que los procesos de desnitrificación bajo condiciones anaeróbicas con un MRT de agua subterránea más largo en la parte norte del área de estudio eliminaron cantidades considerables de nitrato. Este estudio demuestra que los datos de isótopos múltiples combinados con los datos fisicoquímicos y la información de datación por edad se pueden aplicar de manera efectiva para caracterizar las fuentes de contaminantes de nitratos y los procesos de atenuación.
摘要
利用多个同位素,地下水年龄和地下水的理化数据,确定了韩国杨平河附近一个小河流域的反硝化程度。一个监测点的浅层地下水含有高浓度的NO3-N(74-83 mg L−1)。 2014年6月,研究区地下水δ15N-NO3值在+9.1〜+ 24.6‰之间,2014年10月值为+12.2〜+ 21.6‰。两个采样期δ15N-NO3值均为+10.7〜+ 12.5‰表明地下水中硝酸盐的浓度高于有机肥和有机肥的施用量。在研究区北部,部分地下水样品的δ15N-NO3和δ18O-NO3值升高,表明硝酸盐经反硝化作用从地下水中脱除,N同位素富集系数介于−4.8和−7.9‰之间,O同位素浓缩系数介于−3.8和−4.9‰之间。南部地表水和地下水δD和δ18O值相似,表明该地区地下水受到地表水入渗的影响。地下水的平均停留时间(MRTs)在南方(10−20年)比在北方(20−30年)低。因此得出的结论是,在研究区域北部的较长的地下水MRT的厌氧条件下的反硝化作用去除了大量的硝酸盐。本研究表明,多同位素资料结合物理化学资料和年龄测年资料可以有效地应用于硝酸盐污染物来源和衰减过程的表征。
Resumo
A extensão da desnitrificação em uma pequena área agrícola perto de um rio em Yangpyeong, Coréia do Sul, foi determinada usando técnicas multi-isotópicas, datação e dados físico-químicos das águas subterrâneas. O monitoramento das águas subterrâneas rasas em um dos locais apresentou altas concentrações de NO3-N (74−83 mg L−1). Os valores de δ15N-NO3 das águas subterrâneas na área de estudo variaram entre +9.1 e + 24.6 ‰, em junho de 2014, e entre +12.2 a + 21.6 ‰, em outubro de 2014. Valores elevados de δ15N-NO3 (+10.7 a + 12.5 ‰) em ambos os períodos de amostragem indicaram que as altas concentrações de nitrato nas águas subterrâneas originaram-se da aplicação de fertilizantes orgânicos e estrume. Na parte norte da área de estudo, algumas amostras apresentaram valores elevados de δ15N-NO3 e δ18O-NO3, o que sugere que o nitrato foi removido das águas subterrâneas por desnitrificação, com fatores de enriquecimento de isótopos de nitrogênio variando entre −4.8 e −7.9 ‰ e de oxigênio variando entre −3.8 e −4.9 ‰. Valores semelhantes de δD e δ18O das águas superficiais e subterrâneas na parte sul parecem indicar que as águas subterrâneas naquela área foram afetadas pela infiltração de águas superficiais. Os tempos médios de residência (TMR) das águas subterrâneas mostraram idades mais novas a sul (10−20 anos) do que a norte (20−30 anos). Assim, concluiu-se que os processos de desnitrificação, sob condições anaeróbicas com TMR de águas subterrâneas mais longos na parte norte da área de estudo, removeram quantidades consideráveis ​​de nitrato. Este estudo demonstra que os dados multi-isotópicos combinados com dados físico-químicos e informações de datação podem ser efetivamente aplicados para caracterizar fontes de contaminantes de nitratos e processos de atenuação.
This is a preview of subscription content, log in to check access.
Access options
Buy single article
Instant unlimited access to the full article PDF.
US$ 39.95
Price includes VAT for USA
Subscribe to journal
Immediate online access to all issues from 2019. Subscription will auto renew annually.
US$ 99
This is the net price. Taxes to be calculated in checkout.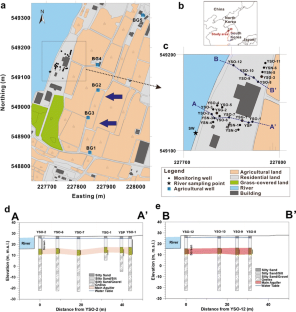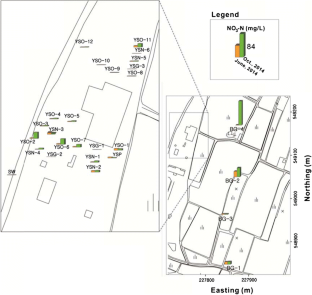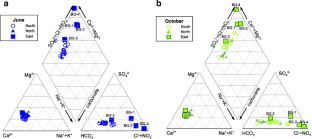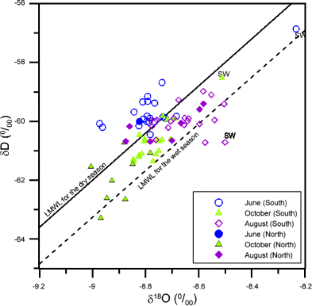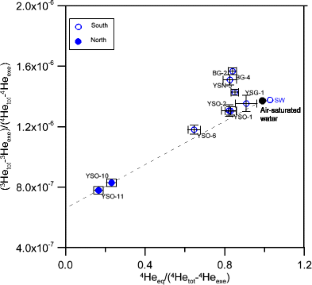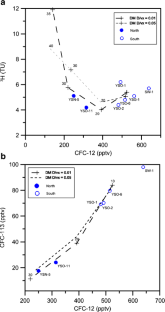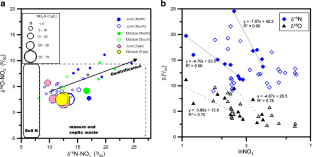 References
Aravena R, Robertson WD (1998) Use of multiple isotope tracers to evaluate denitrification in ground water: study of nitrate from a large-flux septic system plume. Ground Water 36:975–982

Aravena R, Evans ML, Cherry JA (1993) Stable isotopes of oxygen and nitrogen in source identification of nitrate from septic systems. Ground Water 31:180–186

Baillieux A, Campisi D, Jammet N, Bucher S, Hunkeler D (2014) Regional water quality patterns in an alluvial aquifer: direct and indirect influences of rivers. J Contam Hydrol 169:123–131

Balestrini R, Sacchi E, Tidili D, Delconte CA, Buffagni A (2016) Factors affecting agricultural nitrogen removal in riparian strips: examples from groundwater-dependent ecosystems of the Po Valley (northern Italy). Agric Ecosyst Environ 221:132–144

Böhlke JK, Wanty R, Tuttle M, Delin G, Landon M (2002) Denitrification in the recharge area and discharge area of a transient agricultural nitrate plume in a glacial outwash sand aquifer, Minnesota. Water Resour Res 38(7):1105. https://doi.org/10.1029/2001WR000663

Casciotti KL, Sigman DM, Hastings MG, Böhlke JK, Hilkert A (2002) Measurement of the oxygen isotopic composition of nitrate in seawater and freshwater using the denitrifier method. Anal Chem 74:4905–4912

Cey EE, Rudolph DL, Aravena R, Parkin G (1999) Role of the riparian zone in controlling the distribution and fate of agricultural nitrogen near a small stream in southern Ontario. J Contam Hydrol 37:45–67

Clague JC, Stenger R, Clough TJ (2015) Evaluation of the stable isotope signatures of nitrate to detect denitrification in a shallow groundwater system in New Zealand. Agric Ecosyst Environ 202:188–197

Ferguson G, Bense V (2011) Uncertainty in 1D heat-flow analysis to estimate groundwater discharge to a stream. Ground Water 49(3):336–347

Gao H, Schreiber F, Collins G, Jensen MM, Kostka JE, Lavik G, Beer D, Zhou H, Kuypers M (2009) Aerobic denitrification in permeable Wadden Sea sediments. ISME J 4(3):417-426

Green CT, Böhlke JK, Bekins BA, Phill SP (2010) Mixing effects on apparent reaction rates and isotope fractionation during denitrification in a heterogeneous aquifer. Water Resour Res 46:W08525. https://doi.org/10.1029/2009WR008903

Han D, Cao G, McCallumb J, Song X (2015) Residence times of groundwater and nitrate transport in coastal aquifer systems: Daweijia area, northeastern China. Sci Total Environ 538:539–554

He Q, Walling DE (1997) Spatial variability of the particle size composition of overbank floodplain deposits. Water Air Soil Pollut 99:71–80

Holocher J, Matta V, Aeschbach-Hertig W, Beryerle U, Hofer M, Peters F, Kipfer R (2001) Noble gas and major element constraints on the water dynamics in an alpine floodplain. Ground Water 39:841–852

Huang T, Pang Z, Li J, Xiang Y, Zhao Z (2017) Mapping groundwater renewability using age data in the Baiyang alluvial fan, NW China. Hydrogeol J 25:743–755

International Atomic Energy Agency (IAEA) (2006) Use of chlorofluorocarbons in hydrology—a guidebook, STI/PUB/1238

Jurgens BC, Böhlke JK, Eberts SM (2012) TracerLPM (Version 1): An Excel® workbook for interpreting groundwater age distributions from environmental tracer data. United States Geological Survey Techniques and Methods Report 4-F3, 60. Reston, VA

Kamtchueng BT, Fantong WY, Wirmvem MJ, Tiodjio RE, Takounjou AF, Asai K, Djomou SB, Kusakabe M, Ohba T, Tanyileke G, Hell JV, Ueda A (2015) A multi-tracer approach for assessing the origin, apparent age and recharge mechanism of shallow groundwater in the Lake Nyos catchment, northwest, Cameroon. J Hydrol 523:790–803

Kaown D, Hyun Y, Bae G, Lee KK (2007) Factors affecting the spatial pattern of nitrate contamination in shallow groundwater. J Environ Qual 36:1479–1487

Kaown D, Koh DC, Mayer B, Lee KK (2009) Identification of nitrate and sulfate sources in groundwater using dual stable isotope approaches for an agricultural area with different land use (Chuncheon, mid-eastern Korea). Agric Ecosyst Environ 132:223–231

Kaown D, Koh DC, Solomon DK, Yoon YY, Yang JH, Lee KK (2014) Delineation of recharge patterns and contaminant transport using 3H-3He in a shallow aquifer contaminated by chlorinated solvents in South Korea. Hydrogeol J 22:1041–1054

Kasper JW, Denver JM, York JK (2015) Suburban groundwater quality as influenced by turfgrass and septic sources, Delmarva Peninsula, USA. J Environ Qual 44:642–654

Kendall C (1998) Tracing nitrogen sources and cycling in catchments. In: Kendall C, McDonnell JJ (eds) Isotope tracers in catchment hydrology. Elsevier, Amsterdam, pp 519–576

Kennedy CD, Genereux DP, Corbett DR, Mitasova H (2009) Relationships among groundwater age, denitrification, and the coupled groundwater and nitrogen fluxes through a streambed. Water Resour Res 45:W09402. https://doi.org/10.1029/2008WR007400

Kim H, Kaown D, Mayer B, Lee J, Hyun Y, Lee KK (2015) Identifying the sources of nitrate contamination of groundwater in an agricultural area (Haean basin, Korea) using isotope and microbial community analyses. Sci Total Environ 533:566–575

Koh DC, Plummer LN, Solomon DK, Busenberg E, Kim Y, Chang HW (2006) Application of environmental tracers to mixing, evolution, and nitrate contamination of groundwater in Jeju Island, Korea. J Hydrol 327:258–275

Koh DC, Cho BK, Kim Y (2007) Experimental evaluation of an analytical method for chlorofluorocarbons (CFCs) in air and water using gas chromatography. Econ Environ Geol 40:129–140

Koh D, Mayer B, Lee K, Ko K (2010) Land-use controls on sources and fate of nitrate in shallow groundwater of an agricultural area revealed by multiple environmental tracers. J Contam Hydrol 118:62–78

Koh EH, Kaown D, Mayer B, Kang BR, Moon HS, Lee KK (2012) Hydrogeochemistry and isotopic tracing of nitrate contamination of two aquifer systems on Jeju Island, Korea. J Environ Qual 41:1835–1845

Korean Ministry of Land, Infrastructure and Transport (2016) Development of a technology for use of geological underground water convergence energy in the waterfront. Fifth Report, Korean Ministry of Land, Infrastructure and Transport, Seoul, South Korea

Landon KM, Green CT, Belitz K, Singleton MJ, Esser BK (2011) Relation of hydrologic factors, groundwater reduction-oxidation condition, and temporal spatial distribution of nitrate, central-eastside San Joaquin Valley, California, USA. Hydrogeol J 19:1203–1224

Lee KS, Lee CB (1999) Oxygen and hydrogen isotope composition of precipitation and river waters South Korea. J Geol Soc Korea 35(1):73–84

Lee KS, Wenner DB, Lee I (1999) Using H- and O-isotope data for estimating the relative contributions of rainy and dry season precipitation to groundwater: example from Cheju Island, Korea. J Hydrol 222:65–74

Maloszewski P, Zuber A (1982) Determining the turnover time of groundwater systems with the aid of environmental tracers: 1. models and their applicability. J Hydrol 57(3–4):207–231

Maloszewski P, Rauert W, Trimborn P, Herrmann A, Rau R (1992) Isotope hydrological study of mean transit times in an alpine basin (Wimbachtal, Germany). J Hydrol 140:343–360

Mariotti A, Landreau A, Simon B (1988) 15N isotope biogeochemistry and natural denitrification process in groundwater: application to the chalk aquifer of northern France. Geochim Cosmochim Acta 52:1869–1878

Martinez DE, Fourre E, Quiroz Londono OM, Jean-Baptiste P, Galli MG, Dapoigny A, Grondona SI (2016) Residence time distribution in a large unconfined-semiconfined aquifer in the Aregentine Pampas using 3H/3He and CFC tracers. Hydrogeol J 24:1107–1120

Mengis M, Schiff SL, Harris M, English MC, Aravena R, Elgood RJ, Maclean A (1999) Multiple geochemical and isotopic approaches for assessing ground water NO3− elimination in a riparian zone. Ground Water 37:448-457

Plummer LN, Rupert MG, Busenberg E, Schlosser P (2000) Age of irrigation in groundwater from the eastern Snake River Plain Aquifer, south-central Idaho. Ground Water 38:264–283

Rao AMF, McCarthy MJ, Gardner WS, Jahnke RA (2007) Respiration and denitrification in permeable 1continental shelf deposits on the South Atlantic Bight: Rates of carbon and nitrogen cycling from sediment column experiments. Cont Shelf Res 27(13):1801-1819

Rivett M, Buss S, Morgan P, Smith J, Bemment C (2008) Nitrate attenuation in groundwater: a review of biogeochemical controlling processes. Water Res 42:4215–4232

Santos IR, Eyre BD, Glud RN (2012) Influence of porewater advection on denitrification in carbonate sands: Evidence from repacked sediment column experiments. Geochim Cosmochim Acta 96: 247-258

Schornberg C, Schmidt C, Kalbus E, Fleckenstein JH (2010) Simulating the effects of geologic heterogeneity and transient boundary conditions on streambed temperatures: implications for temperature-based water flux calculations. Adv Water Resour 33(11):1309–1319

Sebilo M, Billen G, Grably M, Mariotti A (2003) Isotopic composition of nitrate-nitrogen as a marker of riparian and benthic denitrification at the scale of the whole Seine River system. Biogeochem 63:35-51

Urresti-Estala B, Vadillo-Pérez I, Jiménez-Gavilán P, Soler A, Sánchez-García D, Carrasco-Cantos F (2015) Application of stable isotopes (δ34S-SO4, δ18O-SO4, δ15N-NO3, δ18O-NO3) to determine natural background and contamination sources in the Guadalhorce River basin (southern Spain). Sci Total Environ 506–507:46–57

Wassenaar LI (1995) Evaluation of the origin and fate of nitrate in the Abbotsford aquifer using the isotopes of δ15N and δ18O in NO3. Appl Geochem 10:391–405

Wells NS, Hakoun V, Brouyere S, Knoller K (2016) Multi-species measurements of nitrogen isotopic composition reveal the spatial constraints and biological drivers of ammonium attenuation across a highly contaminated groundwater system. Water Res 98:363–375

Xue D, Baets BD, Cleemput OV, Hennessy C, Berglund M, Boeckx P (2013) Classification of nitrate polluting activities through clustering of isotope mixing model outputs. J Environ Qual 42:1486–1497

Yangpyeonggun (2015) Statistical year book of Yangpyeonggun, vol. 55. County of Yangpyeonggun, Yeoncheon-eup, South Korea

Yue F, Liu C, Li S, Zhao Z, Liu X, Ding H, Liu B, Zhong J (2014) Analysis of δ15N and δ18O to identify nitrate sources and transformations in Songhua River, northeast China. J Hydrol 519:329–339
Acknowledgements
This work was supported by the National Research Foundation of Korea (Grant no. NRF-2015-R1A1A3A04001438 and NRF-2017-R1A2B3002119) and by the Natural Sciences and Engineering Research Council of Canada (NSERC).
Electronic supplementary material
About this article
Cite this article
Kaown, D., Koh, E., Mayer, B. et al. Application of multiple-isotope and groundwater-age data to identify factors affecting the extent of denitrification in a shallow aquifer near a river in South Korea. Hydrogeol J 26, 2009–2020 (2018) doi:10.1007/s10040-017-1716-8
Received:

Accepted:

Published:

Issue Date:
Keywords
Nitrate

Denitrification

Groundwater age

Stable isotopes

South Korea