Abstract
Purpose
The small bites surgical technique supported by the STITCH trial has been touted as a strategy for preventing early laparotomy dehiscence through greater force distribution at the suture–tissue interface. However, this hernia prevention strategy requires an alteration in the standard closure technique that has not been widely adopted in the USA. This study seeks to determine whether incorporating a mid-weight polypropylene mesh material into a hollow-bore surgical suture material will effectively increase the force distribution at the suture–tissue interface and potentially help prevent early laparotomy dehiscence in an ex vivo model.
Methods
A cyclic stress ball-burst model was used to compare suturable mesh (0 DuraMesh™) to conventional suture. After midline laparotomy, 28 porcine abdominal wall specimens were closed with either 0 DuraMesh™ or #1 polydioxanone double-loop suture. A custom 3D-printed ball-burst test apparatus was used to fatigue the repair on a MTS Bionix Load Frame. The tissue was repetitively stressed at a physiological force of 15–120 N cycled at a rate of 0.25 Hz for a total of 1000 repetitions, followed by a load to failure, and the maximal force was recorded.
Results
The mean maximal force at suture pull-through was significantly higher (p < 0.0095) in the 0 DuraMesh suture group (mean: 850.1 N) compared to the 1 PDS group (mean: 714.7 N).
Conclusion
This ex vivo study suggests that using rational suture design to improve force distribution at the suture–tissue interface may be a viable strategy for preventing the suture pull-through that drives incisional hernia.
This is a preview of subscription content, log in to check access.
Access options
Buy single article
Instant access to the full article PDF.
US$ 39.95
Price includes VAT for USA
Subscribe to journal
Immediate online access to all issues from 2019. Subscription will auto renew annually.
US$ 99
This is the net price. Taxes to be calculated in checkout.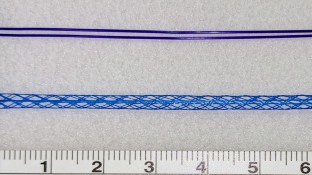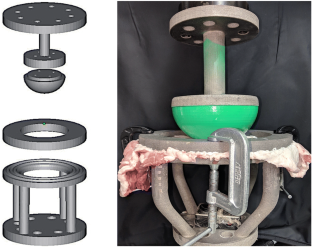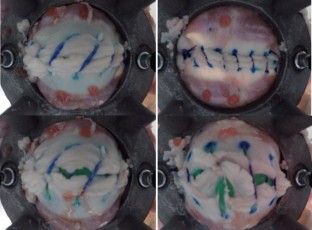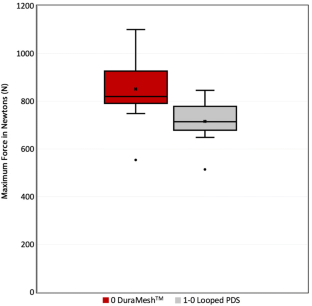 Acknowledgements
The authors would like to acknowledge Ms. Sonja Skeete for her efforts in coordinating execution of this study.
Funding
Funding for porcine tissue and materials used in this study was provided through the Uniformed Services University of the Health Sciences and The Geneva Foundation (Transforming Technology for the Warfighters [TTW] HU00011820013). These funding sources had no involvement in the study design, collection/analysis/interpretation of data or in the writing of this report.
Ethics declarations
Conflict of interest
The authors received the DuraMesh samples used in this study at no cost from the manufacturer, Mesh Suture Inc. Mesh Suture Inc. did not otherwise influence the study design, study execution, data collection, analysis of the study data, or decision to disseminate the study data. The authors declare that they have no conflict of interest.
Ethical approval
All applicable international, national, and/or institutional guidelines for the care and use of animals were followed. All experiments conducted in this study are in the compliance with the current laws of the USA.
Human and animal rights
This article does not contain any studies with human participants performed by any of the authors. All procedures involving animal tissue were performed in accordance with the ethical standards of our institution and the Institutional Animal Care and Use Committee at the Uniformed Services University of the Health Sciences, Bethesda, MD
Informed consent
This article does not contain studies with human participants performed by any of the authors. Therefore there is no identifiable data that requiresd informed consent.
Additional information
Publisher's Note
Springer Nature remains neutral with regard to jurisdictional claims in published maps and institutional affiliations.
About this article
Cite this article
Scheiber, C.J., Kurapaty, S.S., Goldman, S.M. et al. Suturable mesh better resists early laparotomy failure in a cyclic ball-burst model. Hernia (2020). https://doi.org/10.1007/s10029-020-02133-6
Received:

Accepted:

Published:
Keywords
Wound closure techniques

Suture

Incisional hernia

Laparotomy

Trauma

Mesh