Abstract
Background
Short-term outcomes for patients undergoing contaminated complex abdominal wall reconstruction (CCAWR), including risk stratification, have not been studied in sufficiently high numbers. This study aims to develop and validate risk-stratification models for Clavien–Dindo (CD) grade ≥ 3 complications in patients undergoing CCAWR.
Methods
A consecutive cohort of patients who underwent CCAWR in two European national intestinal failure centers, from January 2004 to December 2015, was identified. Data were collected retrospectively for short-term outcomes and used to develop risk models using logistic regression. A further cohort, from January 2016 to December 2017, was used to validate the models.
Results
The development cohort consisted of 272 procedures performed in 254 patients. The validation cohort consisted of 114 patients. The cohorts were comparable in baseline demographics (mean age 58.0 vs 58.1; sex 58.8% male vs 54.4%, respectively). A multi-variate model including the presence of intestinal failure (p < 0.01) and operative time (p < 0.01) demonstrated good discrimination and calibration on validation. Models for wound and intra-abdominal complications were also developed, including pre-operative immunosuppression (p = 0.05), intestinal failure (p = 0.02), increasing operative time (p = 0.04), increasing number of anastomoses (p = 0.01) and the number of previous abdominal operations (p = 0.02). While these models showed reasonable ability to discriminate patients on internal assessment, they were not found to be accurate on external validation.
Conclusion
Acceptable short-term outcomes after CCAWR are demonstrated. A robust model for the prediction of CD ≥ grade 3 complications has been developed and validated. This model is available online at www.smbari.co.uk/smjconv2.
This is a preview of subscription content, log in to check access.
Access options
Buy single article
Instant access to the full article PDF.
US$ 39.95
Price includes VAT for USA
Subscribe to journal
Immediate online access to all issues from 2019. Subscription will auto renew annually.
US$ 99
This is the net price. Taxes to be calculated in checkout.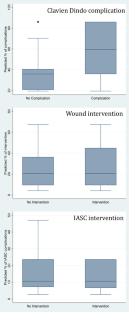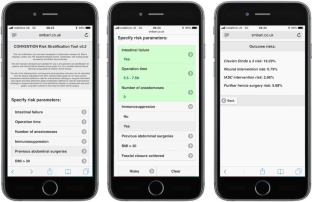 References
1.

VHW Group, Breuing K, Butler CE, Ferzoco S, Franz M, Hultman CS et al (2010) Incisional ventral hernias: review of the literature and recommendations regarding the grading and technique of repair. Surgery. 148(3):544–558

2.

Kanters AE, Krpata DM, Blatnik JA, Novitsky YM, Rosen MJ (2012) Modified hernia grading scale to stratify surgical site occurrence after open ventral hernia repairs. J Am Coll Surg 215(6):787–793

3.

Hodgkinson JD, Maeda Y, Leo CA, Warusavitarne J, Vaizey CJ (2017) Complex abdominal wall reconstruction in the setting of active infection and contamination: a systematic review of hernia and fistula recurrence rates. Colorectal Dis 19:319–330

4.

Dindo D, Demartines N, Clavien P-A (2004) Classification of surgical complications: a new proposal with evaluation in a cohort of 6336 patients and results of a survey. Ann Surg 240(2):205–213

5.

Krpata D, Stein S, Eston M, Ermlich B, Blatnik JA, Novitsky Y (2013) Outcomes of simultaneous large complex abdominal wall reconstruction and enterocutaneous fistula takedown. Am J Surg 205:354–359

6.

Sbitany H, Kwon E, Chern H, Finlayson E, Varma MG (2015) Outcomes analysis of biologic mesh use for abdominal wall reconstruction in clean-contaminated and contaminated ventral hernia repair. Ann Plastic Surg 75:201–204

7.

Rosen M, Krpata D, Ermlich B (2013) A 5-year clinical experience with single-staged repairs of infected and contaminated abdominal wall defects utilizing biologic mesh. Ann Surg 257:991–996

8.

Slater N, Bokkerink W, Konijn V, Bleichrodt R (2015) Safety and durability of one-stage repair of abdominal wall defects with enteric fistulas. Ann Surg 261:553–557

9.

Berger RL, Li LT, Hicks SC, Davila JA, Kao LS, Liang MK (2013) Development and validation of a risk-stratification score for surgical site occurrence and surgical site infection after open ventral hernia repair. J Am Coll Surg 217(6):974–982

10.

Liang MK, Goodenough CJ, Martindale RG, Roth JS, Kao LS (2015) External validation of the ventral hernia risk score for prediction of surgical site infections. Surg Infect (Larchmt) 16(1):36–40

11.

Vaizey CJ, Maeda Y, Barbosa E, Bozzetti F, Calvo J, Irtun Ø et al (2016) ESCP consensus on the surgical management of intestinal failure in adults. Color Dis 18:535–548

12.

Haskins IN, Horne CM, Krpata DM, Prabhu AS, Tastaldi L, Perez AJ et al (2018) A call for standardization of wound events reporting following ventral hernia repair. Hernia 22(5):729–736

13.

Atema JJ, de Vries FEE, Boermeester MA (2016) Systematic review and meta-analysis of the repair of potentially contaminated and contaminated abdominal wall defects. Am J Surg 212(5):982–995.e1

14.

Atema JJ, Mirck B, Van Arum I, Ten Dam SM, Serlie MJ, Boermeester MA (2016) Outcome of acute intestinal failure. Br J Surg 103(6):701–708

15.

de Vries FEE, Atema JJ, Lapid O, Obdeijn MC, Boermeester MA (2017) Closed incision prophylactic negative pressure wound therapy in patients undergoing major complex abdominal wall repair. Hernia 21(4):583–589
Acknowledgements
The authors would like to acknowledge Mr Paul Bassett, of StatsConsultancy, for his help and support with statistical analysis and model development. The authors would like to thanks Mr Victor Lesk for his work in developing the Convention webtool.
Funding
A research award from the British Hernia Society kindly funded the development and creation of the model webtool calculator.
Ethics declarations
Conflict of interest
JDH, FEEdV, JJMC, CAL, YM, OvR, OL, MCO, PJT, WAB, JC, GBH and JW declare no conflict of interest directly related to the current work; MAB declares no conflict of interest directly related to the current work and reports institutional research grants from Baxter, Mylan, Ipsen, Acelity/KCI, Bard, LifeCell and Johnson & Johnson/Ethicon and New Compliance; and is a speaker or advisory board member for Acelity/KCI, Bard, LifeCell/Allergan, Gore, Bard, Smith&Nephew and Johnson & Johnson / Ethicon; CJV declares no conflict of interest directly related to the current work and declares consultancy advisor to Acelity and paid lecture for Allergan.
Ethical approval
This study was performed in accordance with the ethical standards of the institutional and national research committee (East of England REC ref 16/EE/0348; IRAS 210325) and with the 1964 Helsinki Declaration and its later amendments or comparable ethical standards. Ethical approval for the study was given by local and national bodies in both centres as stated in the manuscript.
Human and animal rights
This retrospective study involving human participants was in accordance with the ethical standards of the institutional and national research committee.
Informed consent
Data were obtained from records obtained for clinical purposes.
Additional information
Publisher's Note
Springer Nature remains neutral with regard to jurisdictional claims in published maps and institutional affiliations.
About this article
Cite this article
Hodgkinson, J.D., de Vries, F.E.E., Claessen, J.J.M. et al. The development and validation of risk-stratification models for short-term outcomes following contaminated complex abdominal wall reconstruction . Hernia (2020). https://doi.org/10.1007/s10029-019-02120-6
Received:

Accepted:

Published:
Keywords
Contaminated

Abdominal wall reconstruction

Risk stratification