Abstract
Purpose
This study aimed to determine patients' experiences following inguinal hernia repair at a tertiary hospital and associated cottage hospital in terms of postherniorraphy pain and follow-up.
Methods
After exclusions, 373 adult patients undergoing inguinal hernia repair at Derriford and Tavistock hospitals during a 1-year period from October 2017 were sent a questionnaire regarding preoperative pain experience, current symptoms, and pain severity at 28 days and other intervals postoperatively. Statistical analysis of responses included unpaired t test to compare means and χ2 test for discrete variables with a p value < 0.05 regarded as statistically significant.
Results
The survey response rate was 68% (253/373). The mean pain score on visual analogue scale was 1.5 at 28 days postoperatively in those without preoperative pain compared to 3.2 in those with preoperative pain (p = 0.0001). Although 64 (25%) patients complained of pain at a mean follow-up of 47.9 ± 15.6 weeks, pain severity was insignificant after 28 days. Gender, employment status and mesh type did not affect pain scores. Return to normal activity after laparoscopic repair was longer than after open repair (5.4 ± 3.4 versus 4.2 ± 2.2 weeks, respectively; p = 0.0322). Overall, 34.6% thought follow-up was necessary and patients were more likely to agree with a decision not to follow them up.
Conclusion
This study puts postherniorrhaphy pain in perspective of preoperative pain. Active discussion with patients prior to discharge or telephone follow-up by an appropriate individual may reduce the need for hospital follow-up.
This is a preview of subscription content, log in to check access.
Access options
Buy single article
Instant access to the full article PDF.
US$ 39.95
Price includes VAT for USA
Subscribe to journal
Immediate online access to all issues from 2019. Subscription will auto renew annually.
US$ 99
This is the net price. Taxes to be calculated in checkout.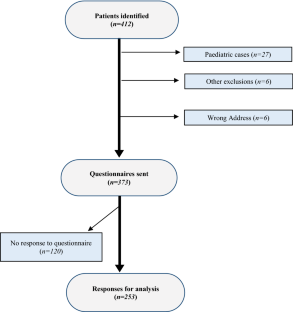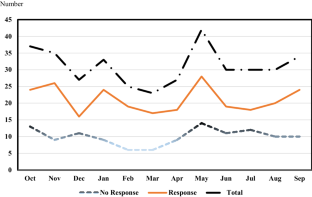 References
1.

The, HerniaSurge, Group (2018) International guidelines for groin hernia management. Hernia 22(1):1–165

2.

Nguyen DK, Amid PK, Chen DC (2016) Groin pain after inguinal hernia repair. Adv Surg 50(1):203–220

3.

Öberg S, Andresen K, Klausen TW, Rosenberg J (2018) Chronic pain after mesh versus nonmesh repair of inguinal hernias: a systematic review and a network meta-analysis of randomized controlled trials. Surgery 163(5):1151–1159

4.

EU Hernia, Trialists, Collaboration (2002) Repair of groin hernia with synthetic mesh. Ann Surg 235(3):322–332

5.

Poobalan AS, Bruce J, Cairns W, Smith S, King PM, Krukowski ZH, Chambers WA (2003) A review of chronic pain after inguinal herniorraphy. Clin J Pain 19:48–54

6.

Poobalan AS, Bruce J, King PM, Chambers WA, Krukowski ZH, Smith WC (2001) Chronic pain and quality of life following open inguinal hernia repair. Br J Surg 88(8):1122–1126

7.

Aroori S, Spence RA (2007) Chronic pain after hernia surgery—an informed consent issue. Ulster Med J 76(3):136–140

8.

Ergönenç T, Beyaz SG, Özocak H, Palabıyık O, Altıntoprak F (2017) Persistent postherniorrhaphy pain following inguinal hernia repair: a cross-sectional study of prevalence, pain characteristics, and effects on quality of life. Int J Surg 46:126–132

9.

Kumar S, Wilson RG, Nixon SJ, Macintyre IM (2002) Chronic pain after laparoscopic and open mesh repair of groin hernia. Br J Surg 89(11):1476–1479

10.

BBC News 2017 NHS hernia mesh 'leaving patients in pain'. https://www.bbc.co.uk/news/health-40132638. Accessed 18 June 2019

11.

Simons MP, Aufenacker T, Bay-Nielsen M, Bouillot JL, Campanelli G, Conze J et al (2009) European Hernia Society guidelines on the treatment of inguinal hernia in adult patients. Hernia 13(4):343–403

12.

Eisenberg D, Hwa K, Wren SM (2015) Telephone follow-up by a midlevel provider after laparoscopic inguinal hernia repair instead of face-to-face clinic visit. JSLS 19(1):e2014.00205

13.

Royal College of Surgeons (RCS). Commissioning Guide: Groin Hernia. 2016. https://www.rcseng.ac.uk/-/media/files/rcs/standards-and-research/commissioning/groin-hernia-commissioning-guide_published-2016.pdf. Accessed 18 June 2019

14.

Brown CN, Finch JG (2010) Which mesh for hernia repair? Ann R Coll Surg Engl 92(4):272–278

15.

Wright D, Paterson C, Scott N, Hair A, O'Dwyer PJ (2002) Five-year follow-up of patients undergoing laparoscopic or open groin hernia repair. Ann Surg 235(3):333–337

16.

Dennis R, O'Riordan D (2007) Risk factors for chronic pain after inguinal hernia repair. Ann R Coll Surg Engl 89(3):218–220

17.

Fränneby U, Sandblom G, Nordin P, Nyrén O, Gunnarsson U (2006) Risk factors for long-term pain after hernia surgery. Ann Surg 244(2):212–219

18.

Mazin JB (2012) Causes of postoperative pain following inguinal hernia repair: what the literature shows. Pract Pain Manag 12(4):46–58

19.

EU Hernia, Trialists, Collaboration (2000) Laparoscopic compared with open methods of groin hernia repair: systematic review of randomized controlled trials. Br J Surg 87(7):860–867

20.

van den Heuvel B, van Jarwaarde JA, Wichers P, de Lange de Klerk ES, Bonjer HJ, Dwars BJ (2015) Follow-up after laparoscopic inguinal hernia repair, can it be done by phone? A prospective study in 300 patients, the PINQ-PHONE. Surg Endosc 29(11):3292–3297

21.

Nelson EC, Eftimovska E, Lind C, Hager A, Wasson JH, Lindblad S (2015) Patient reported outcome measures in practice. BMJ 350:g7818
Acknowledgements
We acknowledge Shahzar Malik's contribution of ideas to the study and his help in seeking ethical approval. We are indebted to Lisa Burnham for her administrative help in seeking information about study participants, mailing questionnaires and safe-guarding responses from study participants.
Ethics declarations
Conflict of interest
The authors declare that they have no conflict of interests.
Ethical approval
Ethical approval was sought but not deemed necessary by the hospital research committee.
Human and animal rights
There are no human and animal rights issues to declare.
Informed consent
Patients were sent a cover letter with the questionnaire and informed about the nature and purpose of the study. The purpose of the survey was explained in the covering letter. Only those willing to, completed and returned the questionnaires.
Additional information
Publisher's Note
Springer Nature remains neutral with regard to jurisdictional claims in published maps and institutional affiliations.
Appendix
Appendix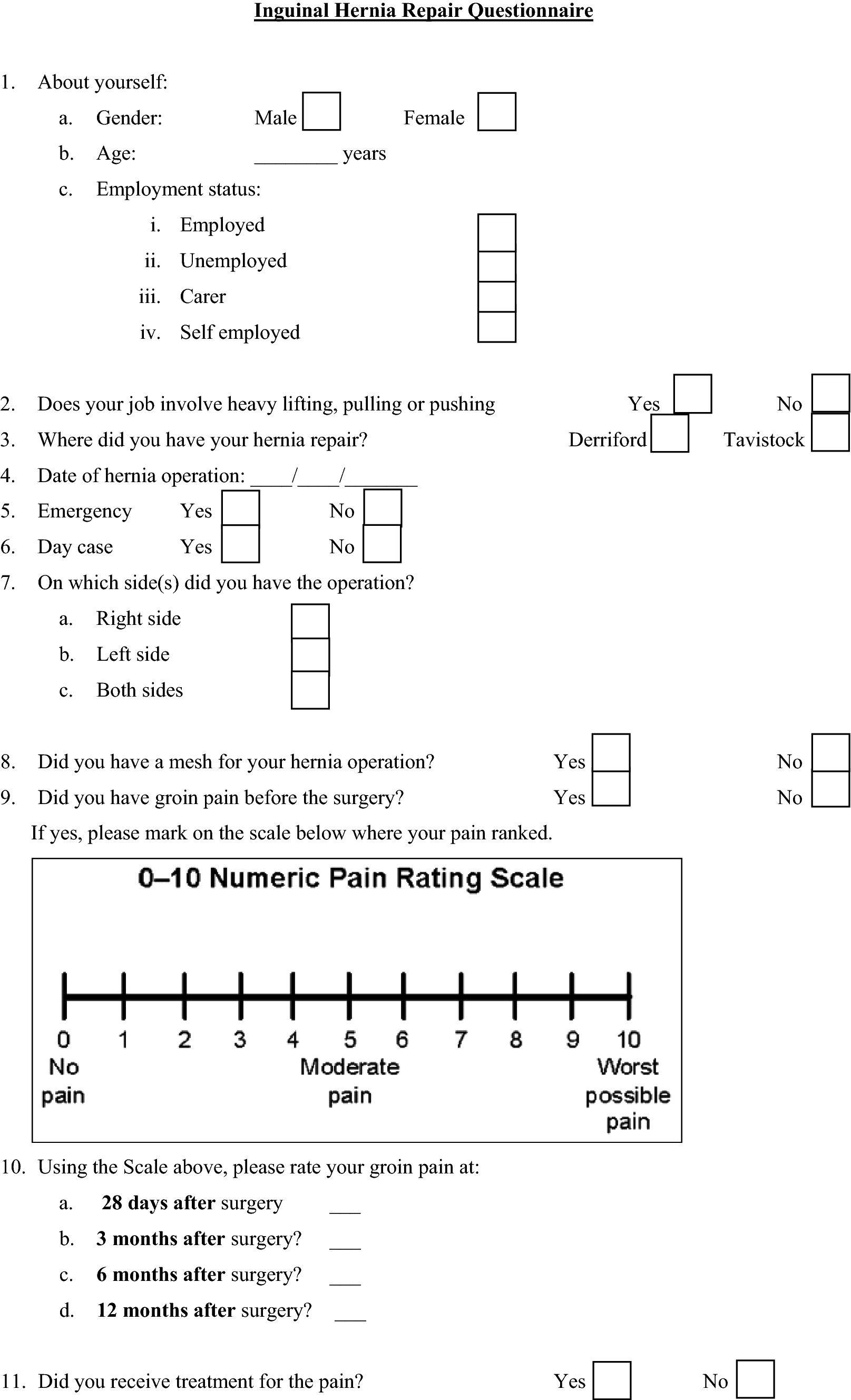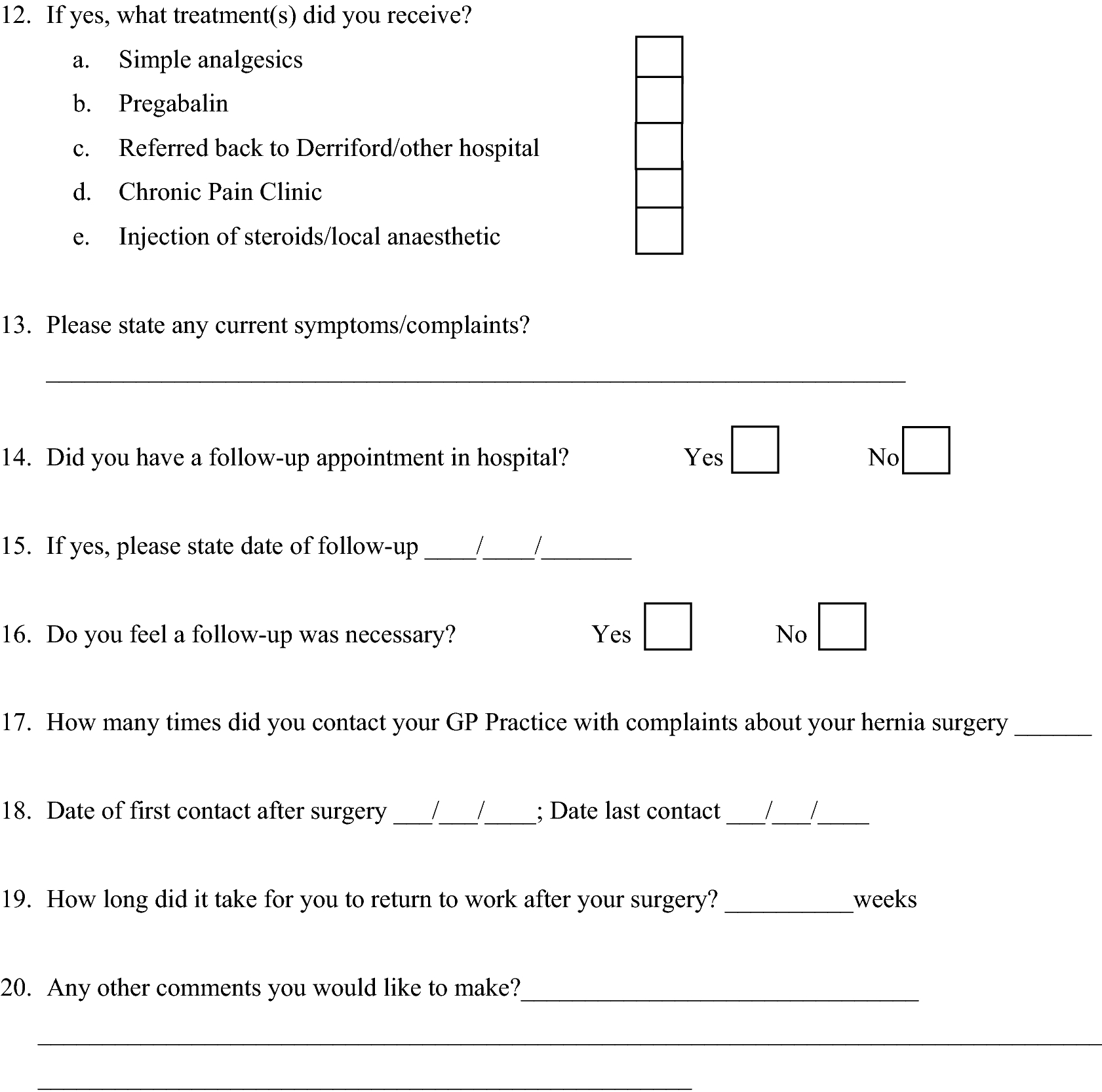 About this article
Cite this article
Adamu-Biu, F., Akoh, J.A. Survey of patients regarding experience following repair of inguinal hernias. Hernia 24, 187–195 (2020). https://doi.org/10.1007/s10029-019-02061-0
Received:

Accepted:

Published:

Issue Date:
Keywords
Inguinal hernia repair

Follow-up

Preoperative pain

Postherniorrhapy pain