Abstract
Introduction
Patient Reported Outcomes have become standard in the evaluation of inguinal hernia repair. However, the chosen outcomes remain heterogeneous and the measurements time-consuming or inadequate. Perioperative measurement of pain and recovery could benefit from the contemporary possibilities that mobile health applications offer.
Methods
An application for smartphones and tablets was developed using the twitch crowdsourcing concept, classical questionnaires, experiences from randomised clinical trials, and patients' input.
Results
Dichotomous questions and numeric rating scales, both pre- and post-operative, were implemented in the freely available Q1.6 application. Content, timing and frequencies were adapted to the inguinal hernia patient's daily life and assumed recovery. Certain combinations of answers were set as alert notifications to detect adverse events. Data are displayed on a web-based dashboard enabling real-time monitoring. Legal aspects were examined and taken into account.
Discussion
The Q1.6 inguinal hernia app is an innovative tool for perioperative monitoring of pain and recovery of inguinal hernia patients. Previous limitations of classical measurements such as a large heterogeneity, retrospective data recording and different forms of bias can be eliminated. The `big data´ generated in this manner might be used for large-scale research to improve inguinal hernia surgery. The Q1.6 platform is not only hernia specific; it is also an innovative tool to measure PROs in any other domain.
This is a preview of subscription content, log in to check access.
Access options
Buy single article
Instant access to the full article PDF.
US$ 39.95
Price includes VAT for USA
Subscribe to journal
Immediate online access to all issues from 2019. Subscription will auto renew annually.
US$ 99
This is the net price. Taxes to be calculated in checkout.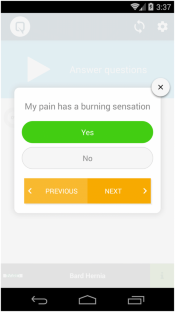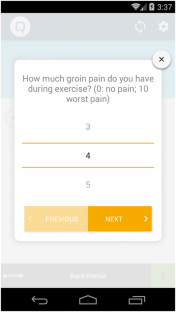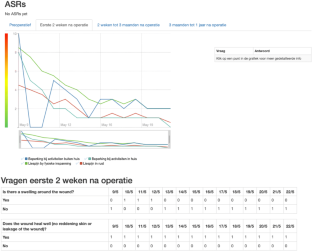 References
1.

Simons MP, Aufenacker T, Bay-Nielsen M, Bouillot JL, Campanelli G, Conze J et al (2009) European Hernia Society guidelines on the treatment of inguinal hernia in adult patients. Hernia 13(4):343–403

2.

Jenkins JT, O'Dwyer PJ (2008) Inguinal hernias. BMJ 336(7638):269–272

3.

Aaronson NK, Muller M, Cohen PD, Essink-Bot ML, Fekkes M, Sanderman R et al (1998) Translation, validation, and norming of the Dutch language version of the SF-36 Health Survey in community and chronic disease populations. J Clin Epidemiol 51(11):1055–1068

4.

Heniford BT, Walters AL, Lincourt AE, Novitsky YW, Hope WW, Kercher KW (2008) Comparison of generic versus specific quality-of-life scales for mesh hernia repairs. J Am Coll Surg 206(4):638–644

5.

Muysoms F, Campanelli G, Champault GG, DeBeaux AC, Dietz UA, Jeekel J et al (2012) EuraHS: the development of an international online platform for registration and outcome measurement of ventral abdominal wall hernia repair. Hernia 16(3):239–250

6.

Muysoms FE, Vanlander A, Ceulemans R, Kyle-Leinhase I, Michiels M, Jacobs I et al (2016) A prospective, multicenter, observational study on quality of life after laparoscopic inguinal hernia repair with ProGrip laparoscopic, self-fixating mesh according to the European Registry for Abdominal Wall Hernias Quality of Life Instrument. Surgery 160(5):1344–1357

7.

Staerkle RF, Villiger P (2011) Simple questionnaire for assessing core outcomes in inguinal hernia repair. Br J Surg 98(1):148–155

8.

Kehlet H, Bay-Nielsen M, Kingsnorth A (2002) Chronic postherniorrhaphy pain—a call for uniform assessment. Hernia 6(4):178–181

9.

Muysoms FE, Deerenberg EB, Peeters E, Agresta F, Berrevoet F, Campanelli G et al (2013) Recommendations for reporting outcome results in abdominal wall repair: results of a Consensus meeting in Palermo, Italy, 28–30 June 2012. Hernia 17(4):423–433

10.

Kehlet H, Roumen RM, Reinpold W, Miserez M (2013) Invited commentary: persistent pain after inguinal hernia repair: what do we know and what do we need to know? Hernia 17(3):293–297

11.

Schulz KF, Altman DG, Moher D (2011) CONSORT 2010 statement: updated guidelines for reporting parallel group randomised trials. Int J Surg 9(8):672–677

12.

Kyle-Leinhase I, Kockerling F, Jorgensen LN, Montgomery A, Gillion JF, Rodriguez JAP et al (2018) Comparison of hernia registries: the CORE project. Hernia 22(4):561–575

13.

Peyre H, Leplege A, Coste J (2011) Missing data methods for dealing with missing items in quality of life questionnaires A comparison by simulation of personal mean score, full information maximum likelihood, multiple imputation, and hot deck techniques applied to the SF-36 in the French 2003 decennial health survey. Qual Life Res 20(2):287–300

14.

Podsakoff PM, MacKenzie SB, Lee JY, Podsakoff NP (2003) Common method biases in behavioral research: a critical review of the literature and recommended remedies. J Appl Psychol 88(5):879–903

15.

Organisation for Economic Co-operation and Development (OECD). OECD Guidelines on Measuring Subjective Well-being. Paris: OECD Publishing; 2013 Mar 20. 2, Methodological considerations in the measurement of subjective well-being. https://www.ncbi.nlm.nih.gov/books/NBK189566/

16.

Waller A, Forshaw K, Carey M, Robinson S, Kerridge R, Proietto A et al (2015) Optimizing patient preparation and surgical experience using eHealth technology. JMIR Med Inform 3(3):e29

17.

Semple JL, Sharpe S, Murnaghan ML, Theodoropoulos J, Metcalfe KA (2015) Using a mobile app for monitoring post-operative quality of recovery of patients at home: a feasibility study. JMIR Mhealth Uhealth 3(1):e18

18.

Semple JL, Armstrong KA (2017) Mobile applications for postoperative monitoring after discharge. CMAJ 189(1):E22–E24

19.

Russell TG, Buttrum P, Wootton R, Jull GA (2011) Internet-based outpatient telerehabilitation for patients following total knee arthroplasty: a randomized controlled trial. J Bone Joint Surg Am 93(2):113–120

20.

Armstrong KA, Semple JL, Coyte PC (2014) Replacing ambulatory surgical follow-up visits with mobile app home monitoring: modeling cost-effective scenarios. J Med Internet Res 16(9):e213

21.

Central Bureau for Statistics (CBS). Statistics Netherlands: Internet; access, use and facilities. 2018. https://opendata.cbs.nl/statline/#/CBS/nl/dataset/83429NED/table?dl=84A5. Accessed 08 Mar 2018.

22.

Q1.6 BVBA. Q1.6—non intrusive app that skyrockets true user engagement. 2019. https://www.questions.ai/. Accessed 21 May 2019.

23.

Vaish R, Wyngarden K, Chen J, Cheung B, Bernstein MS (2014) Twitch crowdsourcing: crowd contributions in short bursts of time. In: CHI '14: Proceedings of the SIGCHI conference on human factors in computing systems: 2014 April 26; Toronto, Ontario, Canada. ACM, New York, p 3645–3654

24.

Oulasvirta A, Tamminen S, Roto V, Kuorelahti J (2005) Interaction in 4-second bursts: the fragmented nature of attentional resources in mobile HCI. In: CHI '05: Proceedings of the SIGCHI conference on human factors in computing systems: 2005 April 2–7; Portland, Oregon, USA. ACM, New York, p 919–928

25.

Falaki H, Mahajan R, Kandula S, Lymberopoulos D, Govindan R, Estrin D (2010) Diversity in Smartphone Usage. In: MobiSys '10; Proceedings of the 8th international conference on mobile systems, applications, and services; 2019 Jun 15; San Francisco, California, USA. ACM, New York, p 179–194

26.

EuraHs Working Group. European Registry Of Abdominal Wall Hernias. https://www.eurahs.eu/HOME.php. Accessed 21 May 2019.

27.

Koning GG, Keus F, Koeslag L, Cheung CL, Avci M, van Laarhoven CJ et al (2012) Randomized clinical trial of chronic pain after the transinguinal preperitoneal technique compared with Lichtenstein's method for inguinal hernia repair. Br J Surg 99(10):1365–1373

28.

Bokkerink WJV, Koning GG, Malagic D, van Hout L, van Laarhoven CJHM, Vriens PWHE (2019) Long-term results from a randomized comparison of open transinguinal preperitoneal hernia repair and the Lichtenstein method (TULIP trial). Br J Surg 106(7):856–861

29.

Prins MW, Koning GG, Keus EF, Vriens PW, Mollen RM, Akkersdijk WL, et al. Study protocol for a randomized controlled trial for anterior inguinal hernia repair: transrectus sheath preperitoneal mesh repair compared to transinguinal preperitoneal procedure. Trials 2013 14:65–6215–14–65.

30.

Bokkerink WJV, Koning GG, Vriens PWHE, de Vries J, van Laarhoven CJHM. Patients' perspective on inguinal hernia repair: a focus group study. Submitted for publication. 2019.
Acknowledgements
None of the authors declare to have received personal financial support for the current research project. The technical development of the application was carried out by Q1.6 BVBA (Antwerp, Belgium). Q1.6 received a grant for this technical work from C.R. Bard (Olen, Belgium, currently part of BD Medical, Erembodegem, Belgium). Both companies were not involved in the content of the research project in any way nor in the publication of results.
Ethics declarations
Conflict of interest
LvH declares no conflict of interest. WB declares no conflict of interest. MI declares no conflict of interest. PV declares no conflict of interest.
Ethical approval
All procedures performed were in accordance with the ethical standards of the institute and regional research committee and with the 1964 Helsinki declaration and its later amendments of comparable ethical standards.
Human and animal rights
This article does not contain any studies with human participants or animals performed by any of the authors.
Informed consent
For this study formal consent is not required.
Additional information
Publisher's Note
Springer Nature remains neutral with regard to jurisdictional claims in published maps and institutional affiliations.
About this article
Cite this article
van Hout, L., Bökkerink, W.J.V., Ibelings, M.S. et al. Perioperative monitoring of inguinal hernia patients with a smartphone application. Hernia 24, 179–185 (2020). https://doi.org/10.1007/s10029-019-02053-0
Received:

Accepted:

Published:

Issue Date:
Keywords
m-Health

Smartphone application

Inguinal hernia

Patient monitoring

Big data