Abstract
Background
Sports hernia is a condition with longstanding groin pain without an obvious pathology. Even though no hernia is present, some of these patients have a groin hernia repair to relieve the pain. The aim of this study was to establish an overview of patient characteristics and surgical techniques in patients that have a groin hernia repair without a hernia present.
Methods
This cohort study is based on nationwide data on hernia repairs from the Danish Hernia Database. Patients having a primary groin hernia repair without having a hernia between 1998 and 2011 were included and followed for minimum 4 years. We evaluated patient characteristics, type of surgery, and re-operation rates for laparoscopic and open surgeries.
Results
Groin hernia repairs were performed in 1,028 groins where no hernia was present. The median follow-up after primary surgery was 11 years (range 4–17). Men represented 78% of the patients, and the mean age was 50 years (standard deviation 16.4). The most frequent type of surgery was the open Lichtenstein repair. The overall re-operation rate was 7% and this was evenly distributed across the different types of primary surgeries with no difference in neither the crude nor the cumulated re-operation rates. During re-operation, a groin hernia was found in 88% of the repairs.
Conclusion
Groin hernia repairs in groins without a hernia are performed at all ages and with the typical patient being a middle-aged man receiving an open mesh repair.
This is a preview of subscription content, log in to check access.
Access options
Buy single article
Instant access to the full article PDF.
US$ 39.95
Price includes VAT for USA
Subscribe to journal
Immediate online access to all issues from 2019. Subscription will auto renew annually.
US$ 99
This is the net price. Taxes to be calculated in checkout.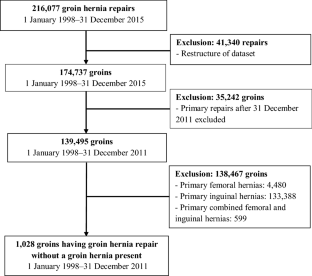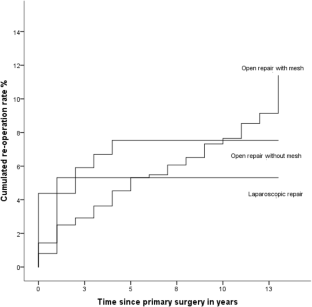 References
1.

Sheen AJ, Stephenson BM, Lloyd DM et al (2014) Treatment of the sportsman's groin": British Hernia Society's 2014 position statement based on the Manchester consensus conference. Br J Sports Med 48:1079–1087. https://doi.org/10.1136/bjsports-2013-092872

2.

Weir A, Brukner P, Delahunt E et al (2015) Doha agreement meeting on terminology and definitions in groin pain in athletes. Br J Sports Med 49:768–774. https://doi.org/10.1136/bjsports-2015-094869

3.

Paajanen H, Brinck T, Hermunen H et al (2011) Laparoscopic surgery for chronic groin pain in athletes is more effective than nonoperative treatment: a randomized clinical trial with magnetic resonance imaging of 60 patients with sportsman's hernia (athletic pubalgia). Surgery 150:99–107. https://doi.org/10.1016/j.surg.2011.02.016

4.

Sebecic B, Japjec M, Jankovic S et al (2014) Is chronic groin pain a Bermuda triangle of sports medicine? Acta Clin Croat 53:471–478

5.

Dimitrakopoulou A, Schilders E (2016) Sportsman's hernia? An ambiguous term. J Hip Preserv Surg 3:16–22. https://doi.org/10.1093/jhps/hnv083

6.

Brukner P, Khan K (2017) Brukner & Khan's clinical sports medicine: injuries, vol 1. McGraw-Hill, New York

7.

Benchimol EI, Smeeth L, Guttmann A et al (2015) The REporting of studies Conducted using Observational Routinely-collected health Data (RECORD) statement. PLoS Med 12:e1001885. https://doi.org/10.1371/journal.pmed.1001885

8.

Friis-Andersen H, Bisgaard T (2016) The Danish inguinal hernia database. Clin Epidemiol 8:521–524

9.

Kehlet H, Bay-Nielsen M (2008) Nationwide quality improvement of groin hernia repair from the Danish hernia database of 87,840 patients from 1998 to 2005. Hernia 12:1–7. https://doi.org/10.1007/s10029-007-0285-5

10.

Swan K, Wolcott M (2006) The athletic hernia: a systematic review. Clin Orthop Relat Res 455:78–87. https://doi.org/10.1097/BLO.0b013e31802eb3ea

11.

Hussain A, Mahmood H, Singhal T et al (2008) Laparoscopic surgery for chronic groin pain in the general population: a prospective study. J Laparoendosc Adv Surg Tech A 18:809–813. https://doi.org/10.1089/lap.2007.0167

12.

Bay-Nielsen M, Kehlet H, Strand L et al (2001) Quality assessment of 26 304 herniorrhaphies in Denmark: a prospective nationwide study. Lancet 358:1124–1128

13.

Muschaweck U, Berger L (2010) Minimal repair technique of sportsmen's groin: an innovative open-suture repair to treat chronic inguinal pain. Hernia 14:27–33. https://doi.org/10.1007/s10029-009-0614-y

14.

Primatesta P, Goldacre MJ (1996) Inguinal hernia repair: incidence of elective and emergency surgery, readmission and mortality. Int J Epidemiol 25:835–839

15.

Schmidt L, Öberg S, Andresen K et al (2019) Laparoscopic repair is superior to open techniques when treating primary groin hernias in women: a nationwide register-based cohort study. Surg Endosc 2019;33:71–78. https://doi.org/10.1007/s00464-018-6270-5 

16.

Ingoldby CJH (1997) Laparoscopic and conventional repair of groin disruption in sportsmen. BJS 84:213–215

17.

Wara P, Bay-Nielsen M, Juul P et al (2005) Prospective nationwide analysis of laparoscopic versus Lichtenstein repair of inguinal hernia. Br J Surg 92:1277–1281
Ethics declarations
Conflict of interest
Mr. Rosenberg reports personal fees from C.R. Bard, Inc. and Merck and Co. outside the submitted work. Ms. Gamborg and Ms. Öberg have no conflicts of interest or financial ties to disclose.
Ethical approval
The study was approved by the Danish Protection Agency (journal-number: VD-2018-258). No ethical approval were needed according to danish law.
Human and animal rights
This article does not contain any studies with human participants or animals performed by any of the authors.
Informed consent
For this study, formal consent was not required.
Additional information
Publisher's Note
Springer Nature remains neutral with regard to jurisdictional claims in published maps and institutional affiliations.
About this article
Cite this article
Gamborg, S., Öberg, S. & Rosenberg, J. Characteristics of groin hernia repair in patients without a groin hernia: a nationwide cohort study. Hernia 24, 115–120 (2020). https://doi.org/10.1007/s10029-019-01967-z
Received:

Accepted:

Published:

Issue Date:
Keywords
Sports hernia

Inguinal hernia repair

Laparoscopic repair

Open repair

Re-operations