Abstract
Purpose
Incisional hernia following closure of loop ileostomy is a common problem. Assessment of the proportion of this complication is limited by small sample size and inconsistent reporting. The aim of this review was to provide an estimate of the proportion of incisional hernia following closure of loop ileostomy according to clinical and radiological diagnostic criteria and to investigate the association of bibliometric and study quality parameters with reported proportion.
Methods
A systematic review of PubMed, Embase, CENTRAL, ISRCTN Registry and Open Grey from 2000 onwards was performed according to PRISMA standards. Reporting on the type of stoma and mesh reinforcement after closure was mandatory for inclusion, whereas studies on paediatric populations were excluded. Fixed effect or random effects models were used to calculate pooled proportion estimates. Meta-regression models were formed to explore potential heterogeneity.
Results
42 studies with 7166 patients were included. The pooled estimate of the proportion of incisional hernia after ileostomy closure was 6.1% (95% confidence interval, CI 4.4–8.3%). Proportion estimates for higher quality studies and studies reporting on incisional hernia as primary outcome were 9.0% (95% CI 6.3–12.7%) and 13.1% (95% CI 8.8–19.1%). Significant between-study heterogeneity was identified (P < 0.001, I2 = 87%) and the likelihood of publication bias was high (P = 0.028). Mixed effects regression showed that both year of publication (P = 0.034, Q = 4.484, df = 1.000) and defining hernia as a primary outcome (Q = 20.298, P < 0.001) were related to effect size. Method of follow-up and quality of the studies affected the proportion.
Conclusion
The proportion of incisional hernia at ileostomy closure site is estimated at 6.1%. Reporting incisional hernia as primary or secondary outcome, the method of diagnosis, the year of publication and methodological quality are associated with reported proportion.
This is a preview of subscription content, log in to check access.
Access options
Buy single article
Instant access to the full article PDF.
US$ 39.95
Price includes VAT for USA
Subscribe to journal
Immediate online access to all issues from 2019. Subscription will auto renew annually.
US$ 99
This is the net price. Taxes to be calculated in checkout.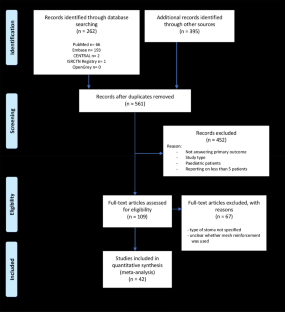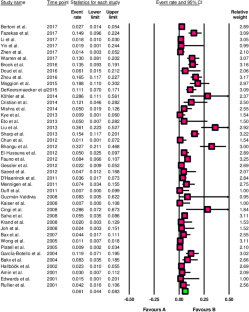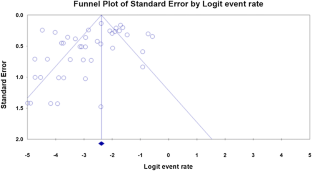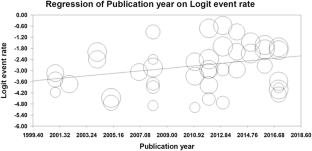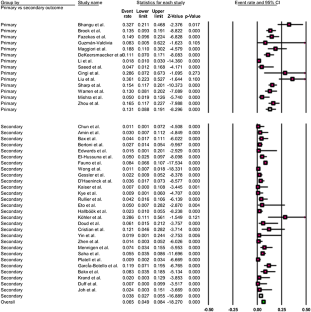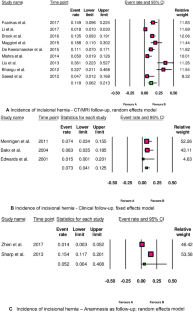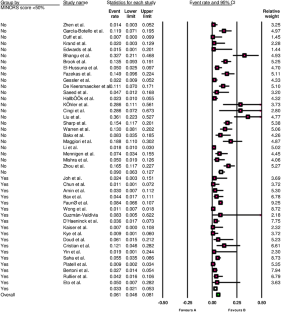 References
1.

Braun M, Duffy J, Church J, Maxwell-armstrong C, Murphy A (2016) National bowel cancer audit annual report 2016. Healthcare Quality Improvement Partnership Ltd. (HQIP). Available from: https://www.acpgbi.org.uk/content/uploads/2016/07/nati-clin-audi-bowe-canc-2016-rep-v2.pdf

2.

Bhangu A, Nepogodiev D, Futaba K (2012) Systematic review and meta-analysis of the incidence of incisional hernia at the site of stoma closure. World J Surg 36:973–983

3.

Chow A, Tilney HS, Paraskeva P, Jeyarajah S, Zacharakis E, Purkayastha S (2009) The morbidity surrounding reversal of defunctioning ileostomies : a systematic review of 48 studies including 6, 107 cases. Int J Colorectal Dis 2009:711–723

4.

Nguyen MT, Phatak UR, Li LT, Hicks SC, Moffett JM, Arita NA et al (2014) Review of stoma site and midline incisional hernias after stoma reversal. J Surg Res. 190:504–509

5.

Kaidar-person O, Person B, Wexner SD (2005) Complications of construction and closure of temporary loop ileostomy. J Am Coll Surg 2005:759–773

6.

Slim K, Nini E, Forestier D, Kwiatkowski F, Panis Y, Chipponi J (2003) Methodological index for non-randomized studies (minors): development and validation of a new instrument. ANZ J Surg. 73:712–716

7.

Edwards DP, Sexton R, Heald RJ, Moran BJ (2001) Stoma-related complications are more frequent after transverse colostomy than loop ileostomy : a prospective randomized clinical trial. Br J Surg 2001:360–363

8.

Chun LJ, Haigh PI, Tam MS, Abbas MA (2012) Defunctioning loop ileostomy for pelvic anastomoses: predictors of morbidity and nonclosure. Dis Colon Rectum. 2012:167–174

9.

Amin SN, Memon MA, Armitage NC, Scholefield JH (2001) Defunctioning loop ileostomy and stapled side-to-side closure has low morbidity. Ann R Coll Surg Engl 2001:246–249

10.

Bax TW, Mcnevin MS (2007) The value of diverting loop ileostomy on the high-risk colon and rectal anastomosis. Am. J. Surg. 193:585–588

11.

Bertoni DM, Hammond KL, Beck DE, Hicks TC, Whitlow CB, Vargas HD et al (2017) Use of sodium hyaluronate/carboxymethylcellulose bioresorbable membrane in loop ileostomy construction facilitates stoma closure. Ochsner Journal. 2017:146–149

12.

Bhangu A, Fletcher L, Kingdon S, Smith E, Nepogodiev D, Janjua U (2012) A clinical and radiological assessment of incisional hernias following closure of temporary stomas. Surgeon. 10:321–325

13.

Brook AJ, Mansfield SD, Daniels IR, Smart NJ (2016) Incisional hernia following closure of loop ileostomy: the main predictor is the patient, not the surgeon. Surgenon. 16(1):20–26

14.

El-hussuna A, Lauritsen M, Bülow S (2012) Relatively high incidence of complications after loop ileostomy reversal. Dan Med J 59:10

15.

Faunø L, Rasmussen C, Sloth KK, Sloth AM (2012) Tøttrup A (2012) Low complication rate after stoma closure: consultants attended 90% of the operations. Color Dis. 14:e499–e505

16.

Fazekas B, Fazekas B, Hendricks J, Smart N, Arulampalam T, Devon R et al (2017) The incidence of incisional hernias following ileostomy reversal in colorectal cancer patients treated with anterior resection. Ann R Coll Surg Engl. 99:319–324

17.

Wong K-S, Remzi FH, Gorgun E, Arrigain S, Church JM, Ch MBB et al (2005) Loop ileostomy closure after restorative proctocolectomy: outcome in 1504 patients. Dis Colon Rectum. 48:243–250

18.

Gessler B, Haglind E, Angenete E (2012) Loop ileostomies in colorectal cancer patients- morbidity and risk factors for nonreversal. J Surg Res Elsevier Ltd 178:708–714

19.

Guzmán-Valdivia G (2008) Incisional hernia at the site of a stoma. Hernia 12:471–474

20.

D'Haeninck AD, Wolthuis AM, Penninckx F, Hondt MD, Hoore AD, Haeninck AD et al (2011) Morbidity after Closure of a Defunctioning Loop Ileostomy. Acta Chir Belg. 111:136–141

21.

Maggiori L, Moszkowicz D, Zappa M, Mongin C, Panis Y (2015) Bioprosthetic mesh reinforcement during temporary stoma closure decreases the rate of incisional hernia: a blinded, case-matched study in 94 patients with rectal cancer. Surgery. 158:1651–1657

22.

Kaiser AM, Israelit S, Klaristenfeld D, Selvindoss P, Vukasin P, Ault G et al (2008) Morbidity of ostomy takedown. J Gastrointest Surg. 12:437–441

23.

Kye B, Kim H, Kim J, Cho H (2013) The nutritional impact of diverting stoma-related complications in elderly rectal cancer patients. Int J Colorectal Dis 2013:1393–1400

24.

De Keersmaecker G, Beckers R, Heindryckx E, Kyle-Leinhase I, Pletinckx P, Claeys D et al (2016) Retrospective observational study on the incidence of incisional hernias after reversal of a temporary diverting ileostomy following rectal carcinoma resection with follow-up CT scans. Hernia 20:271–277

25.

Li W, Benlice C, Stocchi L, Kessler H, Gorgun E, Costedio M (2017) Does stoma site specimen extraction increase postoperative ileostomy complication rates? Surg Endosc. 31:3552–3558

26.

Rullier E, Le Toux N, Laurent C, Garrelon J, Parneix M, Saric J (2001) Loop ileostomy versus loop colostomy for defunctioning low anastomoses during rectal cancer surgery. World J Surg 2001:274–278

27.

Saeed ZM, Lloyd-Evans J, Reid TD, Williams R, Robinson M, Williams GL et al (2012) CT evaluation for 'quiescent' herniation following closure of diverting loop ileostomy. Color Dis. 14:1528–1530

28.

Eto K, Omura N, Haruki K, Uno Y, Ohkuma M, Nakajima S et al (2013) Transumbilical defunctioning ileostomy: a new approach for patients at risks of anastomotic leakage after laparoscopic low anterior resection. Anticancer Res. 33:5011–5016

29.

Hallböök O, Matthiessen P, Leinsköld T, Nyström PO, Sjödahl R (2002) Safety of the temporary loop ileostomy. Color Dis. 4:361–364

30.

Köhler G, Spaun G, Luketina RR, Antoniou SA, Koch OO, Emmanuel K (2014) Early protective ileostomy closure following stoma formation with a dual-sided absorbable adhesive barrier. Eur Surg Acta Chir Austriaca. 46:197–202

31.

Cingi A, Solmaz A, Attaalah A, Aslan A, Aktan A (2008) Enterostomy closure site hernias: a clinical and ultrasonographic evaluation. Hernia 2008:401–405

32.

Liu DSH, Banham E, Yellapu S (2013) Prophylactic mesh reinforcement reduces stomal site incisional hernia after ileostomy closure. World J Surg. 29(37):2039–2045

33.

Doud AN, Levine EA, Fino NF, Stewart JH, Shen P, Votanopoulos KI (2016) Stoma creation and reversal after cytoreductive surgery with hyperthermic intraperitoneal chemotherapy. Ann Surg Oncol. 2016:503–510

34.

Sharp SP, Francis JK, Valerian BT, Canete JJ, Chismark AD, Lee EC (2015) Incidence of ostomy site incisional hernias after stoma closure. Am Surg. 81:1244–1248

35.

Cristian DA, Grama FA, Burcoş T, Bordea A (2014) Temporary protective loop ileostomy in open low rectal resection—an alternative technique. Chirurgia (Bucur). 109:238–242

36.

Yin T-C, Tsai H-L, Yang P-F, Su W-C, Ma C-J, Huang C-W et al (2017) Early closure of defunctioning stoma increases complications related to stoma closure after concurrent chemoradiotherapy and low anterior resection in patients with rectal cancer. World J Surg Oncol. 15:80

37.

Zhen L, Wang Y, Zhang Z, Wu T, Liu R, Li T et al (2017) Effectiveness between early and late temporary ileostomy closure in patients with rectal cancer: a prospective study. Curr Probl Cancer. 41:231–240

38.

Warren JA, Beffa LR, Carbonell AM, Cull J, Sinopoli B, Ewing JA et al (2017) Prophylactic placement of permanent synthetic mesh at the time of ostomy closure prevents formation of incisional hernias. Surgery. 163(4):839–846

39.

Mennigen R, Senninger N, Bruwer M, Rijcken E (2011) Impact of defunctioning loop ileostomy on outcome after restorative proctocolectomy for ulcerative colitis. Int J Colorectal Dis. 26:627–633

40.

Saha AK, Tapping CR, Foley GT, Baker RP, Sagar PM, Burke DA et al (2009) Morbidity and mortality after closure of loop ileostomy. Color Dis. 11:866–871

41.

Platell C, Barwood N, Makin G (2005) Clinical utility of a de-functioning loop ileostomy. ANZ J Surg. 75:147–151

42.

García-Botello SA, García-Armengol J, García-Granero E, Espí A, Juan C, López-Mozos F et al (2004) A prospective audit of the complications of loop ileostomy construction and takedown. Dig Surg. 21:440–446

43.

Bakx R, Busch ORC, Bemelman WA, Veldink GJ, Slors JFM, Van Lanschot JJB (2004) Morbidity of temporary loop ileostomies. Dig Surg. 21:277–281

44.

Krand O, Yalti T, Berber I, Tellioglu G (2008) Early vs Delayed Closure of Temporary Covering Ileostomy: A Prospective Study. Hepato Gastroenterology. 55:142–145

45.

Duff SE, Sagar PM, Rao M, Macafee D, El-Khoury T (2011) Laparoscopic restorative proctocolectomy: safety and critical level of the ileal pouch anal anastomosis. Color Dis. 14:883–886

46.

Mishra A, Keeler BD, Maxwell-Armstrong C, Simpson JA, Acheson AG (2014) The influence of laparoscopy on incisional hernia rates: a retrospective analysis of 1057 colorectal cancer resections. Color Dis. 16:815–821

47.

Joh Y-G, Lindsetmo R-O, Stulberg J, Obias V, Champagne B, Delaney CP (2008) Standardized postoperative pathway: accelerating recovery after ileostomy closure. Dis Colon Rectum. 51:1786–1789

48.

Zhou P, Hrabe J, Byrn J (2016) A retrospective, single-institution review of loop ileostomy reversal outcomes. Ostomy Wound Manag. 62(8):22–33

49.

Matthews JH, Bhanderi S, Chapman SJ, Nepogodiev D, Pinkney T, Bhangu A (2016) Underreporting of secondary endpoints in randomized trials: Cross-sectional, observational study. Ann Surg. 264:982–986

50.

Flum DR, Horvath K, Koepsell T (2003) Have outcomes of incisional hernia repair improved with time. Ann Surg. 237:129–135

51.

Muysoms FE, Deerenberg EB, Peeters E, Agresta F, Berrevoet F, Campanelli G et al (2013) Recommendations for reporting outcome results in abdominal wall repair: results of a consensus meeting in Palermo, Italy, 28–30 June 2012. Hernia 17:423–433

52.

Reinforcement of Closure of Stoma Site (ROCSS) (2018) Collaborative and the west midlands research collaborative: Randomized controlled trial of standard closure of a stoma site vs biological mesh reinforcement: study protocol of the ROCSS trial. Colorectal Dis 20(2):O46–O54

53.

Reinforcement of Closure of Stoma Site (ROCSS) (2016) Collaborative and the west midlands research collaborative: Feasibility study from a randomized controlled trial of standard closure of a stoma site vs biological mesh reinforcement. Colorectal Dis. 18(9):889–896
Ethics declarations
Conflict of interest
NJS receives speaker fees for hernia surgery subjects by Medtronic and GORE. FDH, SAA, NLB and GAA have no conflicts of interest or financial ties to disclose.
Ethical approval
We do have a registration on PROSPERO (registration number CRD42018092400) and agreement of our institute.
Human and animal rights
This article does not contain any studies with human participants or animals performed by any of the authors.
Informed consent
No new patients or animals were studied, as this is a systematic review and meta-analysis.
Additional information
Publisher's Note
Springer Nature remains neutral with regard to jurisdictional claims in published maps and institutional affiliations.
Electronic supplementary material
Below is the link to the electronic supplementary material.
About this article
Cite this article
De Haes, F., Bullen, N.L., Antoniou, G.A. et al. Systematic review and meta-analysis of incisional hernia post-reversal of ileostomy. Hernia 24, 9–21 (2020). https://doi.org/10.1007/s10029-019-01961-5
Received:

Accepted:

Published:

Issue Date:
Keywords
Incisional hernia

Ileostomy

Reversal

Closure

Stoma