Abstract
Purpose
Incisional hernia is the most common complication of laparotomy. Postoperative parietal defects tend to relapse, even after the most optimal surgical methods. The aim of this study was to present the effectiveness of an adapted retromuscular technique with prolene mesh and a hernial sac, in patients with large incisional median hernias. The reported results were obtained by our team after more than 15 years of experience.
Methods
This retrospective study included 139 consecutive cases of large median incisional hernias operated on using a retromuscular mesh and hernial sac technique. The cross-sectional diameter of incisional hernias was larger than 10 cm, being classified in the W3 group, according to the European Hernia Society classification.
Results
The study included 83 females (59.71%) and 56 males (40.29%) with a median age of 62.4 ± 16.6 years and an average body mass index of 32.4 ± 7.6 kg. The hernia was supraumbilically located in 54 cases, subumbilically in 61 cases, and supra- and subumbilically in 24 cases. Postoperative complications were recorded in eight cases (5.75%): one case with a hematoma in the right abdominal muscle sheath; five cases with supra-aponeurotic seromas; two cases with skin necrosis and one with a mesh infection. Recurrence occurred in seven cases (5.03%): four cases in the first 2 years postoperatively and three cases in the third year after surgery.
Conclusions
The retromuscular technique with prolene mesh and a hernial sac is an effective method of restoring the integrity of the abdominal wall in large median incisional hernias with low rates of morbidity and recurrence.
This is a preview of subscription content, log in to check access.
Access options
Buy single article
Instant access to the full article PDF.
US$ 39.95
Price includes VAT for USA
Subscribe to journal
Immediate online access to all issues from 2019. Subscription will auto renew annually.
US$ 99
This is the net price. Taxes to be calculated in checkout.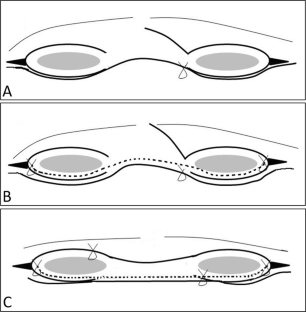 References
1.

Speranzini MB, Deutsch CR (2010) Giant incisional hernias ABCD. Arq Bras Cir Dig 23:280–286

2.

Bara T, Gyorgy IF, Torok A, Fecso AB, Bara T Jr (2004) Surgical treatment of the median giant, incisional hernia with prolene mesh in a sublay position and with the hernial sac. Bull Med Sci 77:151–156

3.

Bara T, Bancu S, Gyorgy-Fazakas I, Azamfirei L, Daniela P, Bara T Jr (2007) Reconstruction of incisional median hernia with retromuscular mesh and hernial sac. Magy Seb 60:136–139

4.

Beck M (2011) Grandes eventrations autoplastie et prothese retro-musculaire. In: Avci C, Fourtanier G, Avtan L (eds) Video-Atlas Chirurgie herniaire. Springer, New York, pp 119–126

5.

Malik A, Macdonald ADH, de Beaux AC, Tulloh BR (2014) The peritoneal flap hernioplasty for repair of large ventral and incisional hernias. Hernia 18:39–45

6.

Huyghe M (2017) The use of peritoneal flaps in the repair of large incisional hernia. http://www.club-hernie-mesh.com/img/communications. Accessed 7 Dec 2018

7.

Montgomery A (2017) The Malmo abdominal flap technique for large ventral hernias. http://www.club-hernie-mesh.com/img/communications. Accessed 8 Dec 2018

8.

Kockerling F, Scheuerlein H, Schug-Pass C (2018) Treatment of large incisional hernias in sandwich technique—a review of the literature. Front Surg 5:37

9.

Chevrell JP, Rath AM (2000) Classification of incisional hernias of the abdominal wall. Hernia 4:7–11

10.

Muysoms FE, Miserez M, Berrevoet F, Campanelli G, Champault GG, Chelala E, Dietz UA, Eker HH, El Nakadi I, Hauters P, Hidalgo Pascual M, Hoeferlin A, Klinge U, Montgomery A, Simmermacher RK, Simons MP, Smietanski M, Sommeling C, Tollens T, Vierendeels T, Kingsnorth A (2009) Classification of primary and incisional abdominal wall hernias. Hernia 13:407–414

11.

Grande M, Lisi G, Campanelli M, Grande S, Venditti D, Nigro C, Cabry F, Villa M (2017) Laparoscopic treatment of giant ventral hernia: experience of 35 patients. Surg Technol Int 30:165–169

12.

Gokmen O, Umit MF, Cenk E, Yasar O, Huseyin B, Bulent C, Oguzhan K (2016) A novel reconstruction method for giant incisional hernia: hybrid laparoscopic technic. Minim Access Surg. https://doi.org/10.4103/0972-9941.144092

13.

Ozturk G, Malya FU, Ersavas C, Ozdenkaya Y, Bektasoglu H, Cipe G, Citgez B, Karatepe O (2015) A novel reconstruction method for giant incisional hernia: hybrid laparoscopic technique. J Minim Access Surg 11:267–270

14.

Puiac C, Jung I, Puscasiu L, Szederjesi J (2017) The postoperative plasmatic level of neutrophil gelatinase-associated lipocalin does not reflect its tissue expression in critically ill patients with high abdominal pressure. Rev Chim 68:2850–2852

15.

Renard Y, Lardiere-Deguelte S, de Mestier L, Appere F, Colosio A, Kianmanesh R, Palot JP (2016) Management of large incisional hernias with loss of domain: a prospective series of patients prepared by progressive preoperative pneumoperitoneum. Surgery 160:426–435

16.

Elstner KE, Read JW, Rodriguez-Acevedo O, Ho-Shon K, Magnussen J, Ibrahim N (2017) Preoperative progressive pneumoperitoneum complementing chemical component relaxation in complex ventral hernia repair. Surg Endosc 31(4):1914–1922

17.

Bueno-Lledo J, Torregrosa A, Ballester N, Carreño O, Carbonell F, Pastor PG, Pamies J, Cortes V, Bonafe S, Iserte J (2017) Preoperative progressive pneumoperitoneum and botulinum toxin type A in patients with large incisional hernia. Hernia 21:233–243

18.

Slater NJ, van Goor H, Bleichrodt RP (2015) Large and complex ventral hernia repair using "components separation technique" without mesh results in a high recurrence rate. Am J Surg 209:170–179

19.

Torregrosa-Gallud A, Sancho Muriel J, Bueno-Lledo J, García Pastor P, Iserte-Hernandez J, Bonafé-Diana S, Carreno-Saenz O, Carbonell-Tatay F (2017) Modified components separation technique: experience treating large, complex ventral hernias at a University Hospital. Hernia; https://doi.org/10.1007/s10029-017-1619-6

20.

Azar FK, Crawford TC, Poruk KE, Farrow N, Cornell P, Nadra O, Azoury SC, Soares KC, Cooney CM, Eckhauser FE (2017) Ventral hernia repair in patients with abdominal loss of domain: an observational study of one institution's experience. Hernia 21:245–252

21.

Martin-Cartes JA, Tamayo-Lopez MJ, Bustos-Jimenez M (2016) 'Sandwich' technique in the treatment of large and complex incisional hernias. ANZ J Surg 86:343–347

22.

Popa F, Ardelean F, Pestean C, Purdoiu R, Rosca O, Georgescu A (2017) Flap surgical techniques for incisional hernia recurrences. A swine experimental model. Clujul Med 90:203–211

23.

Ciurea M, Ion D, Pariza G, Movrodin C (2008) General principles of abdominal wall reconstruction-20 years of experience. Chirurgia (Bucur) 103:211–217

24.

Mates N (2008) Full-thickness replacement using intraperitoneal mesh in large incisional hernia. Chirurgia (Bucur) 103:677–684

25.

Graur F (2010) Treatment of incisional hernia using the sublay technique. Chirurgia (Bucur) 105:387–391
Acknowledgements
This work was supported by a grant of the Romanian National Authority for Scientific Research, CNCS–UEFISCDI, project number 20 PCCF/2018, code: PN-III-P4-ID-PCCF-2016-0006.
Ethics declarations
Conflict of interest
TJB declares no conflict of interest; SG declares no conflict of interest; CB declares no conflict of interest; MM declares no conflict of interest; IJ declares no conflict of interest; ZF declares no conflict of interest; TB declares no conflict of interest.
Ethical approval
The University of Medicine and Pharmacy of Targu Mures, Romania Institutional Review Board reviewed and approved this study.
Human and animal rights
The study including human participants has been performed in accordance with the ethical standards of the Declaration of Helsinki and its later amendments.
Informed consent
Informed consent was obtained from all patients prior to all surgical procedures.
Additional information
Publisher's Note
Springer Nature remains neutral with regard to jurisdictional claims in published maps and institutional affiliations.
About this article
Cite this article
Bara, T., Gurzu, S., Borz, C. et al. Retromuscular mesh and hernial sac technique in the reconstruction of 139 cases of large median incisional hernias: one institution's experience. Hernia 24, 99–105 (2020). https://doi.org/10.1007/s10029-019-01915-x
Received:

Accepted:

Published:

Issue Date:
Keywords
Incisional hernia

Prolene

Retromuscular

Hernial sac