Abstract
Background
Despite the small size of the incision, the scar left by open repair of epigastric hernia in children is unaesthetic. Few laparoscopic approaches to epigastric hernia repair have been previously proposed, but none has gain wide acceptance from pediatric surgeons. In this study, we present our experience with a scarless laparoscopic approach using a percutaneous suturing technique for epigastric hernia repair in children.
Methods
Ten consecutive patients presenting with epigastric hernia 15 mm or further from the umbilicus were submitted to laparoscopic hernia repair. A 5-mm 30º-angle laparoscope is introduced through a umbilical trocar and a 3-mm laparoscopic dissector is introduced through a stab incision in the right flank. After opening and dissecting the parietal peritoneum, the fascial defect is identified and closed using 2–0 polyglactin thread through a percutaneous suturing technique. Intraoperative and postoperative clinical data were collected.
Results
All patients were successfully submitted to laparoscopic epigastric hernia repair. Median age at surgery was 79 months old and the median distance from the umbilicus to the epigastric defect was 4 cm. Operative time ranged from 35 to 75 min. Every hernia was successfully closed without any incidents. Follow-up period ranges from 2 to 12 months. No postoperative complications or recurrence was registered. No scar was visible in these patients.
Conclusion
This scarless laparoscopic technique for epigastric hernia repair is safe and reliable. We believe this technique might become gold standard of care in the near future.
This is a preview of subscription content, log in to check access.
Access options
Buy single article
Instant unlimited access to the full article PDF.
US$ 39.95
Price includes VAT for USA
Subscribe to journal
Immediate online access to all issues from 2019. Subscription will auto renew annually.
US$ 99
This is the net price. Taxes to be calculated in checkout.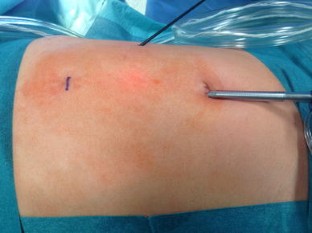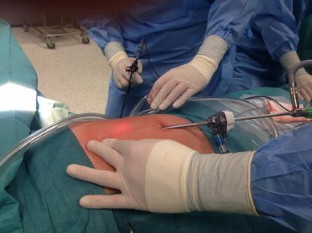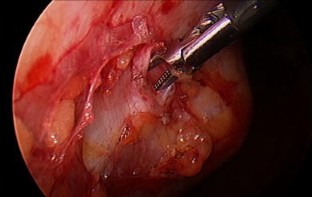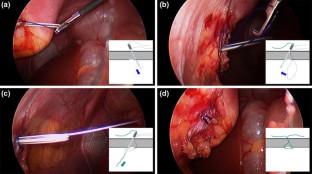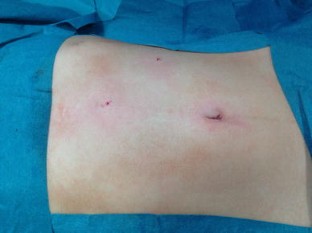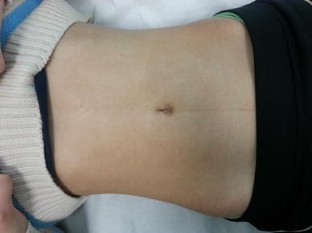 References
1.

Coats RD, Helikson MA, Burd RS (2000) Presentation and management of epigastric hernias in children. J Pediatr Surg 35:1754–1756

2.

Albanese CT, Rengal S, Bermudez D (2006) A novel laparoscopic technique for the repair of pediatric umbilical and epigastric hernias. J Pediatr Surg 41:859–862

3.

Tatekawa Yukihiro, Yamanaka Hiroaki, Hasegawa Toshimichi (2013) Single-port laparoscopic repair of an epigastric hernia using an epidural needle. Int J Surg Case Rep 4:262–264

4.

Patkowski D, Czernik J, Chrzan R, Jaworski W, Apoznański W (2006) Percutaneous internal ring suturing: a simple minimally invasive technique for inguinal hernia repair in children. J Laparoendosc Adv Surg Tech A 16:513–517

5.

Babsail A, Abelson JS, Liska D, Muensterer OJ (2014) Single-incision pediatric endosurgical epigastric hernia repair. Hernia 18:357–360
Conflict of interest
JCP is a consultant for Karl Storz. JMP has no conflict of interests to declare.
Electronic supplementary material
Below is the link to the electronic supplementary material.
Video 2. A percutaneous suture technique is used to approximate both borders of the fascial defect. First, a 2–0 polypropylene suture is threaded through a 16 G needle and inserted through one of the sides of the defect. A loop is created inside the abdomen with the help of the dissector. The same 16 G needle is used to pass a different 2–0 polyglactin suture going through the other side of the defect and into the loop. Pulling the loop back out results in a 2–0 polyglactin stitch approximating both sides of the fascial defect. A knot is tied extracorporeally. Consecutive suture knots are applied as needed. (WMV 13505 kb)
About this article
Cite this article
Moreira-Pinto, J., Correia-Pinto, J. Scarless laparoscopic repair of epigastric hernia in children. Hernia 19, 623–626 (2015). https://doi.org/10.1007/s10029-015-1369-2
Received:

Accepted:

Published:

Issue Date:
Keywords
Epigastric hernia

Children

Laparoscopy

Surgical repair

Percutaneous suturing

Umbilicus