Abstract
The growing public pressure against the spread of cell phone towers in urban areas has created a need to understand their impact on adjacent house prices. A few existing studies are, however, controversial in their methodology and inconclusive in their results. Therefore, our study on the effect of cell phone towers on house prices is designed to avoid these deficiencies. Property transaction data collected from two suburbs within the Brisbane City Council were analysed adopting the spatial hedonic property valuation model. The estimated models were statistically significant and were largely in line with theoretical expectations. The results revealed that proximity to cell phone towers negatively affects house values, decreasing as the distance from the tower increases. A suitable compensation programme for nearby property owners is, therefore, suggested as being an appropriate policy response.
This is a preview of subscription content, log in to check access.
Access options
Buy single article
Instant unlimited access to the full article PDF.
US$ 39.95
Price includes VAT for USA
Subscribe to journal
Immediate online access to all issues from 2019. Subscription will auto renew annually.
US$ 99
This is the net price. Taxes to be calculated in checkout.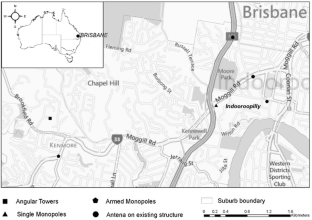 Notes
1.

2.

3.

The assumption of an independent and identical distribution of error terms in OLS estimation is not satisfied due to the spatial effect (Anselin 2009). In such a case, OLS estimation for coefficient β of the hedonic model is biased and, therefore, the maximum likelihood estimation (MLE) is appropriate. The efficiency and consistency of parameter estimation can be improved through the application of spatial regression models (Mallios et al. 2009).

4.

Australian Bureau of Statistics.

5.

Decided based on the distribution of the sample.
References
Anselin L (2009) Thirty years of spatial econometrics. Working Paper 2009–02, Geoda Centre for Geospatial Analysis and Computation

Athukorala W, Martin W, Neelawala P, Rajapaksa D, Wilson C (2016) Impact of wildfires and floods on property values: a before and after analysis. Singap Econ Rev. doi:10.1142/S0217590816400026

Australian Radiation Protection and Nuclear Safety Agency (2011) What about base station and telecommunication towers-are there are any health effects? EME Series No. 9. http://www.arpansa.gov.au. Retrieved Oct 2011

Bin O, Landry CE (2013) Changes in implicit flood risk premiums: empirical evidence from the housing market. J Environ Econ Manag 65:361–376

Bond S (2007) Cell phone tower proximity impacts on house prices: a New Zealand case study. Pac Rim Prop Res J 13:63–91

Bond S, Squires L (2007) Using GIS to measure the impact of distance to cell phone towers on house prices in Florida. Thirteenth Pacific-Rim Real Estate Society Conference, Perth, Western Australia 21–24 January 2007. http://pres.net/Bond_Squires_using_GIS_to_measure.pdf. Retrieved Dec 2011

Bond S, Wang K (2005) The impact of cell phone towers on house prices in residential neighborhoods. Apprais J 73:256–277

Bond S, Mun S, Sakornvanasak P, McMahon N (2003) The impact of cellular phone base towers on property values. Ninth Pacific-Rim Real Estate Society Conference, Brisbane, Australia 19–22 January 2003

Cameron TA (2006) Directional heterogeneity in distance profiles in hedonic property value models. J Environ Econ Manag 51:26–45

Chalmers JA, Voorvaart FA (2009) High voltage transmission lines: proximity, visibility and encumbrance effects. Apprais J 77:227–245

Elliott P, Wadley D (2002) The impact of transmission lines on property values: coming to terms with stigma. Prop Manag 20:137–152

Filippova O, Rehm M (2011) The impact of proximity to cell phone towers on residential property values. Int J Hous Mark Anal 4:244–267

Gandhi G, Kaur G, Nisar U (2015) A cross-sectional case control study on genetic damage in individuals residing in the vicinity of a mobile phone base station. Electromagn Biol Med 34:344–354

Hamilton SW, Schwann GM (1995) Do high voltage electric transmission lines affect property value? Land Econ 71:436–444

Hayunga DK, Pace RK (2010) Spatial statistics applied to commercial real estate. J Real Estate Finance Econ 41:103–125

http://www.couriermail.com.au/questnews/west/brookfield-residents-protest-against-mobile-tower-plans/story-fn8m0u4y-1226147998909. Retrieved 10 Dec 2011

International Agency for Research on cancer (2011) IARC classifies radiofrequency electromagnetic fields as possible carcinogenic to humans. http://www.iarc-fr/eu/media-centre/pr/2011/pdfs/pr208_E.pdf. Retrieved Dec 2011

Lamond J, Proverbs D, Hammond F (2010) The impact of flooding on the price of residential property: a transactional analysis of UK market. Hous Stud 25:335–356

Landry CE, Hindsley P (2011) Valuing beach quality with hedonic property models. Land Econ 87:92–108

Mallios Z, Papageogiou A, Latinopoulos D, Latinopoulos P (2009) Spatial hedonic pricing models for the valuation of irrigation water. Glob NEST J 11:575–582

McDonough CC (2003) The impact of wireless towers on residential property values. Assess J 10:25–32

Pitt JM, Jackson TO (2007) Power lines and property values revisited. Apprais J 75:323–325

Rajapaksa D, Wilson C, Managi S, Hoang V, Lee B (2016) Flood risk information, actual floods and property values: a quasi-experimental analysis. Econ Rec 92:52–67

http://www.mer-telecom.com/telecom. Retrieved 15 Dec 2011

Rosiers FD (2002) Power lines, visual encumbrance and house values: a micro spatial approach to impact measurement. J Real Estate Res 23:275–301

Sims S (2002) The effect of public perception on residential property values in close proximity to electricity distribution equipment: a case study in UK. Pacific Rim Real Estate Society Conference, January 2002

Sirmans GS, Macpgerson DA, Zietz EN (2005) The composition of hedonic pricing models. J Real Estate Lit 13:3–43

Szmigielski S, Sobiczewska E (2000) Cellular phone system and human health—problems with risk perception and communication. Env Manag Health 11:352–368

Valberg PA, Deventer EV, Repacholi MH (2007) Workgroup report: base station and wireless networks-radiofrequency (RF) exposures and health consequences. Environ Health Persp 115:416–424

Wolverto ML, Bottemiller SC (2003) Further analysis of transmission line impact on residential property values. Apprais J 71:244–249
About this article
Cite this article
Rajapaksa, D., Athukorala, W., Managi, S. et al. The impact of cell phone towers on house prices: evidence from Brisbane, Australia. Environ Econ Policy Stud 20, 211–224 (2018) doi:10.1007/s10018-017-0190-9
Received:

Accepted:

Published:

Issue Date:
Keywords
Cell phone towers

Externalities

Hedonic property valuation

Spatial analysis
JEL Classification