Oxygen reduction reaction mechanism and kinetics on M-NxCy and M@N-C active sites present in model M-N-C catalysts under alkaline and acidic conditions
Abstract
M-N-C electrocatalysts (where M is Fe or Co) have been investigated for mitigating the dependence on noble metals when catalyzing the oxygen reduction reaction (ORR) for fuel cell technologies in acidic or alkaline conditions. Rotating disk and rotating ring-disk electrode measurements for Fe-N-C and Co-N-C catalysts demonstrate promising performances and stability for the ORR, while the activity of main suspected active sites (M-NxCy and M@N-C) has been discussed on the basis of the known physical-chemical properties of the catalysts in acid and alkaline media. Thereupon, it is observed that atomically dispersed Fe-NxCy sites reach the highest ORR activity in acid media when amplified by an adequate energy binding between the metallic center and the oxygenated reaction intermediates. In contrast, Fe@N-C core-shell sites reach a maximum ORR mass activity in alkaline media through a synergistic effect involving catalyst particles with metallic iron in the core and nitrogen-doped carbon in the shell.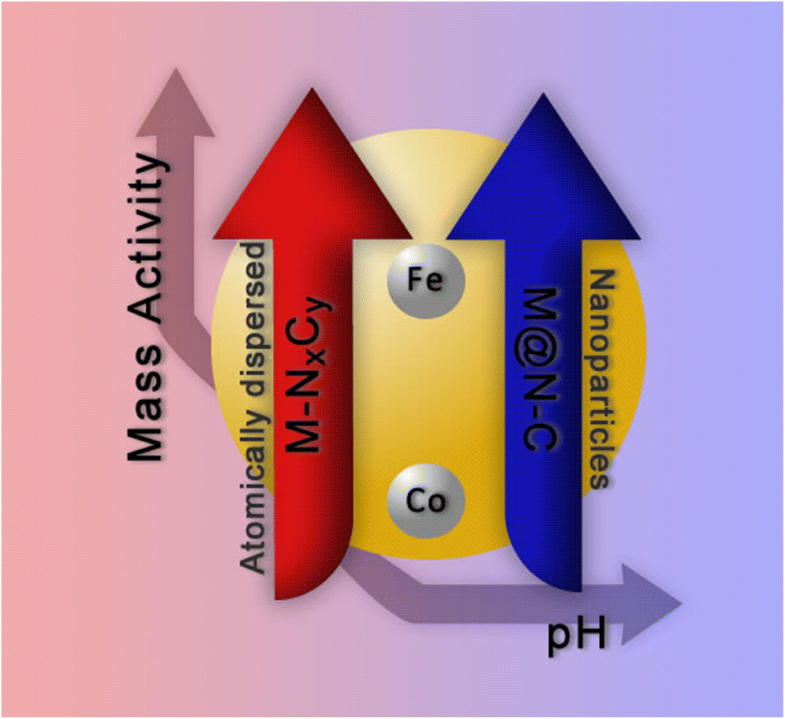 Keywords
Fe-N-C catalyst 
Co-N-C catalyst 
PGM-free catalysts 
Alkaline exchange membrane fuel cell 
Proton exchange membrane fuel cell 
Notes
Acknowledgments
The Synchrotron SOLEIL (Gif-sur Yvette, France) is acknowledged for provision of synchrotron radiation facilities at beamline SAMBA (Proposal No. 20171318). We also acknowledge Qingying Jia (Northeastern University, Boston, USA) for providing the EXAFS spectrum of Fe3C.
Funding information
This study was financially supported by the French National Research Agency through the CAT2CAT and ANIMA projects, the Coordenação de Aperfeiçoamento de Pessoal de Nível Superior (CAPES), Brazil (process number: 1614344), CAPES/COFECUB program (process numbers: 88887-187755/2018-00 and Ph-C 914/18), and the São Paulo State Research Foundation (FAPESP – process number: 2013/16930-7).
Copyright information
© Springer-Verlag GmbH Germany, part of Springer Nature 2019