Combined parametric optimization of P3HT: PC70BM films for efficient bulk-heterojunction solar cells
Abstract
In this report, the effects of photoactive blend compositions, film thicknesses, and annealing conditions on the P3HT:PC70BM solar cells performance and reproducibility was investigated. The performance of prepared devices was described by examining their absorption spectra, current-voltage characteristics and external quantum efficiency (EQE). The thickness of active layer was achieved as 190 nm, 125 nm, and 90 nm, by maintaining the spin speed. Current density (Jsc) slightly increases from 6.39 to 7.15 mA/cm2 with increase in thickness from 90 to 125 nm; however, with further increase in film thickness (190 nm), the Jsc was reduced to 4.39 mA/cm2. To optimize the device performance, four different compositions of PC70BM (1:0.6, 1:0.8, 1:1, and 1:12) were investigated at the most favorable film thickness ~ 125 nm. The effect of different PC70BM compositions on photovoltaic performance was demonstrated by X-ray diffraction (XRD) and Raman measurements that illuminated modification in structural properties. Additionally, annealing condition led to achieve the good phase separation for efficient charge separation and transport within P3HT: PCBM film which further leads to increased efficiency (PCE ~ 3.31%). These effects deliver valued facts for the choices of PC70BM amount in P3HT:PC70BM system, and this efficient device optimization might be useful in other efficient photovoltaic systems for better performance through excellent reproducibility.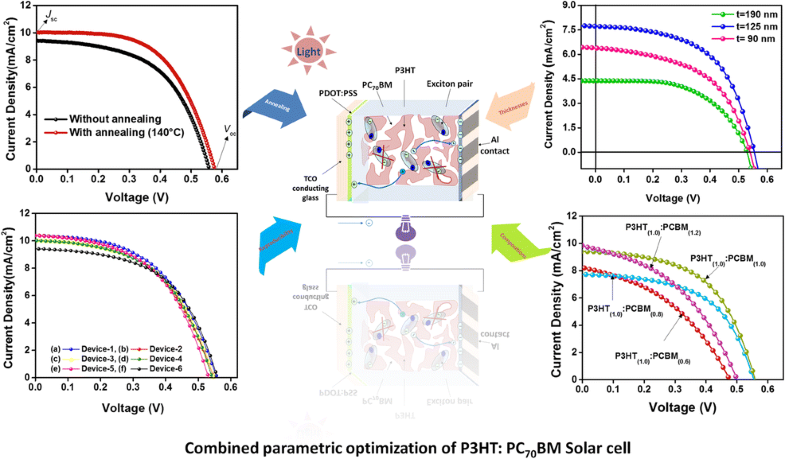 Keywords
P3HT:PC70BM 
Solar cells 
Photoactive layer 
Composition 
Film thickness 
Notes
Acknowledgements
The authors would like to acknowledge the Director of the CSIR-NCL, Pune, and pleased to acknowledge Dr. Kothandam Krishnamoorthy, Scientist, Polymers and Advanced Materials Laboratory, CSIR-NCL, Pune for OPV fabrication and testing. The authors are thankful to Mr. Sundaresan Chithiravel for their support and help during OPV fabrication and testing. The authors are grateful to the Director of the UGC-DAE-CSR, Indore Centre, for performing XRD and Raman measurements.
Compliance with ethical standards
Conflict of interests
The authors declare that they have no competing interests.
Copyright information
© Springer-Verlag GmbH Germany, part of Springer Nature 2019