Abstract
A novel electrochromic polymer poly(2,3-dimethyl-2,3-dihydrothieno[3,4-b][1,4]dioxine) (PEDOT-Me2) based on 3,4-ethylenedioxythiophene (EDOT) with symmetric dimethyl pendant groups was successfully synthesized through electrochemical polymerization in 0.1 M LiClO4/ACN electrolyte. The polymer film displays reversible electrochromism switching between blue neutral state (− 1.2 V) and transmissive sky blue oxidized state (0.5 V) with an enhanced optical contrast (ΔT = 30%) in comparison with the traditional PEDOT (ΔT = 25%).
This is a preview of subscription content, log in to check access.
Access options
Buy single article
Instant access to the full article PDF.
US$ 39.95
Price includes VAT for USA
Subscribe to journal
Immediate online access to all issues from 2019. Subscription will auto renew annually.
US$ 99
This is the net price. Taxes to be calculated in checkout.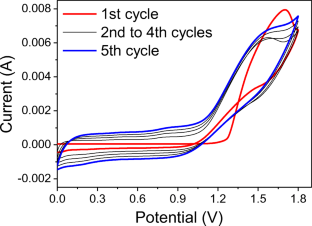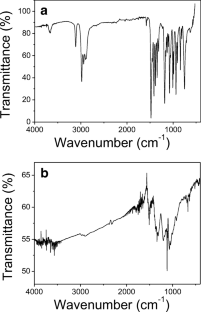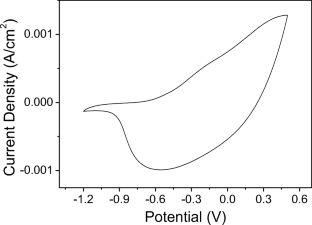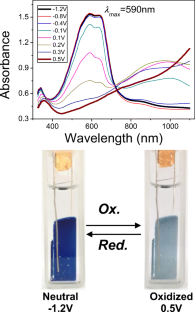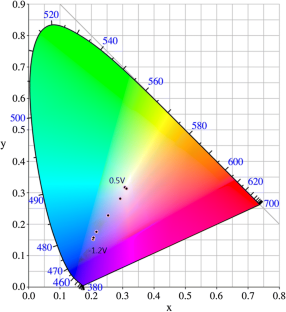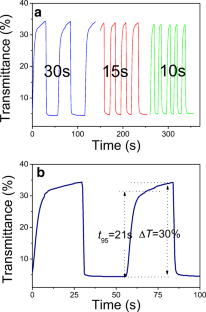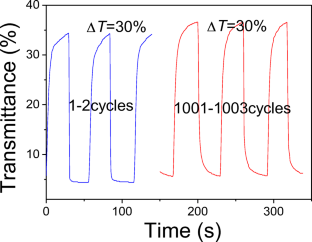 References
1.

Beaujuge PM, Reynolds JR (2010) Chem Rev 110(1):268–320

2.

Gunbas G, Toppare L (2012) Chem Commun 48(8):1083–1101

3.

Neo WT, Ye Q, Chua S, Xu J (2016) J Mater Chem C 4(31):7364–7376

4.

Lv X, Li W, Ouyang M, Zhang Y, Wright DS, Zhang C (2017) J Mater Chem C 5(1):12–28

5.

Beverina L, Pagani GA, Sassi M (2014) Chem Commun 50(41):5413–5430

6.

Amb CM, Dyer AL, Reynolds JR (2011) Chem Mater 23(3):397–415

7.

Chen X, Liu H, Xu Z, Mi S, Zheng J, Xu C (2015) ACS Appl Mater Interfaces 7(21):11387–11392

8.

Meng J, Li X, Qin M, Pei Y, Yang S, Lan Y, Wang R, Chen G (2017) Org Electron 50:16–24

9.

Welsh DM, Kumar A, Meijer EW, Reynolds JR (1999) Adv Mater 11(16):1379–1382

10.

Chen X, Yang M, Xu W, Qu Q, Zhao Q, Zou W (2019) J Solid State Electrochem 23(1):19–25

11.

Chen X, Zhang J, Yang M (2018) J Mater Sci: Mater Electron 29:16469–16477

12.

Chen X, Qu Q (2018) Sol Energy Mater Sol Cells 179:270–275

13.

Chen X, Yang M, Qu Q, Zhao Q, Zou W (2018) J Electroanal Chem 820:60–66

14.

Soganci T, Gumusay O, Soyleyici HC, Ak M (2018) Polymer 134:187–195

15.

Carbas BB, Kivrak A, Onal AM (2011) Electrochim Acta 58:223–230

16.

Zhang S, Xu J, Lu B, Qin L, Zhang L, Zhen S, Mo D (2014) J Polym Sci, Part A: Polym Chem 52(14):1989–1999

17.

Chen X, Xu Z, Mi S, Zheng J, Xu C (2015) New J Chem 39(7):5389–5394

18.

Zhai Y, Zhu Z, Zhou S, Zhu C, Dong S (2018) Nanoscale 10(7):3089–3111
Funding
This work received financial support from Anhui Natural Science Foundation (1808085 MB29); Natural Science Foundation of Anhui Jianzhu University (JZ182011); Anhui Province College Natural Science Foundation (KJ2017A482); The Support Plan Project of Excellent Young Talents in Universities in Anhui Province (gxyq2017023); The Open Foundation of Anhui Province Key Laboratory of Advanced Building Materials of Anhui Jianzhu University (JZCL201602ZZ); College Students Innovation and Entrepreneurship Training Plan Project (201910878000).
Additional information
Publisher's note
Springer Nature remains neutral with regard to jurisdictional claims in published maps and institutional affiliations.
Dedicated to the memory of Ivo Alexandre Hümmelgen
About this article
Cite this article
Chen, X., Zhang, J. Blue-to-transmissive electrochromic poly(2,3-dimethyl-2,3-dihydrothieno[3,4-b][1,4]dioxine) (PEDOT-Me2) with improved optical contrast. J Solid State Electrochem 24, 441–445 (2020). https://doi.org/10.1007/s10008-019-04343-0
Received:

Revised:

Accepted:

Published:

Issue Date:
Keywords
Blue

Transmissive

Electrochromic polymer