TiO2 nanoparticles anchored on three-dimensionally ordered macro/mesoporous carbon matrix as polysulfides' immobilizers for high performance lithium/sulfur batteries
Abstract
A three-dimensionally (3D) ordered macro/mesoporous carbon (3DOMC) is synthesized by one-step template method as a TiO2 supporter, and this TiO2/3DOMC hybrid plays the role of immobilizers and can limit any polysulfides from escaping the cathode. The TiO2/3DOMC exhibits high pore volume and specific surface area, accommodating up to 73.2 wt% in sulfur content. As a sulfur host, S/TiO2/3DOMC composite was able to delivered 1105 mAh g−1 on first discharge and 695 mAh g−1 after 150 cycles at a current rate of 0.5 C. Even though at 2 C this material was able to keep a capacity of 551 mAh g−1. We attribute the superior performance to the good conductivity and structural restriction of carbon and the intense electrostatic attraction between metal-oxygen bond and polysulfides to encapsulate sulfur of the TiO2/3DOMC.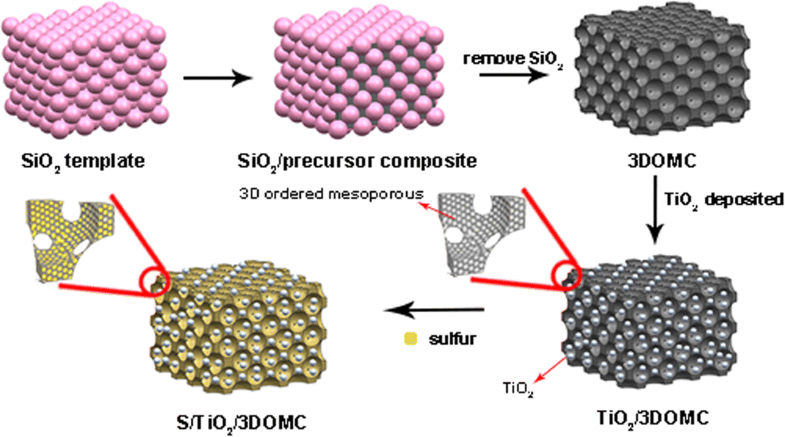 Keywords
Lithium ion battery 
Three-dimensionally (3D) ordered macroporous carbon (3DOMC) 
TiO2/3DOMC hybrid 
Good conductivity 
Intense electrostatic attraction 
Notes
Funding information
The study received financial support from the Program for the Outstanding Young Talents of Hebei Province; Scientific Research Foundation for Selected Overseas Chinese Scholars, Ministry of Human Resources and Social Security of China (Grant No. CG2015003002).
Copyright information
© Springer-Verlag GmbH Germany, part of Springer Nature 2018