Pt nanoparticles supported on non-carbon titanium chromium nitride nanotubes with high activity and durability for methanol oxidation reaction
Abstract
A hybrid titanium chromium nitride nanotube (Ti0.95Cr0.05N NT) support was prepared by a facile synthesis procedure and further used as support for Pt nanoparticles (Pt/Ti0.95Cr0.05N NTs). The catalyst was characterized by X-ray diffraction (XRD), transmission electron microscopy (TEM), and nitrogen absorption/desorption, which show that the Pt/Ti0.95Cr0.05N NTs are formed with homogeneous cohesively attached nitride nanotube crystals. The X-ray photoelectron spectroscopy (XPS) reveals that the interaction between Ti0.95Cr0.05N NTs and Pt nanoparticles is enhanced due to the Cr element doping. Furthermore, the electrochemical experiments demonstrate that Ti0.95Cr0.05N NT-supported Pt catalyst exhibits enhanced catalytic activity and durability for methanol electrooxidation compared with traditional Pt/C catalyst. The experimental dates indicate that the excellent stability and durability of Pt/Ti0.95Cr0.05N NTs toward methanol electrochemical oxidation might be mainly ascribed to the synergistic effect introduced by Cr doping and the tubular nanostructures. The above results indicate that Ti0.95Cr0.05N NTs as support have a promising future in direct methanol fuel cells.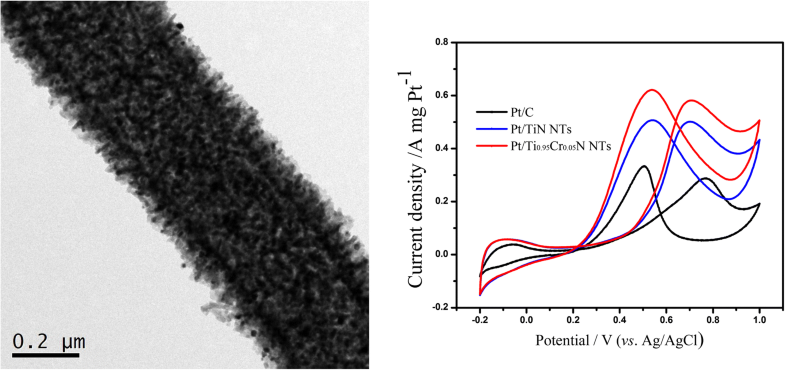 Keywords
Titanium chromium nitride nanotubes 
Methanol oxidation reaction 
Enhanced stability 
Direct methanol fuel cells 
Notes
Funding information
This work was financially supported by the Natural Science Foundation of Guangdong Province, China (No. 2016A030313704) and Science and Technology Planning Project of Guangdong Province, China (No. 2016A010103035, No. 2016B020240003).
Copyright information
© Springer-Verlag GmbH Germany, part of Springer Nature 2018