Cobalt oxide nanoparticles anchored polyaniline-appended cobalt tetracarboxy phthalocyanine, modified glassy carbon electrode for facile electrocatalysis of amitrole
Abstract
Cobalt oxide nanoparticles were anchored on polyaniline-appended cobalt phthalocyanine and used to modify glassy carbon electrodes for enhanced electrocatalytic oxidation of amitrole. The modified electrodes were characterised by cyclic voltammetry, electrochemical impedance spectroscopy and scanning electron microscopy. Cyclic voltammetry, linear sweep voltammetry, chronoamperometry and differential pulse voltammetry were used to evaluate the electrocatalytic behaviour of the designed sensors. Catalytic rate constant of 6.26 × 105 M−1 s−1 and apparent electron transfer rate constant of 8.84 × 10−3 cm s−1 were observed on CoTCPc-PANI-Co3O4NP-GCE. The adsorption equilibrium constant and Gibbs energy were 4.8 × 101 M−1 and − 12.1 kJ mol−1, respectively, confirming substrate adsorption during a spontaneous reaction on the surface of the modified electrode. The limit of detection and limit of quantification were 6.61 × 10−8 M and 2 × 10−7 M, respectively, for the electrocatalytic detection of amitrole and only suffered 4% signal loss after repetitive ten runs in 1 mM amitrole.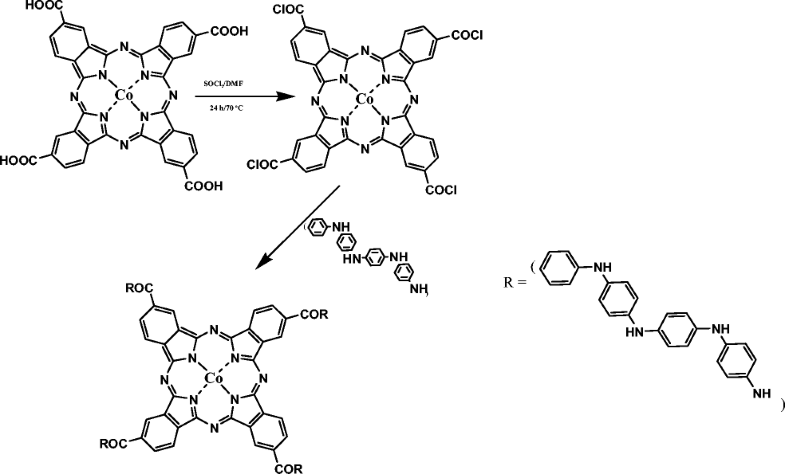 Keywords
Amitrole 
Electrooxidation 
Electrochemical sensor 
Polyaniline-appended cobalt phthalocyanine 
Cobalt oxide nanoparticles 
Notes
Acknowledgments
We are grateful to the Department of Chemical Technology of Midlands State University, the technical staff and the Electron Microscopy Unit of Rhodes University for all their assistance during the varied analysis of our probes.
Copyright information
© Springer-Verlag GmbH Germany, part of Springer Nature 2018