Influence of synthesis temperature on cobalt metal-organic framework (Co-MOF) formation and its electrochemical performance towards supercapacitor electrodes
Abstract
We have synthesized cobalt metal-organic framework (Co-MOF) at different temperatures through solvothermal route as metal-organic frameworks which can be used for supercapacitors. The effect of synthesizing temperature on Co-MOF's structure and porous behavior were analyzed with various characterization techniques like X-ray diffraction, Brunauer-Emmett-Teller surface analyzer, scanning electron microscope, and transmission electron microscope. The charge storage performance of the as-prepared Co-MOF's was carried out in 3 M KOH. The results proved the excellent redox behavior of Co-MOFs, and a maximum specific capacitance of 952.5 F g−1 was obtained for Co-MOF/150 (synthesized at 150 °C) at a current density of 0.25 A g−1. The higher specific surface area and micropore of Co-MOF/150 significantly heightened the electrolyte ion transport during the electrochemical performance.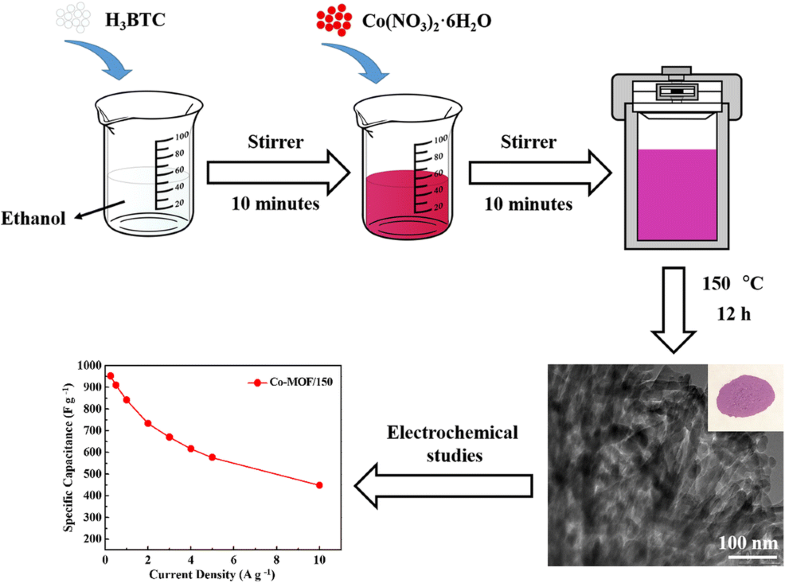 Keywords
Metal-organic framework 
Specific capacitance 
Temperature 
Specific surface area 
Notes
Acknowledgments
This work was financially supported by the National Natural Science Foundation of China (Project No. 51505209). We also acknowledge the support from Shenzhen Science and Technology Innovation Committee (Project No. JCYJ20170412154426330 and KQTD2015071710313656). Fei Wang is also supported by Guangdong Natural Science Funds for Distinguished Young Scholar (Project No. 2016A030306042).
Copyright information
© Springer-Verlag GmbH Germany, part of Springer Nature 2018