A novel potential-triggered SBA-15/PANI/PSS composite film for selective removal of lead ions from wastewater
Abstract
In this study, a novel potential-triggered electroactive composite film consisting of mesoporous silica SBA-15, polyaniline (PANI), and polystyrenesulfonate (PSS) was fabricated in an aqueous electrolyte solution via a facile pulse potentiostatic method. The obtained composite film was characterized by Fourier transform infrared spectroscopy (FT-IR), thermogravimetric (TG) analysis, and scanning electron microscopy (SEM). The ion exchange properties were evaluated in a solution containing 0.1 M Pb(NO3)2 by using an electrochemical quartz crystal microbalance (EQCM) as well as cyclic voltammetry (CV) method. It was found that the uptake/release of Pb2+ ions in/from SBA-15/PANI/PSS composite film was successfully achieved by modulating the redox states of the electroactive composite film, and the composite film exhibited different ion exchange behaviors at different scan rates. Based on these results, the ion exchange mechanism was proposed. Compared with the PANI/PSS composite film, the SBA-15/PANI/PSS composite film had higher adsorption capacity as well as higher selectivity toward Pb2+ ions, which should be attributed to the 3D porous morphology of the composite film with more active sites in the mesoporous SBA-15. Remarkably, the film maintained a high stability over 97% even after 500 successive cycles. It is expected that this SBA-15/PANI/PSS composite film can serve as a promising electroactive material for the effective separation of Pb2+ ions from wastewater.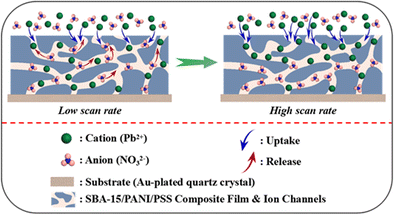 Keywords
Electrochemically switched ion exchange 
SBA-15/PANI/PSS composite film 
Potential-triggered 
Lead ions 
Selective separation 
Notes
Funding information
This work is financially supported by the National Natural Science Foundation of China (21476156, 21776191, and 21706181); JSPS KAKENHI Grant 15K06532, Japan; and Shanxi Provincial Key Innovative Research Team in Science and Technology (No. 2014131006).
Copyright information
© Springer-Verlag GmbH Germany, part of Springer Nature 2018