High-temperature tungsten trioxides obtained by concentrated solar energy: physicochemical and electrochemical characterization
Abstract
High-crystalline tungsten trioxides (WO3) have been synthesized by an environmentally friendly method using concentrated solar energy. The obtained tungsten trioxides (WO3) at three different temperatures and two oxygen mole fractions used for the highest synthesis temperature were characterized by XRD, SEM, and XPS. Higher crystallinity and concentration of W5+ was observed in tungsten trioxides as the synthesis temperature increased. Nevertheless, despite of the different synthetic conditions used, a mixture of two different crystalline structures was observed in all solar-prepared tungsten trioxides: monoclinic and triclinic. Comparing oxides obtained at 1000 °C, higher concentration of W5+ and more defects were found when using lower oxygen molar fraction (WO3-1000-2). Their electrochemical performance was evaluated using cyclic voltammetry (CV) in a conventional three-electrode cell in the following three aqueous electrolytes: acidic, alkaline, and neutral media. In the acidic medium, all the tungsten trioxides showed a capacitive behavior, which was enhanced for oxides obtained at 1000 °C due to a mixed valence of W. On the other hand, in the alkaline medium, a catalytic behavior was detected with higher activity towards hydrogen evolution reaction for the oxide with more defects, higher crystallinity, and monoclinic phase, obtained at 1000 °C and a lower oxygen molar fraction in the synthesis. Finally, in the neutral medium, the oxides synthesized at 1000 °C presented a capacitive behavior whereas the oxides prepared at the lowest temperatures (600 and 800 °C) presented electrochemical processes related to a catalytic behavior for water reduction, which must correspond to their minor concentration of defects, as confirmed by XPS.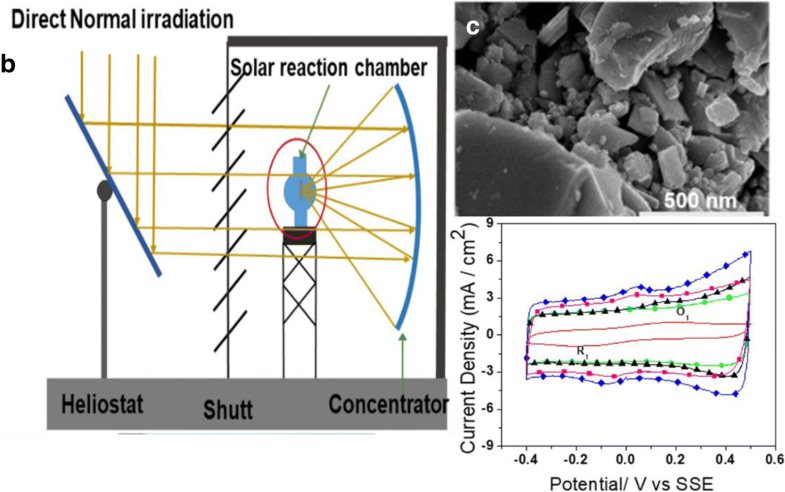 Keywords
Tungsten trioxides 
WO3 
High-temperature synthesis 
Concentrated solar energy 
Green synthesis 
Notes
Acknowledgments
We acknowledge the technical work of María Luisa Ramón García and Patricia Eugenia Altuzar Coello for the XRD analysis, Rogelio Morán Elvíra for the HRSEM analysis, and Dr. Mariela Bravo Sánchez from the National Laboratory Research in Nanoscience and Nanotechnology (LINAN) at IPICYT, S.L.P., Mexico, for the X-ray photoelectron spectra. We thank J.J. Quiñones-Aguilar and A. Bautista-Orozco for technical assistance in the design and installation of the solar reaction chamber. Nelly Rayón López thanks CONACyT for her PhD scholarship. We greatfully acknowledge the financial support to projects PAPIIT-UNAM: IG100217 and IA101117.
Author contribution
A.K.C.G. (group leader) designed and directed the study, which is a PhD project; E.C.M.C. contributed to the reagents/materials and analysis of the tools and is the co-director of the thesis work of N.R.L.; M.M.H. designed the electrochemical characterization and its discussion; H.I.V.V. synthesized tungsten oxide with concentrated solar energy; J.L.R.L. performed and analyzed the XPS results; N.R.L. performed all the experimentation related to the tungsten oxide characterization; D.C.M.C. and N.R.L. wrote the manuscript. All authors have given approval to the final version of the manuscript.
Funding sources
This study was financially supported by the PAPIIT-UNAM projects IG100217 and IA101117.
Compliance with ethical standards
Declaration of interest
The authors declare that they have no competing financial interest.
Copyright information
© Springer-Verlag GmbH Germany, part of Springer Nature 2018