The influence of the graphite structure changes on the high-energy electrochemical capacitor performance
Abstract
Combining the advantages of lithium-ion batteries and supercapacitors is an interesting solution to high-energy devices with the maintenance of high power output. Herein we report on the performance of the lithium-ion capacitors (LICs), exploiting graphene-based materials and activated carbon as negative and positive electrodes, respectively. The electrochemical properties of pre-lithiated reduced graphite oxides (reduced thermally—TRGO, or chemically—CRGO) and pristine graphite are compared based on measurements conducted in two- and three-electrode cells. Chemically reduced graphite oxide (CRGO) displays excellent performance at current densities up to 8 A g−1. The assembled hybrid capacitor delivers the energy density around 80 Wh kg−1 along a wide range of power densities. Promising results show that even at power value of 24.8 kW kg−1, the device retains energy density over 35 Wh kg−1. The cycle performance also shows good energy retention comparing with a graphite anode. However, better energy retention is observable for the TRGO-negative electrode material. After the 2000 of cycles, the AC/TRGO(Li) system loaded with the current density of 1 A g−1 provides energy of 58 Wh kg−1.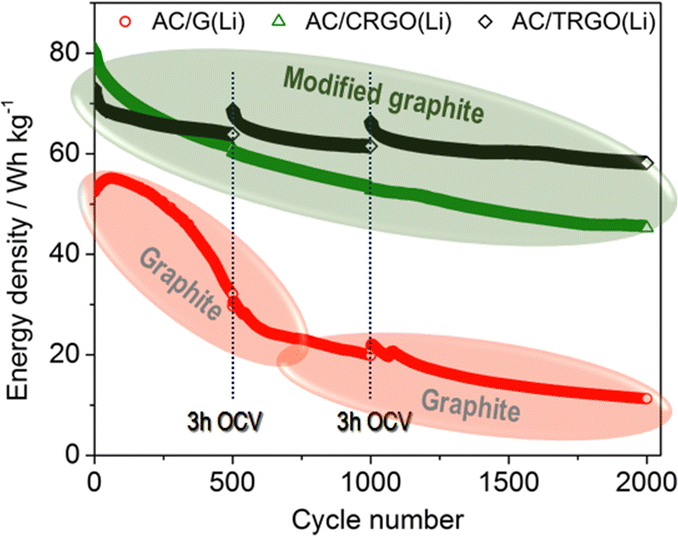 Keywords
Energy storage 
Lithium-ion capacitor 
Graphite 
Structure modification 
Graphene 
Notes
Acknowledgements
Dr. Krzysztof Fic is acknowledged for his contribution to this manuscript. Financial support from the National Science Centre of Poland (grant number UMO-2013/09/D/ST5/03886) is gratefully acknowledged.
Compliance with ethical standards
Conflict of interest
The authors declare that they have no conflict of interest.
Copyright information
© Springer-Verlag GmbH Germany 2017