Seawater zinc/polypyrrole-air cell possessing multifunctional charge-discharge characteristics
Abstract
An environmentally friendly cell using polypyrrole-air regenerative cathode and zinc as anode is investigated in the 3% sodium chloride solution. The cell can operate in different charge and discharge mode. Polypyrrole can be reoxidized (doped) with chloride anions either by using dissolved oxygen or by an external power supply, e.g., small photovoltaic cell. In that way, after discharge, capacity retaining can be achieved by using seawater as the electrolyte. During low discharge rate, the delicate balance between solid state diffusion-controlled dedoping and chemical oxidation of polypyrrole produced by hydrogen peroxide is achieved, generating stable voltage plateau. The cell is proposed to operate as a power supply for different sensor devices in two modes. In the low discharge mode (10–20 mA g−1), it can be used for data acquisition, and at the fast discharge mode (up to 2 A g−1) for collecting data transmission.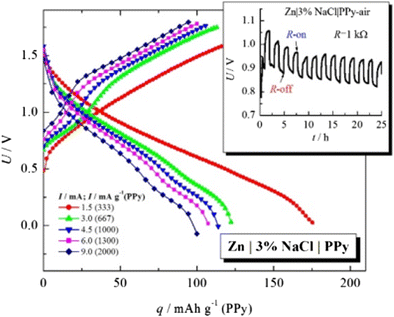 Keywords
Conducting polymers 
Air regenerative cathode 
Immersion batteries 
Metal-air battery 
Notes
Acknowledgements
The research was supported by the Ministry of Education, Science and Technological Development of the Republic of Serbia, under the research project "Electrochemical synthesis and characterization of nanostructured functional materials for applications in new technologies" No. ON172046. Ali H. Al-Eggiely and Alsadek A. Alguail are grateful to the Libyan Ministry of Higher Education and Scientific Research for the material supports during PhD study.
Copyright information
© Springer-Verlag Berlin Heidelberg 2017