Tetra-β-nitro-substituted phthalocyanines: a new organic electrode material for lithium batteries
Abstract
Tetra-β-nitro-substituted nickel phthalocyanine (TN-NiPc) and hollow phthalocyanine (TN-H2Pc) were synthesized and investigated as novel organic electrode materials for rechargeable lithium batteries. After the two H atoms in the center of TN-H2Pc were replaced with Ni atoms, the interactive force between the phthalocyanine rings was reduced, which resulted in a fluffy morphology for the TN-NiPc that was beneficial to the transition of Li+. As a result, better electrochemical properties and reversibility were observed in the TN-NiPc electrodes compared to the TN-H2Pc electrode. The capacity of TN-NiPc electrode was stable at about 280 mAh g−1 at 0.2 C after 250 cycles at several different current rates of 0.1, 0.2, 0.5, and 1 C. The TN-NiPc based cathode materials may provide new opportunities for organic, flexible, and stable secondary lithium batteries.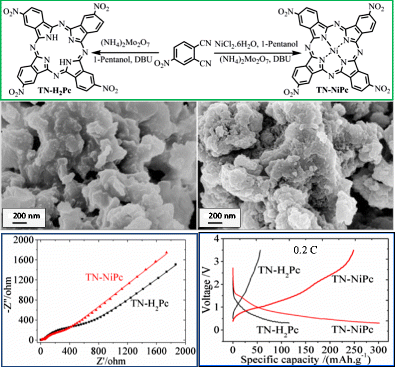 Keywords
Lithium-ion batteries 
Organic cathode material 
Phthalocyanine 
Nitro group 
Electrochemical performance 
Notes
Acknowledgments
The authors would like to express their sincere thanks to the National Natural Science Foundation of China (No. 51372104), the Science Research Project of Jiangxi Provincial Department of Education (No. GJJ150672), the Science and Technology Project of Jiangxi Province (Nos. 20161BAB213082, 20141BBE50019), and the College Students Innovation and Entrepreneurship Project (No. 3103800136).
Copyright information
© Springer-Verlag Berlin Heidelberg 2016