Porous, hollow Li1.2Mn0.53Ni0.13Co0.13O2 microspheres as a positive electrode material for Li-ion batteries
Abstract
A porous, hollow, microspherical composite of Li2MnO3 and LiMn1/3Co1/3Ni1/3O2 (composition: Li1.2Mn0.53Ni0.13Co0.13O2) was prepared using hollow MnO2 as the sacrificial template. The resulting composite was found to be mesoporous; its pores were about 20 nm in diameter. It also delivered a reversible discharge capacity value of 220 mAh g−1 at a specific current of 25 mA g−1 with excellent cycling stability and a high rate capability. A discharge capacity of 100 mAh g−1 was obtained for this composite at a specific current of 1000 mA g−1. The high rate capability of this hollow microspherical composite can be attributed to its porous nature.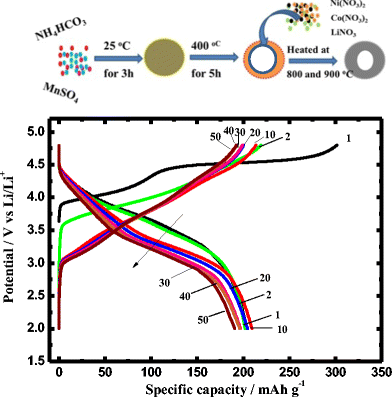 Keywords
Sacrificial MnO2 template 
Hollow microspheres 
Lithium excess manganese oxide composite 
High discharge capacity 
High rate capability 
Notes
Acknowledgments
The authors thank the Department of Science and Technology (DST), Government of India, for funding this work as part of the India–Israel project. The authors also acknowledge the Saha Institute for Nuclear Physics, India, for facilitating the synchrotron experiments at the Indian Beamline (BL-18B), KEK Photon Factory (KEK-PF), Japan.
Copyright information
© Springer-Verlag Berlin Heidelberg 2016