Abstract
Purpose
Our purpose was to compare the effects of piezosurgery and conventional rotary instruments on postoperative pain, swelling, trismus, and patients' comfort after mandibular third molar surgery.
Methods
Thirty patients (27 women and 3 men) with bilateral impacted mandibular third molars were included in this split-mouth clinical study. Sixty impacted third molars were divided into a control group (n = 30), in which the osteotomies were performed using a conventional rotary handpiece technique and an experimental group (n = 30), in which the osteotomies were done by piezosurgery technique. Duration of the procedure was recorded. Postoperative pain was assessed using a visual analogue scale (VAS). All the patients were given a form containing verbal rating scale for evaluating the swelling. Trismus was evaluated using a caliper at maximum mouth opening (cm). In postoperative seventh day, patients were asked to fill a global quality of life (QoL) scale as well.
Results
There was no significant difference in postoperative pain, trismus, and swelling between control and experimental groups (p > 0.05). However, time of the procedure increased in control group (p < 0.05).
Conclusion
Piezosurgery is a safe way for performing the osteotomies during third molar surgery. However, regarding the postoperative morbidity, it does not have an advantage over conventional rotary instruments. Piezosurgery took longer to complete the osteotomy than the rotary handpiece technique.
This is a preview of subscription content, log in to check access.
Access options
Buy single article
Instant access to the full article PDF.
US$ 39.95
Price includes VAT for USA
Subscribe to journal
Immediate online access to all issues from 2019. Subscription will auto renew annually.
US$ 99
This is the net price. Taxes to be calculated in checkout.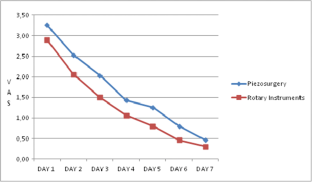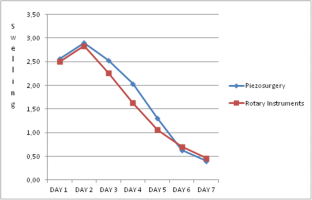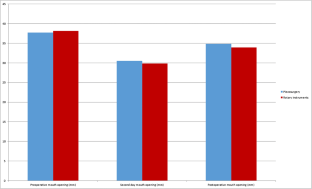 References
1.

Fernandes MJ, Ogden GR, Pitts NB, Ogston SA, Ruta DA (2009) Incidence of symptoms in previously symptom-free impacted lower third molars assessed in general dental practice. Br Dent J 207(5):218–219

2.

Eshghpour M, Nejat AH (2013) Dry socket following surgical removal of impacted third molar in an Iranian population: incidence and risk factors. Niger J Clin Pract 16(4):496–500

3.

Osunde OD, Adebola RA, Omeje UK (2011) Management of inflammatory complications in third molar surgery: a review of the literature. Afr Health Sci 11(3):530–537

4.

Olurotimi AO, Gbotolorun OM, Ibikunle AA, Emeka CI, Arotiba GT, Akinwande JA (2014) A comparative clinical evaluation of the effect of preoperative and postoperative antimicrobial therapy on postoperative sequelae after impacted mandibular third molar extraction. J Oral Maxillofac Res 5(2):e2

5.

Ogundipe OK, Ugboko VI, Owotade FJ (2011) Can autologous platelet-rich plasma gel enhance healing after surgical extraction of mandibular third molars? J Oral Maxillofac Surg 69(9):2305–2310

6.

Laureano Filho JR, de Oliveira e Silva ED, Batista CI, Gouveia FM (2005) The influence of cryotherapy on reduction of swelling, pain and trismus after third-molar extraction: a preliminary study. J Am Dent Assoc 136(6):774–778

7.

Koyuncu BÖ, Zeytinoğlu M, Tetik A, Gomel MM (2015) Effect of tube drainage compared with conventional suturing on postoperative discomfort after extraction of impacted mandibular third molars. Br J Oral Maxillofac Surg 53(1):63–67

8.

Sandhu A, Sandhu S, Kaur T (2010) Comparison of two different flap designs in the surgical removal of bilateral impacted mandibular third molars. Int J Oral Maxillofac Surg 39(11):1091–1096

9.

Bamgbose BO, Akinwande JA, Adeyemo WL, Ladeinde AL, Arotiba GT, Ogunlewe MO (2005) Effects of co-administered dexamethasone and diclofenac potassium on pain, swelling and trismus following third molar surgery. Head Face Med 7(1):11

10.

Romeo U, Libotte F, Palaia G, Tenore G, Galanakis A, Annibali S (2015) Is erbium:yttrium-aluminum-garnet laser versus conventional rotary osteotomy better in the postoperative period for lower third molar surgery? Randomized split-mouth clinical study. J Oral Maxillofac Surg 73(2):211–218

11.

Pippi R, Alvaro R (2013) Piezosurgery for the lingual split technique in mandibular third molar removal: a suggestion. J Craniofac Surg 24(2):531–533

12.

Labanca M, Azzola F, Vinci R, Rodella LF (2008) Piezoelectric surgery: twenty years of use. Br J Oral Maxillofac Surg 46(4):265–269

13.

Ren YF, Malmstrom HS (2007) Effectiveness of antibiotic prophylaxis in third molar surgery: a meta-analysis of randomized controlled clinical trials. J Oral Maxillofac Surg 65(10):1909–1921

14.

Hyland ME, Sodergren SC (1996) Development of a new type of global quality of life scale, and comparison of performance and preference for 12 global scales. Qual Life Res 5:469–480

15.

Vercellotti T (2004) Technological characteristics and clinical indications of piezoelectric bone surgery. Minerva Stomatol 53:207–214

16.

Kerawala CJ, Martin IC, Allan W, Williams ED (1999) The effects of operator technique and bur design on temperature during osseous preparation for osteosynthesis self-tapping screws. Oral Surg Oral Med Oral Pathol Oral Radiol Endod 88(2):145–150

17.

Schlee M, Steigmann M, Bratu E, Garg AK (2006) Piezosurgery: basics and possibilities. Implant Dent 15(4):334–340

18.

Beziat JL, Bera JC, Lavandier B, Gleizal A (2007) Ultrasonic osteotomy as a new technique in craniomaxillofacial surgery. Int J Oral Maxillofac Surg 36(6):493–500

19.

Mantovani E, Arduino PG, Schierano G, Ferrero L, Gallesio G, Mozzati M, Russo A, Scully C, Carossa S (2014) A split-mouth randomized clinical trial to evaluate the performance of piezosurgery compared with traditional technique in lower wisdom tooth removal. J Oral Maxillofac Surg 72(10):1890–1897

20.

Arakji H, Shokry M, Aboelsaad N (2016) Comparison of piezosurgery and conventional rotary instruments for removal of impacted mandibular third molars: a randomized controlled clinical and radiographic trial. Int J Dent 2016:8169356

21.

Al-Moraissi EA, Elmansi YA, Al-Sharaee YA, Alrmali AE, Alkhutari AS (2016) Does the piezoelectric surgical technique produce fewer postoperative sequelae after lower third molar surgery than conventional rotary instruments? A systematic review and meta analysis. Int J Oral Maxillofac Surg 45(3):383–391

22.

Goyal M, Marya K, Jhamb A, Chawla S, Sonoo PR, Singh V, Aggarwal A (2012) Comparative evaluation of surgical outcome after removal of impacted mandibular third molars using a Piezotome or a conventional handpiece: a prospective study. Br J Oral Maxillofac Surg 50(6):556–561

23.

Sivolella S, Berengo M, Bressan E, Di Fiore A, Stellini E (2011) Osteotomy for lower third molar germectomy: randomized prospective crossover clinical study comparing piezosurgery and conventional rotatory osteotomy. J Oral Maxillofac Surg 69(6):15–23

24.

Barone A, Marconcini S, Giacomelli L, Rispoli L, Calvo JL, Covani U (2010) A randomized clinical evaluation of ultrasound bone surgery versus traditional rotary instruments in lower third molar extraction. J Oral Maxillofac Surg 68(2):330–336

25.

Bhati B, Kukreja P, Kumar S, Rathi VC, Singh K, Bansal S (2017) Piezosurgery versus rotatory osteotomy in mandibular impacted third molar extraction. Ann Maxillofac Surg 7(1):5–10

26.

Colorado-Bonnin M, Valmaseda-Castellón E, Berini-Aytés L, Gay-Escoda C (2006) Quality of life following lower third molar removal. Int J Oral Maxillofac Surg 35(4):343–347
Ethics declarations
Conflict of interest
The authors declare that they have no conflict of interest.
Ethical approval
All procedures performed in studies involving human participants were in accordance with the ethical standards of the institutional and/or national research committee and with the 1964 Helsinki declaration and its later amendments or comparable ethical standards.
Statement of informed consent (optional)
Informed consent was obtained from all individual participants included in the study.
Additional information
Publisher's note
Springer Nature remains neutral with regard to jurisdictional claims in published maps and institutional affiliations.
About this article
Cite this article
Menziletoglu, D., Basturk, F., Isik, B.K. et al. A prospective split-mouth clinical study: comparison of piezosurgery and conventional rotary instruments in impacted third molar surgery. Oral Maxillofac Surg 24, 51–55 (2020). https://doi.org/10.1007/s10006-019-00817-7
Received:

Accepted:

Published:

Issue Date:
Keywords
Piezosurgery

Impacted third molar

Trismus

Pain