Abstract
Background
Dermatofibrosarcoma protuberans (DFSP) is a rare, malignant dermal mesenchymal neoplasm characterized by a slow, infiltrative growth. These neoplasms have a high tendency to recur locally after surgical excision. However, metastasizing cases are exceedingly rare. Cytogenetically, DFSP is characterized by a t(17;22)(22;q13) aberration with fusion of the COL1A1 gene on chromosome 17 with the PDGFB gene on chromosome 22. Here, we report on a successful treatment of a patient with a targeted therapy using the tyrosine kinase inhibitor Imatinib mesylate in neoadjuvant intention.
Patients and methods
A patient with recurrent and initially unresectable but non-metastatic DFSP of the scalp received Imatinib over 3 months with increasing dosage from 400 mg/day to 800 mg/day orally. Due to the location of the DFSP in our patient, we intended to decrease tumor size preoperatively to allow complete surgical resection. Response to therapy was assessed by computed tomography.
Results
Preoperative treatment with Imatinib resulted in decrease of tumor size by over 60% in the greatest dimension during 3 months of therapy, enabling the complete resection of the DFSP by radical surgery with achieving an acceptable cosmetic result. Surgery was followed by adjuvant Imatinib therapy over 6 months.
Conclusions
Imatinib mesylate is effective in neoadjuvant treatment of primary unresectable dermatofibrosarcoma protuberans and can be considered as a useful option in the therapy regimen.
This is a preview of subscription content, log in to check access.
Access options
Buy single article
Instant unlimited access to the full article PDF.
US$ 39.95
Price includes VAT for USA
Subscribe to journal
Immediate online access to all issues from 2019. Subscription will auto renew annually.
US$ 99
This is the net price. Taxes to be calculated in checkout.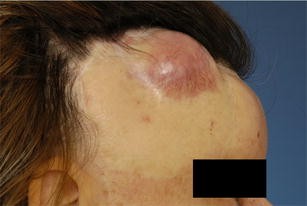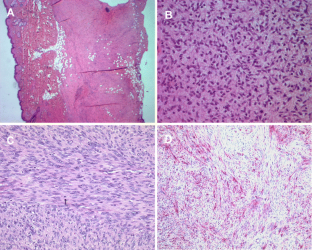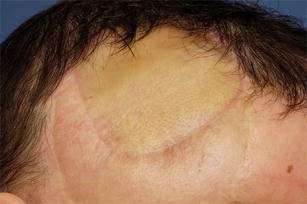 References
1.

Ballo MT, Zagars GK, Pisters P, Pollack A (1998) The role of radiation therapy in the management of dermatofibrosarcoma protuberans. Int J Radiat Oncol Biol Phys 40:823–827

2.

Barnes L, Coleman JA, Johnson JT (1984) Dermatofibrosarcoma protuberans of the head and neck. Arch Otolaryngol 1103:98–404

3.

Bowne WB, Antonescu CR, Leung DHY, Katz SC, Hawkins WG, Woodruff JM, Brennan MF, Lewis JJ (2000) Dermatofibrosarcoma protuberans. A clinicopathologic analysis of patients treated and followed at a single institution. Cancer 88:2711–2720

4.

DuBay D, Cimmino V, Lowe L, Johnson TM, Sondak VK (2004) Low recurrence rate after surgery for dermatofibrosarcoma protuberans: a multidisciplinary approach from a single institution. Cancer 100:1008–1016

5.

Fiore M, Miceli R, Mussi C (2005) Dermatofibrosarcoma protuberans treated at a single institution: a surgical disease with a high cure rate. J Clin Oncol 23:7669–7675

6.

Gloster HM Jr, Harris KR, Roenigk RK (1996) A comparison between Mohs micrographic surgery and wide surgical excision for the treatment of dermatofibrosarcoma protuberans. J Am Acad Dermatol 35:82–7

7.

Greco A, Roccato E, Miranda C, Cleris L, Formelli F, Pierotti MA (2001) Growth-inhibitory effect of STI571 on cells transformed by the COL1A/PDGFB rearrangement. Int J Cancer 92:354–360

8.

Kasper B, Lossignol D, Gil T, Flamen P, De Saint Aubain N, Awada A (2006) Imatinib mesylate in a patient with metastatic disease originating from a Dermatofibrosarcoma protuberans of the scalp. Anti-Cancer Drugs 17:1223–1225

9.

Kiuru-Kuhlefelt S, El-Rifai W, Fanburg-Smith J, Kere J, Miettinen M, Knuutila S (2001) Concomitant DNA copy number amplification at 17q and 22q in dermatofibrosarcoma protuberans. Cytogenet Cell Genet 92:192–195

10.

Loss L, Zeitouni NC (2005) Management of scalp dermatofibrosarcoma protuberans. Dermatol Surg 31:1428–1433

11.

McArthur GA (2006) Dermatofibrosarcoma protuberans: a surgical disease with a molecular savior. Curr Opin Oncol 18:341–346

12.

McArthur GA, Demetri GD, van Oosterom A, Heinrich MC, Debiec-Rychter M, Corless CL, Nikolova Z, Dimitrijevic S, Fletcher JA (2005) Molecular and clinical analysis of locally advanced dermatofibrosarcoma protuberans treated with Imatinib: Imatinib target exploration consortium study B2225. J Clin Oncol 23:866–873

13.

Mentzel T, Beham A, Katenkamp D, Dei Tos AP, Fletcher CD (1998) Fibrosarcomatous ("high-grade") dermatofibrosarcoma protuberans: clinicopathologic and immunohistochemical study of a series of 41 cases with emphasis on prognostic significance. Am J Surg Pathol 22:576–587

14.

O'Brien KP, Seroussi E, Dal Cin P, Sciot R, Mandahl N, Fletcher JA, Turc-Carel C, Dumanski JP (1998) Various regions within the alpha-helical domain of the COL1A1 gene are fused to the second exon of the PDGFB gene in dermatofibrosarcomas and giant-cell fibroblastomas. Genes Chromosomes Cancer 23:187–193

15.

Shimizu A, O'Brien KP, Sjoblom T, Pietras K, Buchdunger E, Collins VP, Heldin CH, Dumanski JP, Ostman A (1999) The dermatofibrosarcoma protuberans associated collagen type Ia1/plateletderived growth factor (PDGF) B-chain fusion gene generates a transforming protein that is processed to functional PDGF-BBCancer Res 59:3719–3723

16.

Sirvent N, Maire G, Pedeutour F (2003) Genetics of dermatofibrosarcoma protuberans family of tumors: from ring chromosomes to tyrosine kinase inhibitor treatment. Genes Chromosom Cancer 37:1–19

17.

Sjöblom T, Shimizu A, O'Brien KP, Pietras K, Dal Cin P, Buchdunger E, Dumanski JP, Ostman A, Heldin CH (2001) Growth inhibition of dermatofibrosarcoma protuberans tumors by the platelet-derived growth factor receptor antagonist ST1571 through induction of apoptosis. Cancer Res 61:5778–5783

18.

Sun LM, Wang CJ, Huang CC, Leung SW, Chen HC, Fang FM, Huang EY, Lee SP (2000) Dermatofibrosarcoma protuberans: treatment results of 35 cases. Radiother Oncol 57:175–181

19.

Takahira T, Oda Y, Tamiya S, Higaki K, Yamamoto H, Kobayashi C, Izumi T, Tateishi N, Iwamoto Y, Tsuneyoshi M (2007) Detection of COL1A1-PDGFB fusion transcripts and PDGFB/PDGFRB mRNA expression in dermatofibrosarcoma protuberans. Mod Pathol 20:668–675

20.

Ugurel S, Utikal J, Mohr P, Helmbold C, Pfoehler C, Schiller M, Kellner I, Schadendorf D (2006) Imatinib in locally advanced dermatofibrosarcoma protuberans (DFSP): a phase II trial of the Dermatologic Cooperative Oncology Group (DeCOG). J Clin Oncol ASCO Annual Meeting Proceedings Part I. Vol 24, No. 18S (June 20 Supplement):9561
About this article
Cite this article
Lemm, D., Muegge, L., Hoeffken, K. et al. Remission with Imatinib mesylate treatment in a patient with initially unresectable dermatofibrosarcoma protuberans—a case report. Oral Maxillofac Surg 12, 209–213 (2008) doi:10.1007/s10006-008-0130-8
Received:

Accepted:

Published:

Issue Date:
Keywords
Dermatofibrosarcoma protuberans

Scalp

Imatinib

Neoadjuvant

Platelet-derived growth factor receptor

Surgery

Tyrosine kinase inhibitor

Targeted therapy