Abstract
Theoretical studies on enantioselective reduction of ketone with borane catalyzed by a B-methoxy-oxazaborolidine catalyst derived from pinene have been performed by means of the density functional theory (DFT) method. All the structures were optimized completely using wB97XD/6-31G(d,p) level and the mechanism of the enantioselective reduction is studied. The formation of the M4s complexes via transition state TS3s was the rate-determining step and the chirality-limiting step for this enantioselective reduction; the dominant reaction is the attack of proton from the Si surface of M3a, which provides the corresponding secondary alcohols in 98% ee. NCI analysis of the four computed transition states associated with stereoselectivity-determining step discloses that TS3a(S) is the stable conformation with respect to TS3a(R), TS3b(S), and TS3b(R). The produced reaction pathway takes place through: M1 → M2a → M3a → M4a(S) → M5a(S) → M6a(S) → M7a(S). The chirality of the reduced product is of S type, which is in agreement with the experiment.

This is a preview of subscription content, log in to check access.
Access options
Buy single article
Instant unlimited access to the full article PDF.
US$ 39.95
Price includes VAT for USA
Subscribe to journal
Immediate online access to all issues from 2019. Subscription will auto renew annually.
US$ 199
This is the net price. Taxes to be calculated in checkout.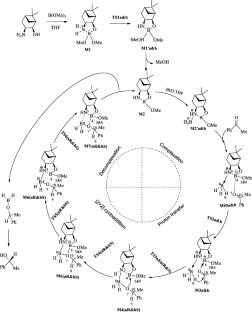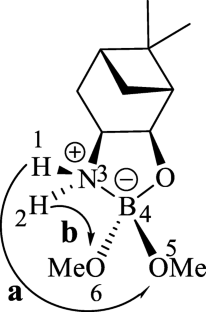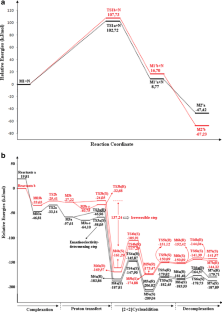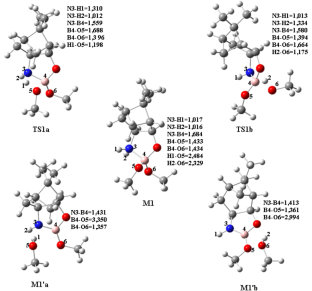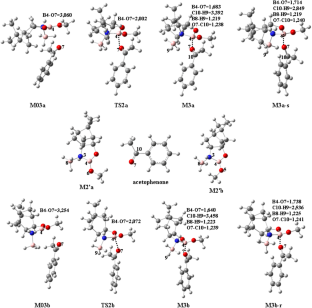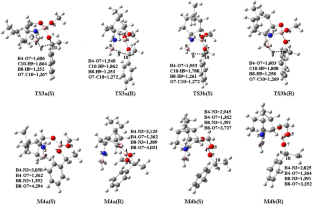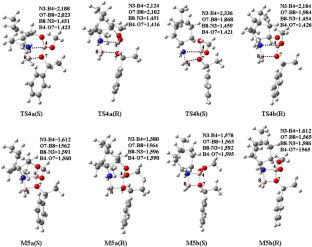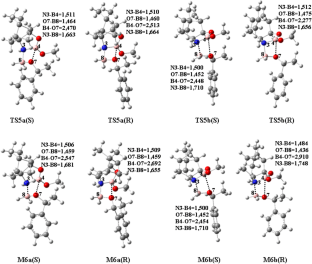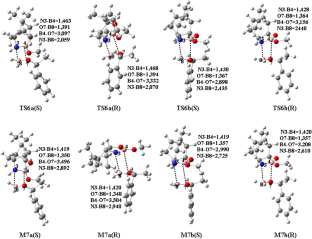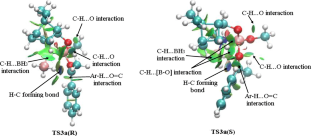 References
1.

Hirao A, Itsuno S, Nakahama S, Yamazaki N (1981). J Chem Soc Chem Commun 0:315–317

2.

Hirao A, Itsuno S, Nakahama S, Ito K (1983). J Chem Soc Chem Commun 0:469–470.S

3.

Corey EJ, Bakshi RK, Shibata S (1987). J Am Chem Soc 109:5551

4.

Corey EJ, Bakshi RK, Shibata S, Chen CP, Singh VK (1987). J Am Chem Soc 109:7925–7926

5.

Corey EJ, Shibata S, Bakshi RK (1988). J Org Chem 53:2861

6.

Corey EJ, Helal CJ (1998). Angew Chem Int Ed 37:1986–2012

7.

Wallbaum S, Martens J (1992). Tetrahedron Asym 3:1475–1504

8.

Singh VK (1992). Synthesis:605

9.

Deloux L, Srebnik M (1993). Chem Rev 93:763

10.

Corey EJ, Helal CJ (1998). Angew Chem Int Ed Engl 37:1986

11.

Liu H, Xu JXJ (2006). Mol Catal A Chem 244:68–72

12.

Xu J, Wei T, Zhang Q (2004). J Org Chem 69:6860–6866

13.

Garrett CE, Prasad K, Repic O, Blacklock TJ (2002). Tetrahedron Asymm 13:1347–1349

14.

Cho BT (2006). Tetrahedron 62:7621–7643

15.

Glushkov VA, Tolstikov AG (2004). Russ Chem Rev 73:581–608

16.

Masui M, Shioiri T (1997). Synlett:273–274

17.

Dennis H, Baro A, Laschat S, Frey W (2008). Tetrahedron 64:1635–1640

18.

Wei D, Tang M, Zhao J, Sun L, Zhang W, Zhao C, Zhang S, Wang H (2009). Tetrahedron Asym 20:1020–1026

19.

Krzemiński MP, Wojtczak A (1996). Tetrahedron Lett 37:7131–7134

20.

Frisch MJ (2009) Gaussian 09, Revision A.02. Gaussian, Wallingford, CT

21.

Zhao Y, Truhlar DG (2004). J Phys Chem A 108:6908

22.

Hehre WJ, Radom L, Schleyer PVR, Pople JA (1986) Ab initio molecular orbital theory. Wiley, New York

23.

Gonzalez C, Schlegel HB (1990). J Phys Chem 94:5523–5527

24.

Gonzalez C, Schlegel HB (1989). J Chem Phys 90:2154–2161

25.

Łączkowski KZ, Czyżnikowska Ż, Zaleśny R, Baranowska-Łączkowska A (2013). Struct Chem 24:485–1492

26.

Ujaque G, Lee PS, Houk KN, Hentemann MF, Danishefsky SJ (2002). Chem Eur J 8:3423

27.

Johnson ER, Keinan S, Mori-Sanchez P, Contreras-Garcia J, Cohen J, Yang AW (2010). J Am Chem Soc 132:6498
Acknowledgments
I am grateful to Doctor Abdelmalek Khorief Nacereddine (Université Badji Mokhtar Annaba) for helpful discussion.
Additional information
Publisher's note
Springer Nature remains neutral with regard to jurisdictional claims in published maps and institutional affiliations.
Electronic supplementary material
About this article
Cite this article
Kettouche, H.S. A DFT study on the reaction mechanism of enantioselective reduction of ketones with borane catalyzed by a B-methoxy-oxazaborolidine catalyst derived from (–)-β-pinene. J Mol Model 26, 27 (2020) doi:10.1007/s00894-019-4276-0
Received:

Accepted:

Published:
Keywords
Ketone

Oxazaborolidine

Transition state

Enantioselective reduction

DFT

wB97XD