Stability conditions of armchair graphene nanoribbon bipolarons
Part of the following topical collections:
Abstract
Graphene nanoribbons are 2D hexagonal lattices with semiconducting band gaps. Below a critical electric field strength, the charge transport in these materials is governed by the quasiparticle mechanism. The quasiparticles involved in the process, known as polarons and bipolarons, are self-interacting states between the system charges and local lattice distortions. To deeply understand the charge transport mechanism in graphene nanoribbons, the study of the stability conditions for quasiparticles in these materials is crucial and may guide new investigations to improve the efficiency for a next generation of graphene-based optoelectronic devices. Here, we use a two-dimensional version of the Su–Schrieffer–Heeger model to investigate the stability of bipolarons in armchair graphene nanoribbons (AGNRs). Our findings show how bipolaron stability is dependent on the strength of the electron–phonon interactions. Moreover, the results show that bipolarons are dynamically stable in AGNRs for electric field strengths lower than 3.0 mV/Å. Remarkably, the system's binding energy for a lattice containing a bipolaron is smaller than the formation energy of two isolated polarons, which suggests that bipolarons can be natural quasiparticle solutions in AGNRs.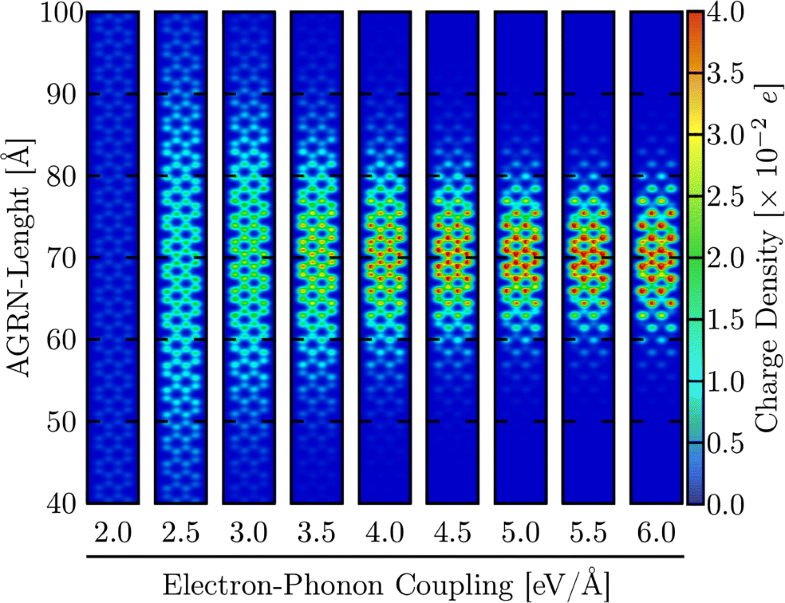 Keywords
Bipolarons 
Tight-binding 
Electron–phonon coupling 
Graphene 
Nanoribbons 
Notes
Acknowledgments
The authors gratefully acknowledge the financial support from Brazilian Research Councils CNPq, CAPES, and FAPDF. This research work has the support of the Brazilian Ministry of Planning, Development and Management (Grants 005/2016 DIPLA – Planning and Management Directorate, and 11/2016 SEST – State-owned Federal Companies Secretariat) and the DPGU – Brazilian Union Public Defender (Grant 066/2016). L.A.R.J., B.G.E, and G.M.S gratefully acknowledge the financial support from FAPDF grants 0193.001511/2017, 0193.001.556/2017, and 0193.00176 6/2017, respectively. L.A.R.J. and G.M.S. gratefully acknowledge, respectively, the financial support from CNPq grants 302236/2018-0 and 304637/2018-1.
Copyright information
© Springer-Verlag GmbH Germany, part of Springer Nature 2019