Metal ions doped into merocyanine form of coumarin derivatives: nonlinear optical molecular switches
Abstract
In the present study, DFT calculations are carried out on domestically designed 7-methyl-2-phenyl-5'H-spiro[chromene-4,2′-chromeno[3,4-e][1,3]oxazin]-5′-one spiropyran and merocyanine derivatives to recognize alkali and alkaline earth metal ions. Detection of these metal ions can be attained by exploiting the variation of the second-order nonlinear optical properties. Merocyanine forms of these derivatives exhibit the ability to complex with different metal ions (Li+, Na+, K+, and Ca2+), which is associated with large contrasts in the hyper-Rayleigh scattering (HRS) response as a function of metal size and charge. Interestingly, in this study, Mero-Li+ shows significant nonlinear optical response with dynamic HRS first hyperpolarizability amounting to 7607 a.u., which is about nine times higher than its corresponding spiro form (846 a.u.) at the CAM-B3LYP/6-311G* level of theory. The present investigation clarifies the effect of metal nature on the enhancement of the first hyperpolarizability between the closed and open forms of the studied coumarin derivatives.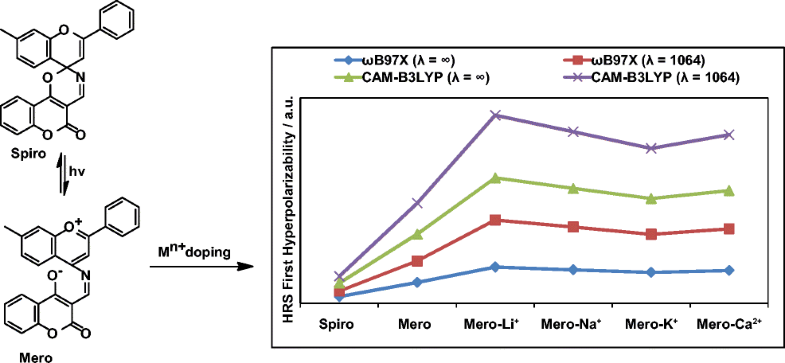 Keywords
First hyperpolarizability 
Molecular switches 
Merocyanine 
Metal doping 
NLO 
Notes
Acknowledgments
H-L Xu acknowledges support for the project funded by the China Postdoctoral Science Foundation (2014 M560227) and the Fundamental Research Funds for the Central Universities 2412018ZD008. S Muhamma d at the King Khalid University is thankful to the Deanship of Scientific Research at King Khalid University for funding this work through Research Group Project under grant number (R. G. P.1/165/40).
Compliance with ethical standards
Conflict of interest
There are no conflicts to declare.
Copyright information
© Springer-Verlag GmbH Germany, part of Springer Nature 2019