A systematic study of the surface structures and energetics of CH3NO2 surfaces by first-principles calculations
Abstract
Density functional theory (DFT) has been employed within the generalized gradient approximation and Perdew–Burke–Ernzerhof functional (GGA-PBE) to study the structural and electronic properties of nitromethane (NM) surface models. Different surfaces, including (100), (001), (101), (110), and (111), are considered in this work. The corresponding properties of bulk crystal for NM were also calculated to form a contrast to the slab models. Results with anisotropic characteristics of different surfaces have been observed in this study. There was an obviously great anisotropy in electronic parameters, especially the band gaps of different surfaces, indicating the anisotropic impact sensitivity along different directions of NM. The band gap value for (111) surface, 2.687 eV, was smaller than that of other surfaces, showing a higher impact sensitivity for NM. The estimated anisotropy has been revealed in surface energies for different surfaces.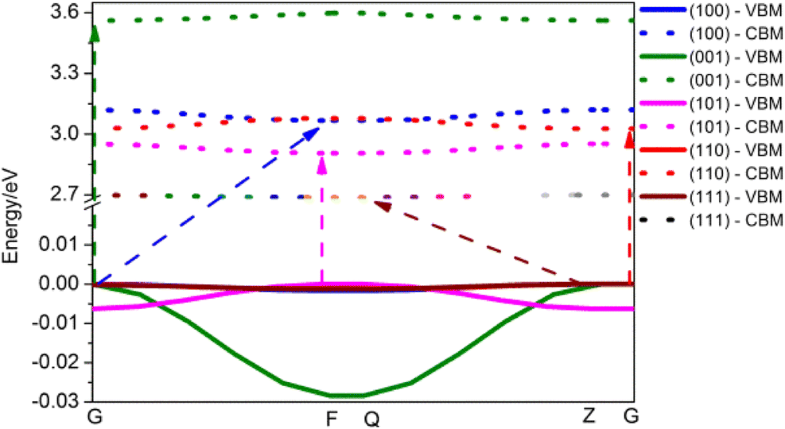 Keywords
First-principles calculations 
Nitromethane 
Impact sensitivity 
Anisotropy 
Notes
Acknowledgments
This work was supported by the National Natural Science Foundation of China (Grant Nos. 11574254 and 11272296), the Fundamental Research Funds for the Central Universities (Grant Nos. 2018GF08 and 2682019LK07), the fund of the State Key Laboratory of Solidification Processing in NWPU (Grant No. SKLSP201843), the Doctoral Innovation Fund Program of Southwest Jiaotong University (Grant No. D-CX201735), and the Doctoral Students Top-notch Innovative Talent Cultivation of Southwest Jiaotong University.
Copyright information
© Springer-Verlag GmbH Germany, part of Springer Nature 2019