Structural, energetic, and vibrational properties of the homodimers of the silyl, germyl, and stannyl halides, (MH3X)2 (M = Si, Ge, Sn; X = F, Cl, Br, I)
Part of the following topical collections:
Abstract
A number of properties of the homodimers of the three families of molecules MH3X, where M is Si, Ge, and Sn and X is F, Cl, Br, and I are computed. The results are compared with those of a similar study of the homodimers of the methyl halides containing the same four halogen atoms, and some notable differences are observed among related sets of monomer species. The interaction energies, the primary intermolecular geometrical parameters, the changes in the intramolecular bond lengths, and the vibrational data (wavenumber shifts and dimer/monomer infrared intensity ratios) of some of the modes most closely associated with the site of interaction show, for the most part, regular variations as the central atom and the halogen atom are systematically varied. The results are interpreted in terms of the changes in the bonding properties of the monomer molecules as they undergo dimerization.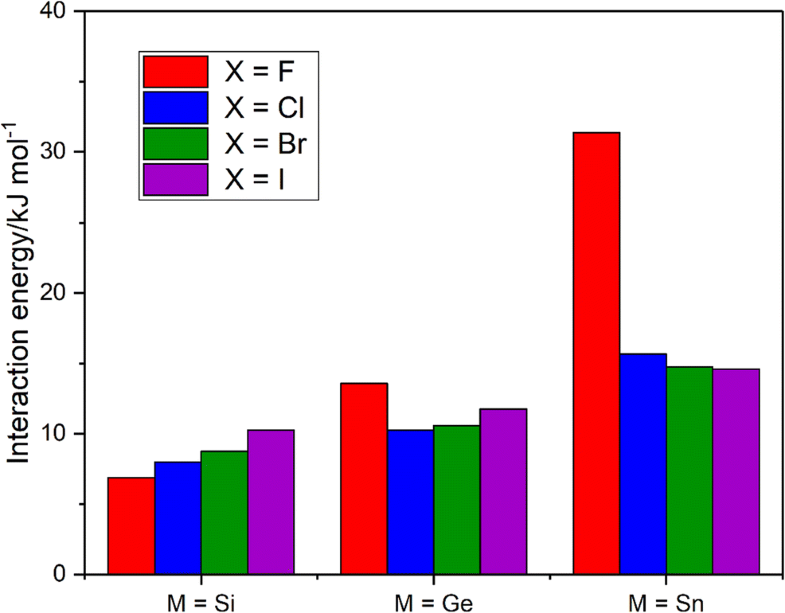 Keywords
Ab initio calculations 
Interaction energies 
Molecular structures 
Vibrational spectra 
Notes
Acknowledgments
This work is based on research supported in part by the National Research Foundation (NRF) of South Africa under grant number 2053648. The grant holder (TAF) acknowledges that opinions, findings, and conclusions or recommendations expressed in any publication generated by NRF-supported research are those of the authors and that the NRF accepts no liability in this regard. The authors also acknowledge the University of Mauritius and the University of KwaZulu-Natal for financial assistance, as well as the Centre for High Performance Computing (Cape Town) and the Hippo cluster (University of KwaZulu-Natal) for the use of computing facilities.
Copyright information
© Springer-Verlag GmbH Germany, part of Springer Nature 2019