Electrostatic explanation of D1228V/H/N-induced c-Met resistance and sensitivity to type I and type II kinase inhibitors in targeted gastric cancer therapy
Abstract
The c-Met D1228V/H/N mutation clinically causes acquired resistance to type I tyrosine kinase inhibitors (TKIs), while maintaining sensitivity to type II TKIs in targeted gastric cancer therapy. The mutation is located in the activation loop (A-loop) region of the c-Met kinase domain, which substitutes the negatively charged residue Asp1228 with electroneutral amino acid Val, His, or Asn, thus electrostatically destabilizing the DFG-in conformation of A-loop and inducing its transition to DFG-out state. The transition is spontaneous in a dynamics point of view and the A-loop exhibits a large intrinsic disorder during the transitional dynamics course. In DFG-in conformation, the wild-type Asp1228 is surrounded by a number of positively charged residues within its first and second shells, which can also form a hydrogen-bonding network with its vicinal residues Phe1089, Lys1110, Asp1222, and Met1229 in the first shell. Type I and type II TKIs respond oppositely to the mutation; the former shows a generic resistance to the mutation, whereas the latter is generally sensitized by the mutation. Both types of TKIs do not directly interact with the mutation. Instead, the mutation-induced conformational change in A-loop reshapes kinase active site and then influences the site interactions with inhibitor ligands, thus conferring different selectivity to the type I and type II TKIs.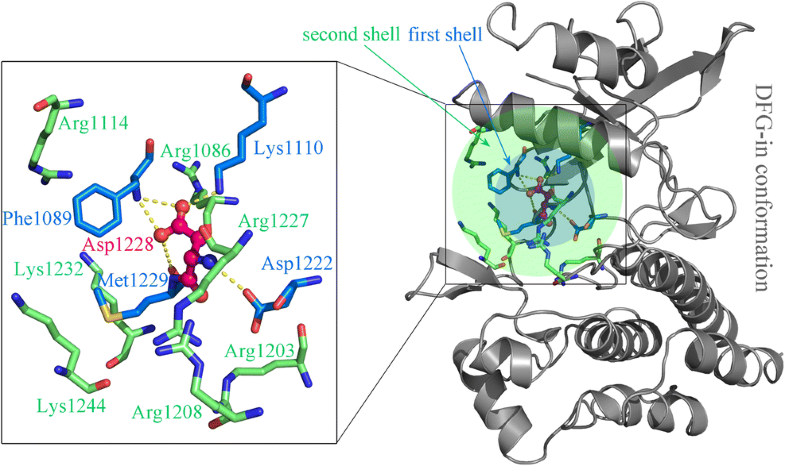 Keywords
c-Met kinase 
D1228V/H/N mutation 
Tyrosine kinase inhibitor 
Acquired resistance 
Targeted gastric cancer therapy 
Electrostatic stability 
Molecular dynamics 
Notes
Acknowledgements
This work was supported by the Social Development Fund of Zhenjiang (No. SH2015069) and the Clinical Medicine Development Project of Jiangsu University (No. JLY20160104).
Compliance with ethical standards
Conflict of interest
The authors report no declarations of interest.
Copyright information
© Springer-Verlag GmbH Germany, part of Springer Nature 2019