Dynamic behavior and selective adsorption of a methanol/water mixture inside a cyclic peptide nanotube
Abstract
Present molecular dynamics simulations indicate that the methanol component in a methanol/water mixture is more likely to be trapped in a cyclic peptide nanotube (CPNT), while water molecules tend to be present at the channel mouths as transient guests. Channel water resides mainly between methanol and the CPNT wall, resulting in a distinct decrease in the H-bond number per channel methanol. Six designed CPNTs with different channel diameters and outer surface characteristics all possess distinct selectivity to methanol over water. Of these, the amphipathic 8 × (AQ)4-CPNT exhibits the best performance. Results in this study provide basic information for the application of a CPNT to enrich methanol from a methanol/water mixture.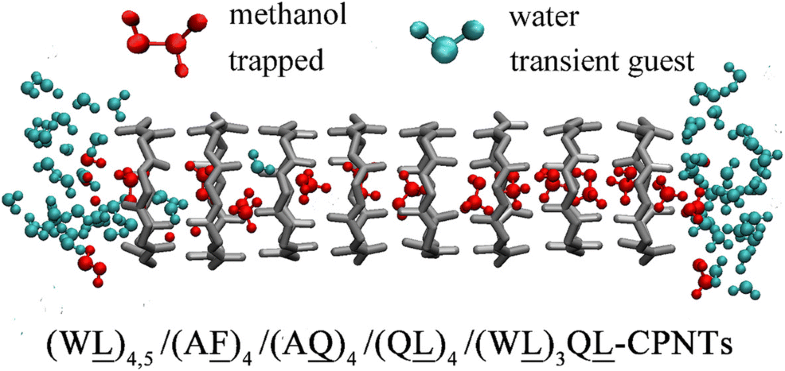 Keywords
MD simulation 
CPNT 
Methanol/water mixture 
Methanol selective adsorption 
Notes
Acknowledgments
This work has been supported by the priority academic program development of Jiangsu higher education institutions and the project of scientific and technologic infrastructure of Suzhou (SZ 201708). It was further supported by the national basic research program of China (973 program, Grant No. 2012CBB25803). The authors are grateful to Dr. Jian Liu and Miss Yi Yu for their insightful suggestions.
Copyright information
© Springer-Verlag GmbH Germany, part of Springer Nature 2018