Correlations between the 1H NMR chemical shieldings and the pKa values of organic acids and amines
Abstract
The acid dissociation constants and 1H NMR chemical shieldings of organic compounds are important properties that have attracted much research interest. However, few studies have explored the relationship between these two properties. In this work, we theoretically studied the NMR chemical shifts of a series of carboxylic acids and amines in the gas phase and in aqueous solution. It was found that the negative logarithms of the experimental acid dissociation constants (i.e., the pKa values) of the organic acids and amines in aqueous solution correlate almost linearly with the corresponding calculated NMR chemical shieldings. Key factors that affect the theoretically predicted pKa values are discussed in this paper. The present work provides a new way to predict the pKa values of organic/biochemical compounds.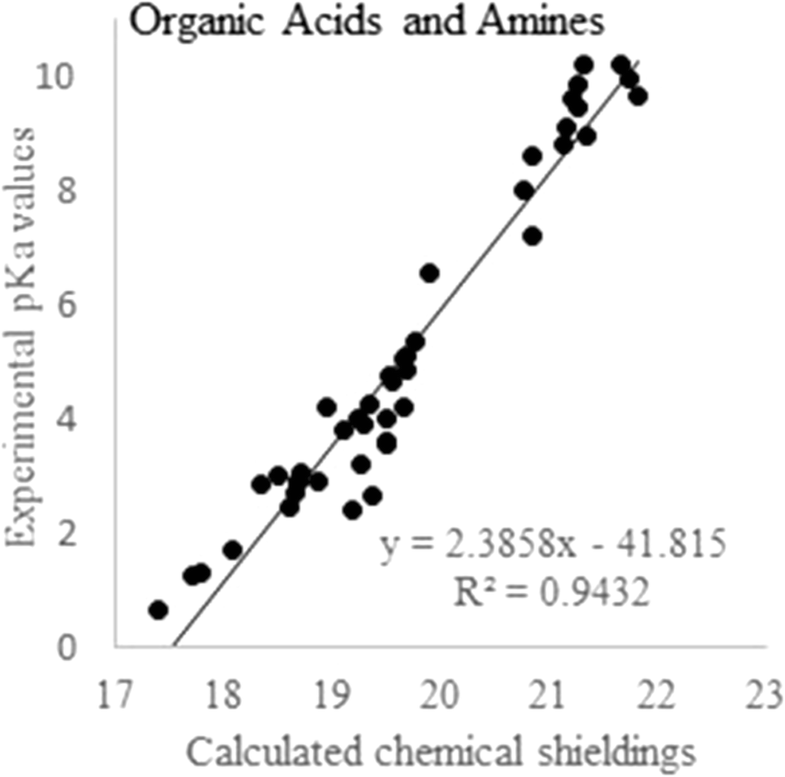 Keywords
1H NMR chemical shieldings 
pKa 
Organic acid 
Amine 
Linear correlation 
Notes
Acknowledgements
This research was supported in part by the National Natural Science Foundation of China (grant no. 21273089) and the Special Fund for Basic Scientific Research of Central Colleges, South-Central University for Nationalities (CZY14004).
Copyright information
© Springer-Verlag GmbH Germany, part of Springer Nature 2018