Exploration of selected electronic characteristics of half-sandwich organoruthenium(II) β-diketonate complexes
Part of the following topical collections:
Abstract
Based on experimental work, 12 half-sandwich organoruthenium(II) complexes with p-cymene and various substituted β-diketonates (acac) modified by several functional groups were explored. These complexes were optimized at the B3PW91/6–31 + G(d)/PCM/UFF computational level with the Ru atom described by Stuttgart pseudopotentials. The electron density analysis was performed using the B3LYP/ 6–311++G(2df,2pd)/DPCM/scaled-UAKS model. Electrostatic and averaged local ionization potential were explored and extremes on 0.001 e/a.u.3 isodensity surfaces discussed. Natural population analysis partial charges and electron densities in bond critical point of the key Ru(II) coordination bonds were determined. There was a clear correlation between the results obtained and experimentally known anticancer descriptors.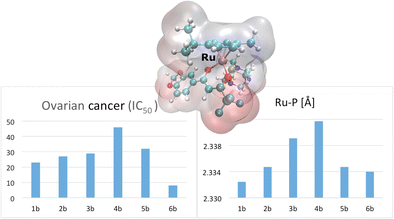 Keywords
Anticancer Ru(II) complexes 
DFT calculations 
Half-sandwich complexes 
Notes
Acknowledgments
We are grateful for financial support from the Czech Science Foundation (grant no. 16-06240S) and from the Slovenian Research Agency (program grant P1-0175. Calculations were carried out at Faculty Mathematics and Physics, KK2 cluster administered by Štěpán Balcar. The authors also appreciate generous access to computing facilities within the National Grid Infrastructure MetaCentrum, provided under the program 'Projects of Large Infrastructure for Research, Development, and Innovations' (LM2010005).
Copyright information
© Springer-Verlag GmbH Germany, part of Springer Nature 2018