Pnictogen bonding in pyrazine•PnX5 (Pn = P, As, Sb and X = F, Cl, Br) complexes
Part of the following topical collections:
Abstract
This paper presents a study of pnictogen bonding in a series of pyrazine•PnX5 (Pn = P, As, Sb and X = F, Cl, Br) complexes. The whole series was studied computationally. Moreover, the pyrazine complexes with PCl5 and SbCl5 were prepared and characterized experimentally. It was found that the Pn-N distances are only slightly elongated when compared to the sum of covalent radii. The conformation of PnX5 changed considerably upon the complex formation, which resulted in a significant change of the dipole moment of the PnX5 fragment and a considerably more positive σ-hole on the pnictogen atom. Finally, interaction energies were decomposed in order to provide a deeper insight into the nature of the studied pnictogen-bonded complexes.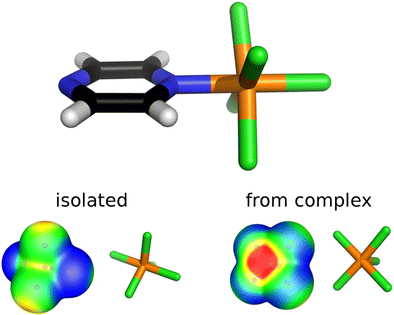 Keywords
Pnictogen bond 
Interaction energy decomposition 
σ-hole magnitude 
Deformation energy 
X-ray crystallography 
Charge transfer 
Notes
Acknowledgments
The authors wish to acknowledge the synthetic assistance of Ing. Zdeňka Janíková (University of Pardubice). We would also like to thank Robert Sedlák, Ph.D., and Olga Stasyuk, Ph.D., for their help with the EDA decomposition. This work was partly financed by a statutory activity subsidy from the Polish Ministry of Science and Higher Education for the Faculty of Chemistry of Wroclaw University of Science and Technology. Generous computer time from the Wroclaw Supercomputer and Networking Center is acknowledged. This work was supported by the research project RVO 61388963 of the Czech Academy of Sciences. The support of the Czech Science Foundation (JF, JR, PH: P208/12/G016 and AR: 17-10377S) is gratefully acknowledged.
Copyright information
© Springer-Verlag GmbH Germany 2017