New consensus multivariate models based on PLS and ANN studies of sigma-1 receptor antagonists
Part of the following topical collections:
Abstract
The treatment of neuropathic pain is very complex and there are few drugs approved for this purpose. Among the studied compounds in the literature, sigma-1 receptor antagonists have shown to be promising. In order to develop QSAR studies applied to the compounds of 1-arylpyrazole derivatives, multivariate analyses have been performed in this work using partial least square (PLS) and artificial neural network (ANN) methods. A PLS model has been obtained and validated with 45 compounds in the training set and 13 compounds in the test set (r2 training = 0.761, q2 = 0.656, r2 test = 0.746, MSEtest = 0.132 and MAEtest = 0.258). Additionally, multi-layer perceptron ANNs (MLP-ANNs) were employed in order to propose non-linear models trained by gradient descent with momentum backpropagation function. Based on MSEtest values, the best MLP-ANN models were combined in a MLP-ANN consensus model (MLP-ANN-CM; r2 test = 0.824, MSEtest = 0.088 and MAEtest = 0.197). In the end, a general consensus model (GCM) has been obtained using PLS and MLP-ANN-CM models (r2 test = 0.811, MSEtest = 0.100 and MAEtest = 0.218). Besides, the selected descriptors (GGI6, Mor23m, SRW06, H7m, MLOGP, and μ) revealed important features that should be considered when one is planning new compounds of the 1-arylpyrazole class. The multivariate models proposed in this work are definitely a powerful tool for the rational drug design of new compounds for neuropathic pain treatment.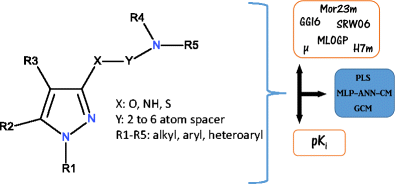 Keywords
Sigma-1 receptor 
1-arylpyrazole 
QSAR 
PLS 
MLP-ANN 
Consensus modeling 
Notes
Acknowledgements
The authors would like to thank CNPq, CAPES, and FAPESP (Brazilian agencies) for the financial support.
Compliance with ethical standards
Conflict of interest
The authors declare no competing financial interest.
Copyright information
© Springer-Verlag GmbH Germany 2017