Modification of 56ACARBO force field for molecular dynamic calculations of chitosan and its derivatives
Abstract
The GROMOS 56ACARBO force field for the description of carbohydrates was modified for calculations of chitosan (poly–1,4–(N–acetyl)–β–D–glucopyranosamine–2) with protonated and non-protonated amino groups and its derivatives. Additional parameterization was developed on the basis of quantum chemical calculations. The modified force field (56ACARBO_CHT) allows performing the molecular dynamic calculations of chitosans with different degrees of protonation corresponding to various acidity of medium. Test calculations of the conformational transitions in the chitosan rings and polymeric chains as well as the chitosan nanocrystal dissolution demonstrate good agreement with experimental data.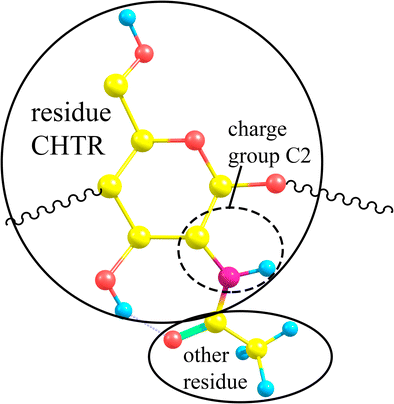 Keywords
Chitosan 
Chitin 
Molecular dynamics 
56ACARBO 
Force field extension 
Notes
Acknowledgements
This work was partially supported by the Russian Foundation for Basic Research (Project No. 14-03-00585). The authors acknowledge the computer facility of the University of Nizhny Novgorod for providing the resources on the "Lobachevsky" supercomputer. We also express our gratitude to one of the anonymous reviewers for his/her attention, time, and valuable suggestions on the improvement of the manuscript.
Copyright information
© Springer-Verlag GmbH Germany 2017