Bonding, aromaticity, and planar tetracoordinated carbon in Si2CH2 and Ge2CH2
Abstract
Natural bond orbital (NBO) analyses and dissected nucleus-independent chemical shifts (NICS π z z ) were computed to evaluate the bonding (bond type, electron occupation, hybridization) and aromatic character of the three lowest-lying Si2CH2 (1-Si, 2-Si, 3-Si) and Ge2CH2 (1-Ge, 2-Ge, 3-Ge) isomers. While their carbon C3H2 analogs favor classical alkene, allene, and alkyne type bonding, these Si and Ge derivatives are more polarizable and can favor "highly electron delocalized"? and "non-classical"? structures. The lowest energy Si 2CH2 and Ge 2CH2 isomers, 1-Si and 1-Ge, exhibit two sets of 3–center 2–electron (3c-2e) bonding; a π-3c-2e bond involving the heavy atoms (C–Si–Si and C–Ge–Ge), and a σ-3c-2e bond (Si–H–Si, Ge–H–Ge). Both 3-Si and 3-Ge exhibit π and σ-3c-2e bonding involving a planar tetracoordinated carbon (ptC) center. Despite their highly electron delocalized nature, all of the Si2CH2 and Ge2CH2 isomers considered display only modest two π electron aromatic character (NICS(0) π z z =--6.2 to –8.9 ppm, computed at the heavy atom ring center) compared to the cyclic-C 3H2 (–13.3 ppm).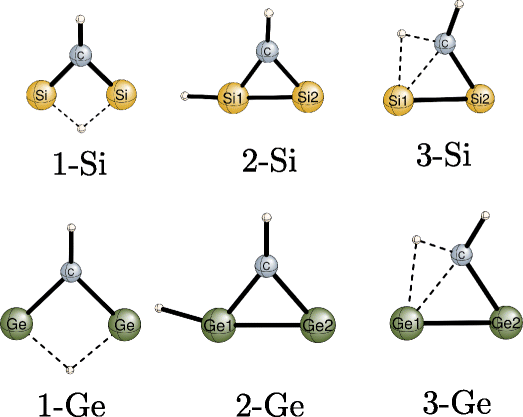 Keywords
Main group chemistry 
Planar tetracoordinated carbon 
Natural bond orbital 
3–center 2–electron bond 
Nuclear-independent chemical shift 
Aromaticity 
Electrostatic potential 
Notes
Acknowledgments
This research was supported by the U.S. National Science Foundation Grant CHE-1361178 and CHE-1057466. SVG gratefully acknowledges support from Becas Chile fellowship Number 72090904.
Copyright information
© Springer-Verlag Berlin Heidelberg 2015