Abstract
We studied the structure and dynamics of star-shaped polymers by means of coarse-grained molecular dynamics simulations and analysis of structural transitions of semi-flexible macromolecules confined in nano-channels. The conformation of star arms in narrow channels is given by the channel width, arm flexibility and number of arms aligned together in the given region along the channel. We focused on the conformation transition, where all arms are initially stretched in one direction of the narrow channel and were interested in the process of how individual arms escape into a free volume region of channel. We found that the escape transition does not proceed from arm ends but progresses by extension of a loop starting from the branch point; the arms escape in individual steps and the extension of arms depends on how many arms align in parallel in the channel.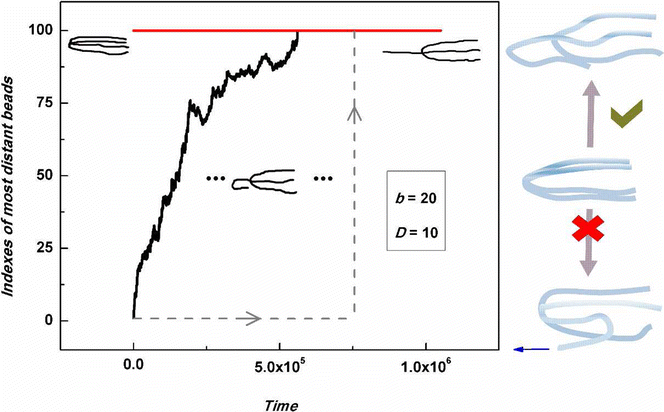 This is a preview of subscription content, log in to check access.
Access options
Buy single article
Instant unlimited access to the full article PDF.
US$ 39.95
Price includes VAT for USA
Subscribe to journal
Immediate online access to all issues from 2019. Subscription will auto renew annually.
US$ 199
This is the net price. Taxes to be calculated in checkout.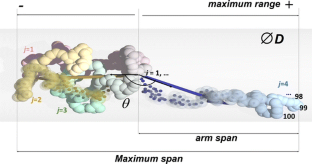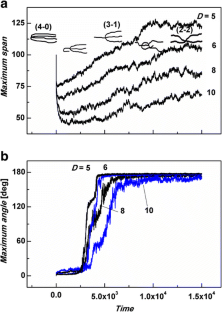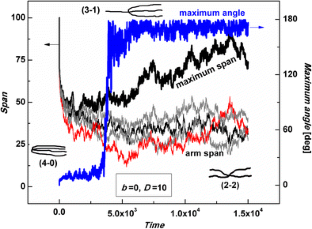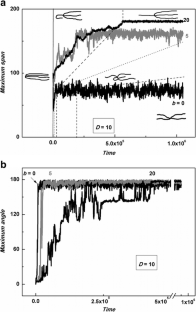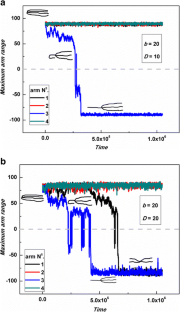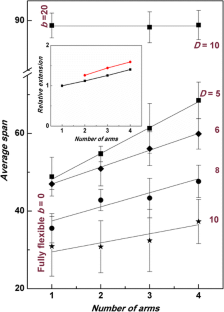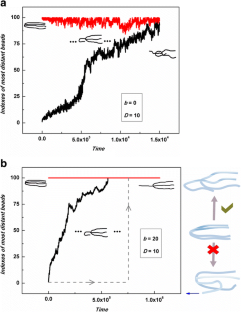 References
1.

Reisner WW, Beech JP, Larsen NB, Flyvbjerg H, Kristensen A, Tegenfeldt JO (2007) Phys Rev Lett 99:058302

2.

Reisner WW, Morton KJ, Riehn R, Wang YM, Yu Z, Rosen M, Sturm JC, Chou SY, Frey E, Austin RH (2005) Phys Rev Lett 94:196101

3.

Tegenfeldt JO, Prinz C, Cao H, Chou S, Reisner WW, Riehn R, Wang YM, Cox EC, Sturm JC, Silberzan P, Austin RH (2004) Proc Natl Acad Sci USA 101:10979

4.

Han J, Craighead HG (2000) Science 288:1026–1029

5.

Matsuoka T, Kim BC, Huang J, Douville NJ, Thouless MD, Takayama S (2012) Nano Lett 12(12):6480–4

6.

Sevick EM (2000) Macromolecules 33:5743–5746

7.

Wang Y, Masur A, Zhu Y, Ziebarth J (2010) J Chromatogr A 1217:6102–6109

8.

Jin F, Wu C (2006) Phys Rev Lett 96:237801

9.

Hong LZ, Jin F, Li JF, Lu YJ, Wu C (2008) Macromolecules 41:8220

10.

Muthukumar M (2001) Phys Rev Lett 86:3188

11.

Muthukumar M (2003) J Chem Phys 118:5174

12.

Kumar R, Muthukumar M (2009) J Chem Phys 131:194903

13.

Jun S, Thirumalai D, Ha BY (2008) Phys Rev E 101:138101

14.

Jun S, Arnold A, Ha BY (2007) Phys Rev Lett 98:128303

15.

Jung Y, Jeon C, Kim J, Jeong H, Jun S, Ha BY (2012) Soft Matter 8(7):2095–2102

16.

Jun S (2006) Proc Natl Acad Sci USA 103:12388

17.

Arnold A, Jun S (2007) Phys Rev E 76:031901

18.

Lu J, Deutsch C (2005) Nat Struct Mol Biol 12:1123

19.

Polymers in Confined Environments, Granick S, Binder K, de Gennes P-G, Giannelis EP, Grest GS, Hervet H, Krishnamoorti R, Léger L, Manias E, Raphaël E, Wang S-Q (1999) Adv Polym Sci 138

20.

Willner L, Jucknischke O, Richter D, Farago B, Fetters L, Huang JS (1986) Europhys Lett 2:137

21.

Semenov AN, Vlassopolous D, Fytas G, Vlachos G, Fleischer G, Roovers J (1999) Langmuir 15:358

22.

McLeisch TCB (2002) Adv Phys 51:1379

23.

Eisenriegler E (1993) Polymers near surfaces. Singapore, World Scientific

24.

Qui LY, Bae YH (2006) Pharm Res 23:1

25.

Wiltshire JT, Qiao GG (2007) Aust J Chem 60:699

26.

Gao H (2012) Macromol Rapid Commun 33:722

27.

Blencowe A, Tan JF, Goh TK, Qiao GG (2009) Polymer 50:5

28.

Likos CN (2006) Soft Matter 2:478

29.

Mathis C, Schmaltz B, Brinkmann M (2006) C R Chim 9:1075–1084

30.

Wolkmuth WD, Duke T, Austin RH, Cox E (1995) Proc Natl Acad Sci USA 92:6887

31.

Heuer DM, Saha S, Archer LA (2003) Electrophoresis 24:3314

32.

Romiszowski P, Sikorski A (2006) J Mathem Chem 40(3):295

33.

Sikorski A, Romiszowski P (2007) J Phys Condens Matter 19:205136

34.

Romiszowski P, Sikorski A (2009) J Mol Model 15:681–686

35.

Račko D, Cifra P (2013) J Chem Phys 138:184904

36.

Klymko K, Cacciuto A (2011) Phys Rev Lett 107:278302

37.

Milchev A, Muller M, Klushin L (2014) Macromolecules 47(6):2156–2168

38.

Paturej J, Milchev A, Egorov SA, Binder K (2013) Macromolecules 46(19):8009

39.

Gay C, de Gennes P-G, Raphael E, Brochard-Wyart F (1989) Branched polymers inside nanoscale pores. In: Kasianowicz JJ, Kellermayer MSZ, Deamer DW (eds) Structure and dynamics of confined polymers. NATO Series 3. High Technology, vol 87. Springer, Dordrecht, p 131

40.

Wood JB (2004) J Appl Anim Welf Sci 7(2):95–106 http://www.thecephalopodpage.org/

41.

Weeks JD, Chandler D, Andersen HC (1971) J Chem Phys 54:5237

42.

Arnold A, Jun S (2007) Phys Rev E 76:031901

43.

Jung Y, Ha B-Y (2010) Phys Rev E 82:051926

44.

Jung Y, Kim J, Jun S, Ha B-J (2012) Macromolecules 45:3256–3262

45.

Limbach H-J, Arnold A, Mann BA, Holm C (2006) Comput Phys Commun 174:704

46.

Šolc K (1977) Polym News 4:67

47.

Saha S, Heuer DM, Archer LA (2006) Electrophoresis 27:3181

48.

Cifra P, Bleha T (2012) Soft Matter 8:9022

49.

H. Nakanishi (1987) J Phys B 979–984

50.

Schaefer DW, Joanny JF, Pincus P (1980) Macromolecules 13:1280

51.

Sheng J (2012) Kaifu Luo. Soft Matter 8:367–374

52.

Levy SL, Mannion JT, Cheng J, Reccius CH, Craighead HG (2008) Nano Lett 8:3839–3844

53.

Burkhardt TW (1997) J Phys A: Math Gen 30:L167

54.

de Gennes P-G (1979) Scaling concepts in polymer physics. Cornell University Press, Ithaca, NY

55.

Milner ST, McLeisch TCB (1997) Macromolecules 30:2159–2166

56.

Kramers HA (1940) Phys Utrecht 7:284

57.

Minina E, Arnold A (2014) Soft Matter 10:5836

58.

Polson JM, Montgomery LG (2014) J Chem Phys 141:164902
Acknowledgments
This work was supported by the Slovak Research and Development Agency (Grant No. SRDA-0451-11) and the Scientific grant agency of the Ministry of Education of the Slovak Republic (VEGA Grant Nos. 2/0093/12 and 2/0068/13).
Electronic supplementary material
Below is the link to the electronic supplementary material.
About this article
Cite this article
Račko, D., Cifra, P. Arm retraction and escape transition in semi-flexible star polymer under cylindrical confinement. J Mol Model 21, 186 (2015) doi:10.1007/s00894-015-2735-9
Received:

Accepted:

Published:
Keywords
Semi-flexible

DNA

Molecular dynamics

Confined

Nano-channel

Electrophoresis