Binuclear cyclopentadienylrhenium hydride chemistry: terminal versus bridging hydride and cyclopentadienyl ligands
Abstract
Theoretical studies predict the lowest energy structures of the binuclear cyclopentadienylrhenium hydrides Cp2Re2H n (Cp = η5–C5H5; n = 4, 6, 8) to have a central doubly bridged Re2(μ–H)2 unit with terminal η5–Cp rings and the remaining hydrides as terminal ligands. However, the lowest energy Cp2Re2H2 structure by more than 12 kcal mol−1 has one terminal η5-Cp ring, a bridging η3,η2–Cp ring, and two terminal hydride ligands bonded to the same Re atom. The lowest energy hydride-free Cp2Re2 structure is a perpendicular structure with two bridging η3,η2–Cp rings. The previously predicted bent singlet Cp2Re2 structure with terminal η5-Cp rings and a formal Re–Re sextuple bond lies ∼37 kcal mol−1 above this lowest energy (η3,η2–Cp)2Re2 structure. The thermochemistry of the CpReH n and Cp2Re2H n systems is consistent with the reported synthesis of the permethylated derivatives Cp*ReH6 and Cp*2Re2H6 (Cp* = η5–Me5C5) as very stable compounds. Additionally, natural bond orbital analysis, atoms-in-molecules and overlap population density-of-state in AOMIX were applied to present the existence of rhenium–rhenium multiple bonds.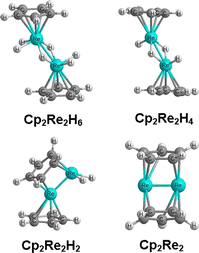 Keywords
Binuclear rhenium hydrides 
Thermochemistry 
Density functional theory 
Notes
Acknowledgments
We are indebted to the Excellent Young Scholars Research Fund of Beijing Institute of Technology (2012YG0202 and 2014CX04024), Beijing Natural Science Foundation (2132033, and 2132035), Beijing Higher Education Young Elite Teacher Project(YETP1177) and the National Natural Science Foundation of China (61440020) and the U.S. National Science Foundation (Grants CHE-1057466 and CHE-1054286) for support of this research.
Copyright information
© Springer-Verlag Berlin Heidelberg 2015