Bonding analysis of the donor–acceptor sandwiches CpE–MCp (E = B, Al, Ga; M = Li, Na, K; Cp = η 5-C5H5)
Abstract
The nature of E–M bonds in CpE–MCp (E = B, Al, Ga; M = Li, Na, K; Cp = η 5-C5H5) donor–acceptor sandwiches was studied using the atoms in molecules (AIM) theory, electron localization function (ELF), energy decomposition analysis (EDA), and natural bond orbital analysis (NBO) methods. Both topological and orbital analysis show that the E atom determines the bond strength of the E–M bonds, while the M atom has little influence on it. E–M bond strength decreases in the order E = B, Al, and Ga. The EDA analysis shows that the electrostatic character decreases following the sequence E = B > Al > Ga. Not only the s orbital, but also the p orbital of the E/M atom participates in formation of the E–M bond. The interactions of E and M with Cp are different. The M–Cp interaction is purely electrostatic while the E–Cp interaction has a partly covalent character.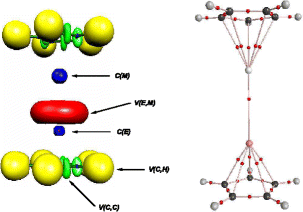 Keywords
Donor–acceptor sandwich 
E–M bonds 
Atoms in molecules 
Electron localization function 
Energy decomposition analysis 
Notes
Acknowledgments
Thanks to International Science Editing for editing this paper. This work was supported by the National Natural Science Foundation of China (Contract NO. 21102033, 21372062, 21171047, 21373075, 21371045), the Education Department Foundation of Hebei Province (NO. ZD20131053, ZH2012106). The authors would also like to thank Professor Qingzhong Li for providing the ADF2008.1 program.
Copyright information
© Springer-Verlag Berlin Heidelberg 2014