UV–vis absorption spectrum of a novel Ru(II) complex intercalated in DNA: [Ru(2,2′-bipy)(dppz)(2,2′-ArPy)]+
Part of the following topical collections:
Abstract
The synthesis of a new Ru(II) complex is reported. Its absorption spectrum when interacting with DNA in water was calculated at the hybrid quantum mechanics molecular mechanics level of theory and compared with experimental data. The vertical transitions were computed using time-dependent density functional theory in the linear response approximation. The complex and its environment were treated at the quantum mechanical and molecular mechanical levels, respectively. The effects of the environment were investigated in detail and conveniently classified into electrostatic and polarization effects. The latter were modeled using the computationally inexpensive "electronic response of the surroundings" method. It was found that the main features of the experimental spectrum are nicely reproduced by the theoretical calculations. Moreover, analysis of the most intense transitions utilizing the natural transition orbital formalism revealed important insights into their nature and their potential role in the irreversible oxidation of DNA, a phenomenon that could be relevant in the field of cancer therapy.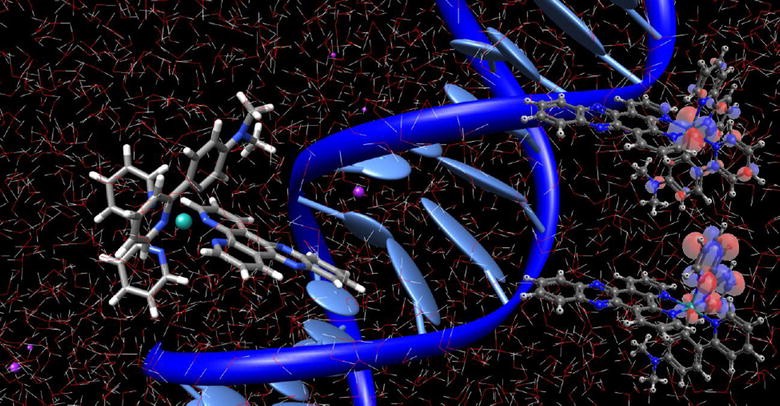 Keywords
Electronic spectra 
TDDFT 
QM/MM 
Environmental effects 
Ru(II) complexes 
DNA 
Notes
Acknowledgments
XA expresses all of his gratitude to Professor Tim Clark, for his long-lasting support and for his tremendous contribution to the deciphering of noncovalent interactions. Support from Université de Lorraine is gratefully acknowledged. AM thanks CNRS for their funding of the "Chaire d'excellence." Financial funding from the ANR through the ANR-09-BLAN-0191-01 "PhotoBioMet" project is also acknowledged.
Copyright information
© Springer-Verlag Berlin Heidelberg 2014