Competition between halogen, dihalogen and hydrogen bonds in bromo- and iodomethanol dimers
Abstract
O-H…X and O-H…O H-bonds as well as C-X…X dihalogen and C-X…O halogen bonds have been investigated in halomethanol dimers (bromomethanol dimer, iodomethanol dimer, difluorobromomethanol…bromomethanol complex and difluoroiodomethanol…iodomethanol complex). Structures of all complexes were optimized at the counterpoise-corrected MP2/cc-pVTZ level and single-point energies were calculated at the CCSD(T)/aug-cc-pVTZ level. Energy decomposition for the bromomethanol dimer complex was performed using the DFT-SAPT method based on the aug-cc-pVTZ basis set. OH…O and OH…X H-bonds are systematically the strongest in all complexes investigated, with the former being the strongest bond. Halogen and dihalogen bonds, being of comparable strength, are weaker than both H-bonds but are still significant. The strongest bonds were found in the difluoroiodomethanol…iodomethanol complex, where the O-H…O H-bond exceeds 7 kcal mol-1, and the halogen and dihalogen bonds exceed 2.5 and 2.3 kcal mol-1, respectively. Electrostatic energy is dominant for H-bonded structures, in halogen bonded structures electrostatic and dispersion energies are comparable, and, finally, for dihalogen structures the dispersion energy is clearly dominant.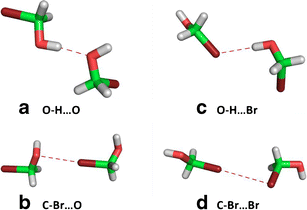 Keywords
Dihalogen bond 
Halogen bond 
Hydrogen bond 
Noncovalent interactions 
Notes
Acknowledgments
This work was part of the Research Project RVO: 61388963 of the Institute of Organic Chemistry and Biochemistry, Academy of Sciences of the Czech Republic. The support of Praemium Academiae, Academy of Sciences of the Czech Republic, awarded to P.H. in 2007 is also acknowledged. This work was also supported by the Czech Science Foundation [P208/12/G016] and the operational program Research and Development for Innovations of European Social Fund (CZ 1.05/2.1.00/03/0058).
Copyright information
© Springer-Verlag Berlin Heidelberg 2013