Validation of a novel secretion modification region (SMR) of HIV-1 Nef using cohort sequence analysis and molecular modeling
Abstract
The HIV-1 accessory protein Nef plays an active role in the pathogenesis of AIDS by its numerous cellular interactions that facilitate the release of virus particles. This 27 kDa protein is required for maintenance of the viral replication in HIV, and is also known to contribute to immune evasion, blocking of apoptosis in virus-infected cells and enhancement of virus infectivity. Nef has been shown to be secreted and is present on the surface of virus-infected cells. Recent studies from our laboratory have shown that the Nef protein is secreted from nef-transfected and HIV-1-infected cells in small exosome-like vesicles (40–100 nm diam.) that do not contain virions. We have identified three amino-terminal domains of Nef as necessary for secretion: (i) the four arginine residues (17,19,21, 22) comprising the basic region; (ii) the phosphofurin acidic cluster sequence (PACS) composed of four glutamic acid residues (61–64); (iii) a previously unknown motif spanning amino acid residues 65–69 (VGFPV) which we named the secretion modification region (SMR). In this study, we have used population-based phylogeny data and sequence analysis to characterize the conservation of the Nef SMR domain that regulates vesicle secretion. We have performed in silico computational chemistry analysis involving molecular dynamic structure modeling of mutations in the SMR motif. Sequence analysis of Nef from HIV-1-infected patients, including slow progressors (SP), long term progressors (LTP) and long term non-progressors (LTNP) demonstrated 99 % conservation of the Nef SMR motif. Computational analysis including modeling of wild-type HIV-1 Nef and V66A Nef SMR mutant using structural homology and molecular dynamics of ligand-associated interactions indicated significant structural changes in the Nef mutant, thus supporting the importance of the SMR domain for mediating Nef vesicle secretion.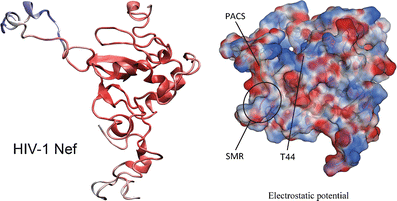 Keywords
HIV-1 protein 
Homology modeling 
Molecular dynamics 
Structure-function relationship 
Notes
Acknowledgments
This work and the researchers at Morehouse were supported by NIH/NIGMS/MBRS grant S06 GM08248, NIH/NCRR/RCMI grant G12-RR03034, Georgia Research Alliance funding grant GRA.VAC08.W. This investigation was conducted in a facility constructed with support from Research Facilities Improvement Grant #C06 RR18386 from NIH/NCRR. The work, researchers, and facilities at Jackson State University NSF CREST Interdisciplinary Nanotoxicity Center were supported by grant NSF-CREST - # HRD-0833178. No competing financial interests exist.