Solvent effect on cation–π interactions with Al3+
Abstract
Cation–π interactions are known to be one of the strongest noncovalent forces in the gas phase, but they rarely occur in a fully solvated environment. The present work used two different ab initio molecular dynamics-based approaches to describe the correlation between the strength of the cation–π interactions and the number of water molecules surrounding the cation. Five different complexes between an aluminum cation and different molecules containing aromatic rings were studied, and the degree of hydration of each complex was varied. Results indicated that cation–π interactions vanish when the aluminum cation is surrounded by more than three water molecules. The results also highlighted the influence of –OH ligands on the interaction strength.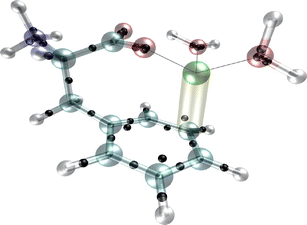 Keywords
Cation–pi 
Aluminum 
Aromatic amino acid 
CPMD 
Blue moon 
Notes
Acknowledgments
This research was mostly funded by Euskal Herriko Unibertsitatea (the University of the Basque Country), Gipuzkoako Foru Aldundia (the Provincial Government of Gipuzkoa), and Eusko Jaurlaritza (the Basque Government).
The calculations were performed using the Mare Nostrum supercomputer (PowerPC 970MP) at the Barcelona Supercomputing Center (Centro Nacional de Supercomputación), Juropa (Intel Xeon 5570) at the Jülich Supercomputing Center, and Arina (Itanium II) at the SGI/IZO-SGIker at the University of the Basque Country UPV/EHU.
I wish to acknowledge Prof. Jesus M. Ugalde and many people in NSC Jyväskylä, such as Dr. Jaakko Akola, Prof. Hannu Häkkinen, Prof. Robert van Leuwen, and Oleg O. Kit, for discussions and support.