A novel dimerization interface of cyclic nucleotide binding domain, which is disrupted in presence of cAMP: implications for CNG channels gating
Abstract
Cyclic nucleotide binding domain (CNBD) is a ubiquitous domain of effector proteins involved in signalling cascades of prokaryota and eukaryota. CNBD activation by cyclic nucleotide monophosphate (cNMP) is studied well in the case of several proteins. However, this knowledge is hardly applicable to cNMP-modulated cation channels. Despite the availability of CNBD crystal structures of bacterial cyclic nucleotide-gated (CNG) and mammalian hyperpolarization-activated cyclic nucleotide-modulated (HCN) channels in presence and absence of the cNMP, the full understanding of CNBD conformational changes during activation is lacking. Here, we describe a novel CNBD dimerization interface found in crystal structures of bacterial CNG channel MlotiK1 and mammalian cAMP-activated guanine nucleotide-exchange factor Epac2. Molecular dynamics simulations show that the found interface is stable on the studied timescale of 100 ns, in contrast to the dimerization interface, reported previously. Comparisons with cN-bound structures of CNBD show that the dimerization is incompatible with cAMP binding. Thus, the cAMP-dependent monomerization of CNBD may be an alternative mechanism of the cAMP sensing. Based on these findings, we propose a model of the bacterial CNG channel modulation by cAMP.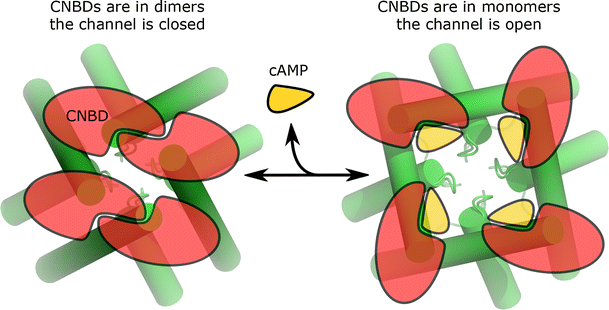 Keywords
Channel gating 
CNG channel 
Cyclic-nucleotide binding domain 
Epac2 
Abbreviations
CNBD

Cyclic nucleotide binding domain

cNMP

Cyclic nucleotide monophosphate

cAMP

Cyclic adenosine monophosphate

CNG

Channel, cyclic nucleotide-gated channel

HCN

Channel, hyperpolarization-activated cyclic nucleotide-modulated channel

MD

Molecular dynamics

RMSD

Root mean square deviation

PCA

Principal components analysis
Notes
Acknowledgments
This work was supported by the program "Chaires d'excellence" edition 2008 of the Agence National de la Recherche France, Commissariat a l'Energie atomique (Institut de Biologie Structurale) – Helmholtz Association (Forschungszentrum Juelich) Specific Topic of Cooperation agreement 5.1, the Marie Curie grant for training and career development of researchers (FP7-PEOPLE-2007-1-1-ITN, project Structural Biology of Membrane Proteins) and by an European Commission 7th Framework Programme grant for the EDICT (European Drug Initiative on Channels and Transporters) consortium (HEALTH-201924). This work was done in the framework of Russian State Contracts № 02.740.11.0299, № 02.740.11.5010 and №P974 in the framework of activity 1.2.2 of the Federal Target Program «Scientific and academic research cadres of innovative Russia» for 2009–2013 years. Part of this work was supported by the German Federal Ministry of Education and Research (PhoNa – Photonic Nanomaterials). Partial financial support from Onexim group is gratefully acknowledged. Part of the simulations were conducted on the Juropa supercomputer at Forschungszentrum Juelich.