Open3DQSAR: a new open-source software aimed at high-throughput chemometric analysis of molecular interaction fields
Abstract
Open3DQSAR is a freely available open-source program aimed at chemometric analysis of molecular interaction fields. MIFs can be imported from different sources (GRID, CoMFA/CoMSIA, quantum-mechanical electrostatic potential or electron density grids) or generated by Open3DQSAR itself. Much focus has been put on automation through the implementation of a scriptable interface, as well as on high computational performance achieved by algorithm parallelization. Flexibility and interoperability with existing molecular modeling software make Open3DQSAR a powerful tool in pharmacophore assessment and ligand-based drug design.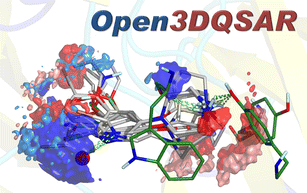 Keywords
Chemometrics 
Molecular interaction fields 
PLS 
3D-QSAR 
Variable selection 
Notes
Acknowledgments
Open3DQSAR would never have seen the light of day without the invaluable pioneering work of Prof. Gabriele Cruciani and colleagues in the field of chemometrics applied to MIFs. We have referred to their detailed published methodologies [14, 17, 19, 20] to code Open3DQSAR's implementation of the Smart Region Definition and Fractional Factorial Design algorithms, a task which would have been extremely hard in the absence of such outstanding guidance. We are also indebted to the authors of the progressive scrambling, UVE-PLS and IVE-PLS methodologies, as well as to the authors of their later extensions [16, 21-23]. We gratefully acknowledge the ShareGrid management team for the computing power provided through the ShareGrid distributed platform. Finally, P.T. thanks Prof. Alberto Gasco and Prof. Roberta Fruttero (Università degli Studi di Torino) for their warm support and encouragement throughout the development. Part of the work was carried out by P. T. at the University of Copenhagen under a visiting scientist grant from the Drug Research Academy. T.B. was supported by grants from the Carlsberg Foundation and the Lundbeck Foundation.