Hydrogen-mediated Stone-Wales isomerization of dicyclopenta[de,mn]anthracene
Abstract
The mechanism of transformation of two radicals (R1p and R1i) obtained by addition of a hydrogen atom to an external and internal carbon atom of dicyclopenta[de,mn]anthracene (P1) was investigated. Two pathways were revealed. The first mechanism is a one-step process, whereas the second mechanism includes two transition states and a cyclobutyl intermediate. The formation of R1p and R1i and the homolytic cleavage of the radicals obtained during the isomerization processes were also examined. In both pathways the addition of a hydrogen atom to the internal carbon significantly lowers the activation energy for hydrogen-mediated isomerization of P1 to acefluoranthene. This finding could be explained by the specific electronic structures of the transition states and intermediates participating in the isomerization processes.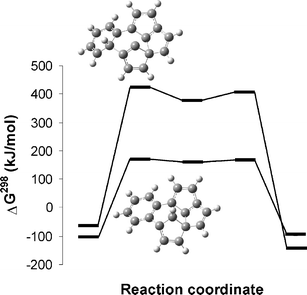 Keywords
Activation energy lowering 
Density functional theory 
Electronic structure 
Radical mechanism 
Notes
Acknowledgments
This work is supported by the Ministry of science of Serbia, projects No 144015G and 142025.