Neighboring group stabilization by σ-holes
Abstract
We have used density-functional theory to investigate the neighboring-group stabilization of iodine, arsenic, and phosphorus-centered oxyanion moieties in species such as deprotonated 2-iodoxybenzoic acid (IBX) and its analogs. The magnitudes of different stabilizing effects and further candidates for analogous stabilization are analyzed.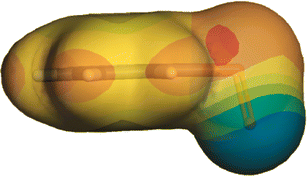 Keywords
Density functional theory 
σ-Hole 
IBA 
IBS 
IBX 
2-iodoxybenzoic 
Notes
Acknowledgments
This work was supported by the Deutsche Forschungsgemeinschaft as part of SFB583 "Redox-Active Metal Complexes: Control of Reactivity via Molecular Architecture". The University of Queensland is gratefully acknowledged for financial support.