Theoretical study of spin-spin coupling across the hydrogen (O-H⋯N) bond in adenosine derivatives
Abstract
The study of spin-spin coupling constants across hydrogen bond provides useful information about configuration of complexes. The interesting case of such interactions was observed as a coupling across an intramolecular hydrogen bond in 8-bromo-2′,3′-O-isopropylideneadenosine between the -CH2OH (at 5″ proton) group and the nitrogen atom of adenine. In this paper we report theoretical investigations on the 4h J NH coupling across the H″-C-O-H···N hydrogen bond in adenosine derivatives in various solvent models.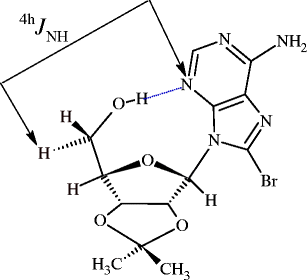 Keywords
Ab initio calculations 
Adenosine derivatives 
Coupling across hydrogen bonds 
Density functional theory 
Notes
Acknowledgments
Authors thank Dr Vladimir Sychrovsky from UCB Prague for discussion and structure of conformers HA, and Professor Roman Gancarz from Wrocław University of Technology for discussion. Calculations were performed at Wroclaw Centre for Networking and Supercomputing (WCSS), Poznań Supercomputing Networking Center (PCSS) and Academic Computer Centre in Gdansk (CI TASK).